There are fewer people that you'd want to visit a Thai market with than Australian chef David Thompson of Nahm restaurant in Bangkok. The chef weaves through aisles familiarly at Bangkok's Or Tor Kor market near the famous Chatuchak markets with ease. He stops to point out dishes giving us their Thai names and explains how they are cooked. He peppers his descriptions with a long "ahhh" in place of a pause as per the way that some Thais speak and goes onto the next item gradually unraveling the mysteries of the market to us.
Thompson first visited the Or Tor Kor market in 1980 when it was what he described as a "decrepit market. " A revamp results in a clean and well maintained market that wealthy Thais visit to procure top notch produce. He explains that whilst the restaurant uses other suppliers for their food, they do use some stalls here for fermented fish and some fruit.
Clockwise from top: kae pla fish eggs, dried shrimp and small dried fish fillets dried in a disc shape
We pass a stall selling kae pla, a  pouch of jaundiced yellow large bubble sacs-these are fish eggs. He tells us that while he has tried cooking with them, they're simply not great eating. There are also plenty of tropical fish like potato cod and a large tray of coral shaded live clams that stretch and reposition themselves lazily, poking themselves out of their shells occasionally.
Live river prawns slowly glide their way across the bottom of tanks their disproportionately large pincers looking like two extendable arms. There are countless piles of dried shrimp, chillies and high piles of small garlic heads.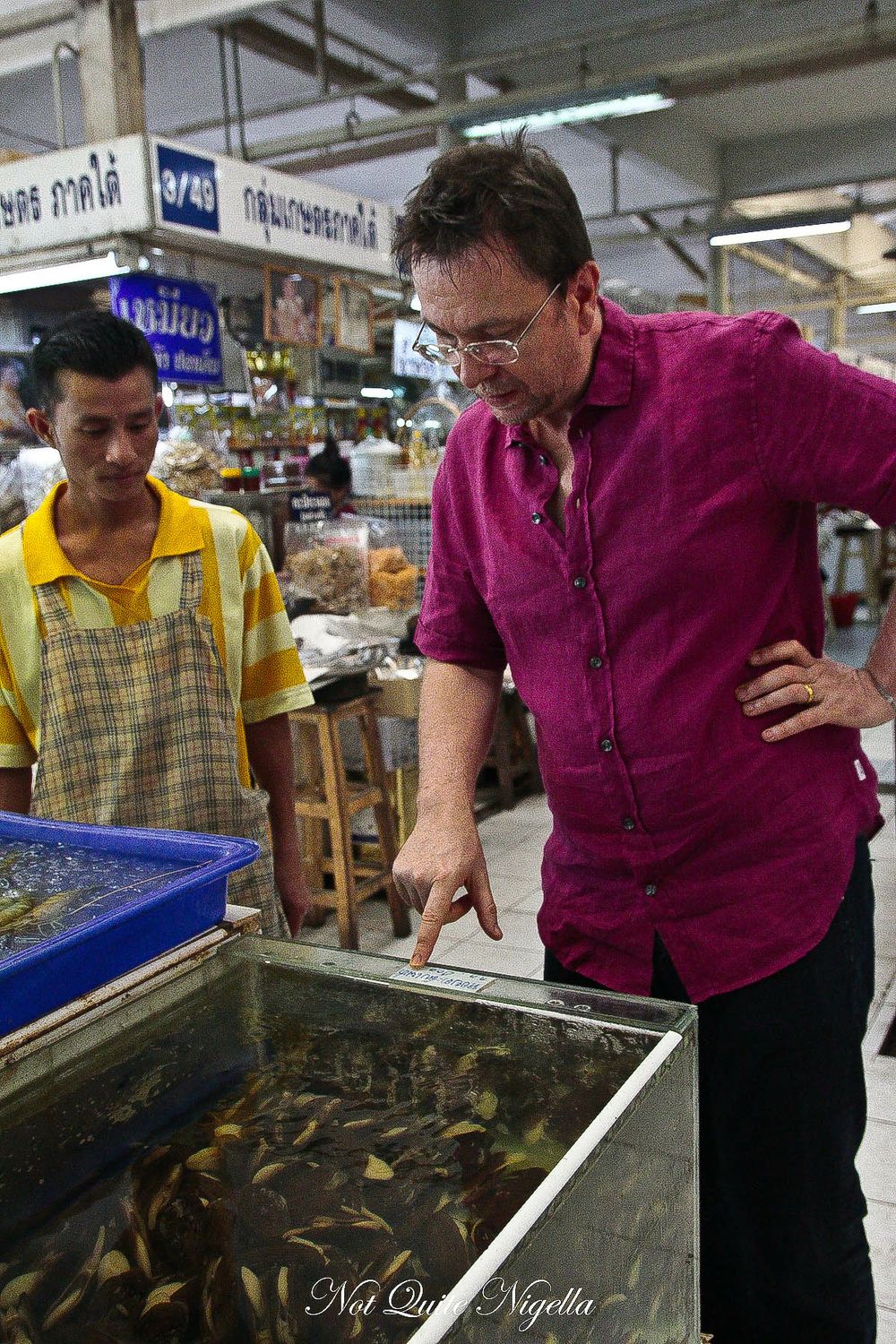 David stops at one tank and peers into it curiously. They look like razor clams inside but the shell looks like a mussel. After pausing to try and recall the name, he remembers that the shells are often used as scooping spoons after the clams are eaten.
Left: snake head fish and right, wet dog fish
There are displays of fish some with their heads removed and an oft seen one is the wet dog fish, named because of its smell. The snake head fish is a particularly ugly fish which he tells us that the look belies the taste.
There is plenty of produce that is new to us too from snake gourds, wing beans and fuzzy small round orange Thai eggplants which are said to be good in salads with beef. There is long leaf coriander, Siamese watercress, pumpkin tendrils, water mimosa and wild ginger roots which are used for jungle curries. Termite mushrooms are so named because they grow out of termite mounds.
David shows us two types of Thai basil. The green basil goes with seafood while the purple basil goes with meat. There is also a fresh tasting lemon basil which we don't tend to find much in Australia and we also try a delicate fern-like leaf which tastes like garlic. He buys some fiddlehead ferns to cook for us at lunch at Nahm.
We then stop at the fruit station which is full of incredibly sweet, fresh fruit. There are enormous dragon eye lychees with their pretty pink slightly nubbly skin that breaks open to reveal juicy fruit inside and a small pip - a buyer's dream and "more lychee for your baht" he quips. The Thai version of durian which is milder than the Malaysian sit opened and sliced-there's isn't the olfactory onslaught that polarises so many.
Dried rice roaches
A smiling vendor sees David approaching and offers up a bag of dried rice roaches. He uses one of its legs to break the thorax open and out spills a white meal, much like coconut. Taking a sniff, it smells fresh and totally unlike what you would think. "Ammyl nitrate" David tells us although we would have to take his word for it! Nahm's Executive Chef Chris Miller explains that they use it to perfume fish sauce for various dishes and they are soaked in the fish sauce to release their flavour.
A woman sells mangosteens and breaks several of them for us to taste. To choose mangosteens look for soft skins and if you count the number of ridges on the  bottom of the mangosteens, you can see how many segments you will get. The larger ones have seeds while the smaller ones don't.
The next section is full of intoxicating aromas. Sweet corn ice cream is an Asian thing-I adore it and the corn milk is a cousin of this dessert. It's cow's milk flavoured with sweetcorn, the resulting milk being slightly sweet and reminds me of creamed corn. Chris buys a pennywort juice which is a pure vegetable juice. It's not unpleasant but it's a straight vegetable juice not moderated in its herbaceousness by fruit juice.
A display of blistered pork belly, char siu and other pork goodies starts all of our mouths watering and when we pass a colourful display of pots housing wonderful smelling and tempting looking items we just can't help but take out our wallets. I bought a steamed egg omelette with crab and it was light as a souffle, heady with spices and chilli with pleasingly fat chunks of sumptuous crab meat.
Crab curries, meat curries, steamed egg custards with crab and prawn, roasted fish, pork cakes, sausages surround us. A swarm of bees converge on a plate of water chestnuts that have been soaked in honey. The charcoal aroma of grilled skewers signal the start of the eat in area and David buys some sugar cane juice and shares it around.
He shows us a couple of the items that he has purchased. There's a curled up Northern style fermented sausage made with curry taste, redolent in kaffir lime and lemongrass. He tells us that this is best with a slice of ginger.
Then there is a little challenge. We are to take a bite of the small fermented, slightly sweet pork ball and a bite of the tiny chilli. Generally speaking, the smaller the chilli the hotter the warmth. David tells us that the fattiness in the pork ball helps to moderate the heat of the chilli which would be an enormous challenge to eat by itself but is actually quite pleasant with the pork ball.
We make our way back to our home for our Bangkok stay, the Metropolitan Hotel which is where Nahm is located. The meaning of Nahm is "water" and David's first Nahm in London was the first Thai restaurant to be awarded one Michelin star and this version in Bangkok is ranked number 32 in the World's Best Restaurants list. It's not without controversy and the idea of a non Thai holding the position of one of the best known Thai chefs in the world is difficult for some to bear.
On the menu for lunch is a rather special dish for a lot of Thais as it is a comforting dish that they usually eat for lunch. When I first arrived in Bangkok a few days ago I was talking to the driver about food and he told me that he loved Kanom Jeen, a rice noodle based dish with several types of curries with it. My driver lamented that it was a dish that is so labour intensive that is becoming harder to find. It is also not a dish that many tourists may have tried as opposed to staples like green curry, pad Thai and satay skewers.
From top to bottom: the solids after the fermented rice is left to hang, the Nahm kitchen and the boiled logs of fermented rice
It's a laborious process and most Thai buy the lightly fermented rice noodles from street vendors. At Nahm, they do a restaurant version with several types of curry on offer. Chris is frank when he admit that it has been somewhat of a hard sell with the Thai clientele who are used to buying this for a few dollars from a street stall. The process of making the noodles for Kanom Jeen takes three days from start to finish. The rice is first soaked until it starts to ferment. It is then ground in a stone mill, then left to hang to get the solids. It is then shaped into logs and boiled, then pounded in a hollowed out mountain tree, then hung again, then pressed into noodles and cooked.
Pounding the fermented rice logs into a paste in the Nahm kitchen
Diners can choose between five different types of curry which they will mix up with the noodles. First, they bring out the noodles on an individual plate. The noodles are pure white and of a medium thickness. After this comes a range of four types of curry as well as images and fresh herbs. The idea is to divide the noodles into four sections and try a different curry and add certain items to the curries.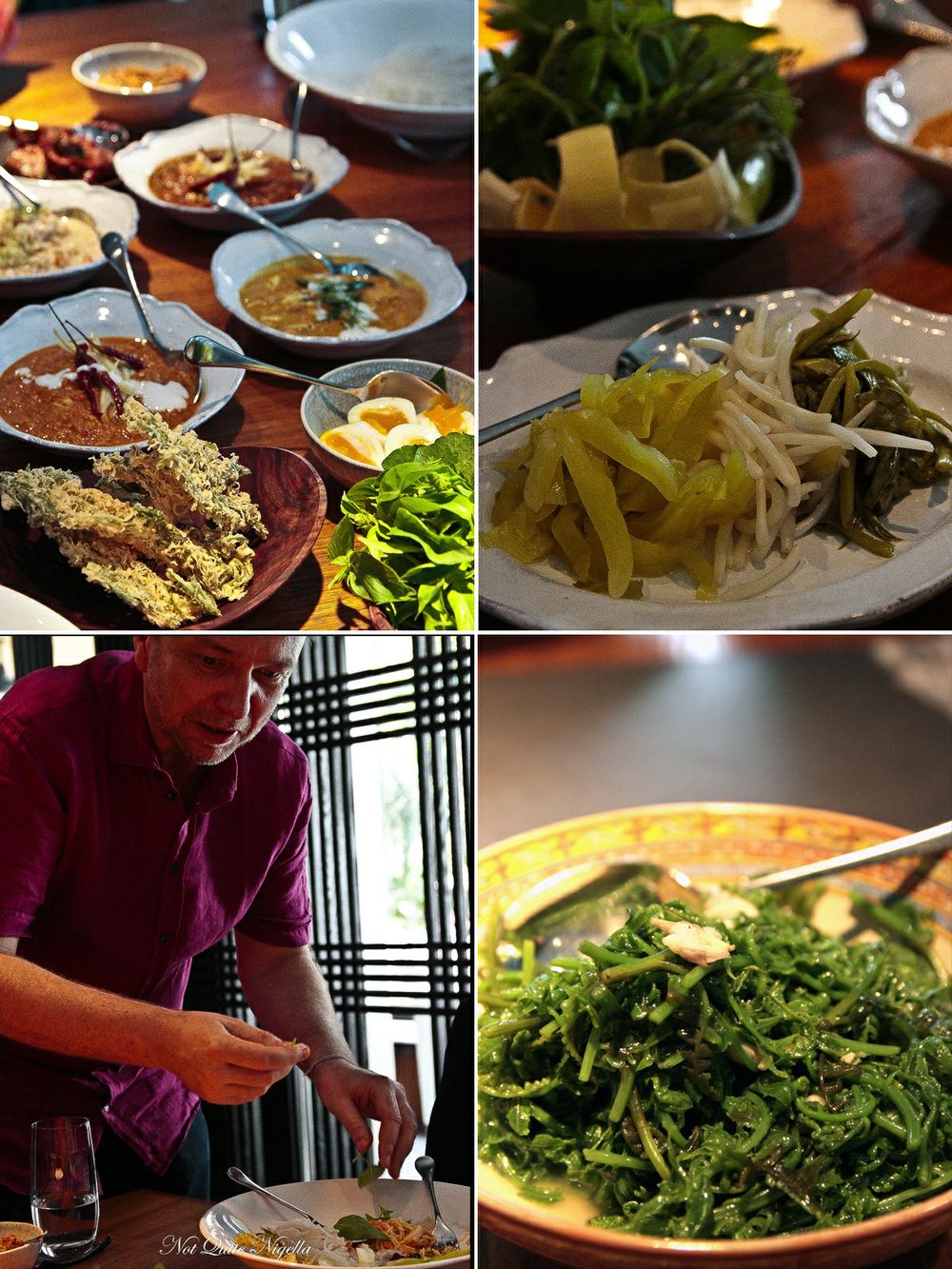 David shows us that the soft boiled egg half goes well with the chicken curry while the prawn and shredded herb sauce and banana blossom curry and fish cakes go well with the lemon basil and the images and both combinations are wonderful, particularly the latter.
There's also a coconut and turmeric blue swimmer crab curry with pennywort and banana blossoms which I actually loved in its own because of the creamy coconut base, slight sweetness and rich crab. The last spicy smoked fish curry with prawns, chicken livers, cockles, chilli and black pepper is strong and gives a big aroma and salty flavour hit-it's too strong for me. There are crunchy fritters made from cassia leaf which are delicious and there to provide a contrasting texture.
I always leave room for Thai desserts and this is a jasmine fragranced coconut milk served icy cold with green noodles, coconut, purple yam, black sticky rice and papaya. On the side is a banana leaf wrapped dessert with a bottom layer of tapioca and water chestnut and a top coconut custard. The desserts at Nahm are created by David's partner of over 25 years Tanongsak Yordwai, a flamboyant personality that oversees the kitchen from a day bed.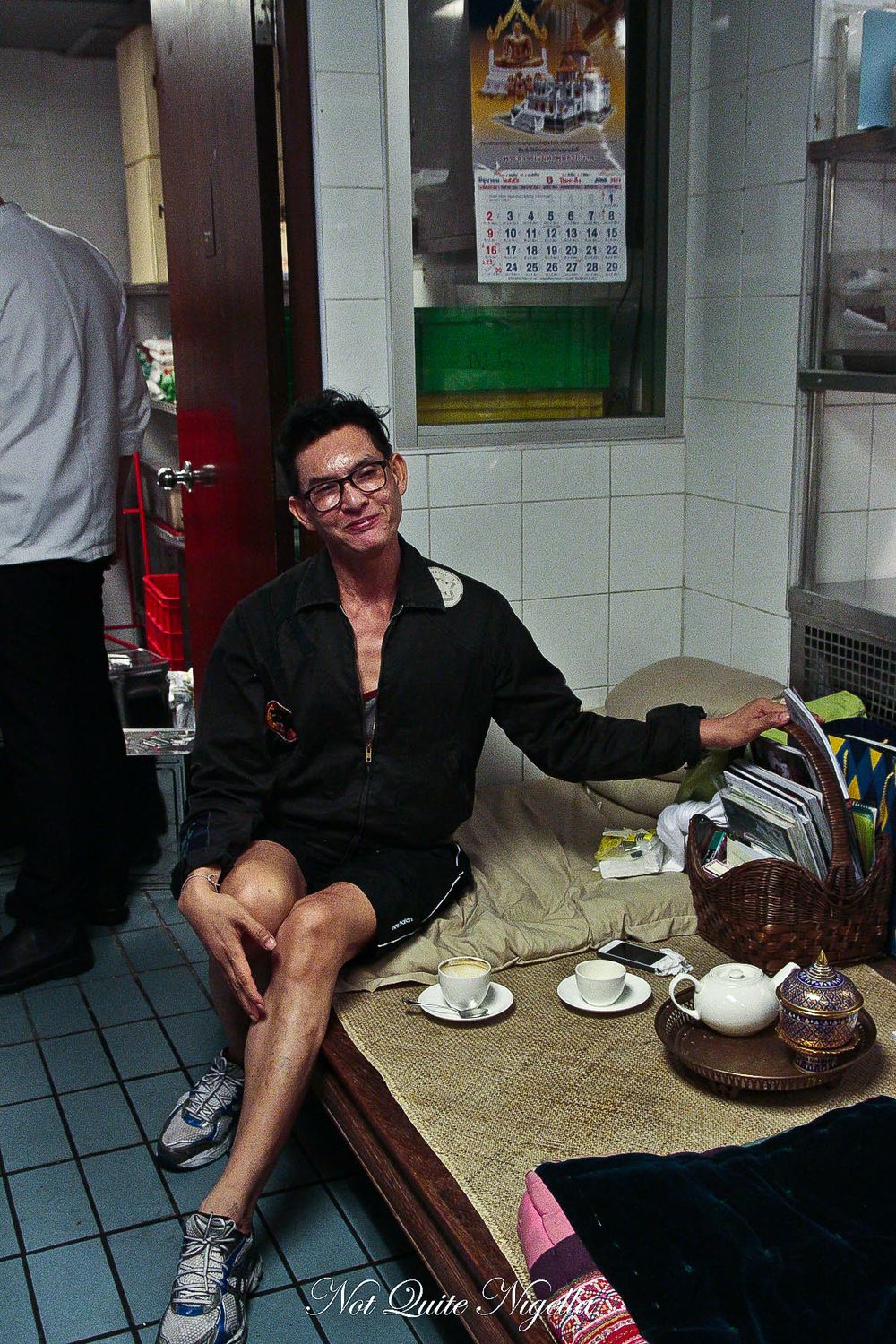 Tanongsak Yordwai
Dinner at Nahm is a slightly different experience with a fuller range of items on the menu. It's always booked out but lunch is a better option if you have left reservations until late. The ambiance is thoughtfully discreet and the high backs in the booths ensure that you are completely unaware that there's an entire restaurant behind you as the noise is cushioned to a soft murmur around you.
Amuse bouche
We're eating from the set menu which is a very reasonable 1800THB/$62AUD a person. Diners receive all of the canapes which range from amuse bouche size to entree size and then you choose five mains which will be served with rice, the size of the mains dependent on the number of people dining. Two or three desserts are also included for smaller groups although larger tables receive them all. The menu is divided into five sections (soup, salad, relish, curry or stir fried, steamed and grilled) and you choose one selection from each. The amuse is a delicious pineapple triangle topped with chilli, pork, peanut and prawn.
Smoked fish and peanut tapioca dumplings
Our next bites come out quickly. The first morsel is a reminder of another day when I stopped at a street market stall and ate some sticky dumplings filled with fish and fried shallots. These are slightly softer and served warm and the centre contains a moreish filling of fish and fried shallots which is an addictive sweet and savoury mix.
Salted threadfin perch with ginger, chilli and green mango on betel leaves
Betel leaves are those soft, green leaves that you use to wrap various fillings in. The flavour of the salted threadfin perch was obviously quite salty and strong and I'm used to Thai flavours being tempered by sweetness so the saltiness was a bit of a surprise.
Prawn and coconut wafers with pickled ginger
I loved the crispy texture of these folded over canapes which shattered with every bite. They were filled with a toothsome combination of prawn and coconut with tang from the pickled ginger.
Toasted coconut with watermelon and mango
If something was a surprise sensation it was this toasted coconut, palm sugar and fried shallot topping which you spoon on top of fresh, sweet watermelon and mango slices. The contrast of the cool sweet fruit and the crunchy, sweet savoury topping is unbeatable and we all make plans to make the topping at home.
Soup of young duck with Thai basil and young coconut
Although instincts tell you that hot soup during the humid weather isn't a prudent idea, the aroma and flavour of the soup convinced us otherwise. Fragrant with Thai sweet basil, it's a sweet, aniseed rich soup with pieces of tender, young duck and slippery pieces of young coconut through it and the top layer is a canopy of sweet basil leaves.
Clear soup of minced pork and prawns and with pak warn and squid
I tried some of the minced pork and prawn soup too. This was a thicker soup than the duck with lots of lovely textures in it with the minced pork and roughly chopped prawns.
Minced pork and prawn simmered in coconut cream with young chillies, red shallots and coriander, fresh vegetables and deep fried cured carp (bottom pic)
Relishes aren't usually a huge part of Thai restaurant menus in Sydney so it's interesting to see that there is a whole section on relishes. The one that we chose was a roughly chopped prawn and minced pork cooked in coconut cream. To this they add young chillies, raw red shallots and coriander that give it a freshness not unlike a salad. It's served with a plate of fresh vegetables including beans, cabbage, coriander and a vegetable called "gratan" and a plate with two crispy bronzed pieces of deep fried cured carp. We are instructed to dip the pieces of carp and use them as a scoop in the curry and it's a wonderful combination of textures and flavours.
Guinea fowl curry with shampoo ginger and holy basil
The guinea fowl is delectably soft and the dark meat reminds me of duck. It's cooked in a creamy coconut based curry with a topping of finely sliced shampoo ginger which adds much flavour along with the deep fried holy basil leaves.
Stir fried soft shell crab with chilli, salt and coriander
Only yesterday, Chris has shown the live baby mud crabs with the soft, not fully hardened shells so we were curious to see how they would differ from regular soft shell crab. The shell is similar to soft shell crab but there is more meat in these as they're mud crabs. They're served deep fried until crispy and flavoured simply with chilli, salt and coriander.
Salad of mushroom with grilled prawns and chilli jam
The salad of mushroom with grilled prawns and chilli jam was a more familiar tasting dish and reminded me a lot of banana flower salads had back home. It's a favourite at the table with the range of slippery exotic mushrooms and a jab of sweet spiciness from the chilli jam.
Salad of freshwater crayfish with pork and Asian pennywort
Crayfish has a wonderful naturally sweet flavour and tender texture so it was ideal to put in a salad with pork and Asian pennywort. This too is a familiar flavour profile to what we get back in Sydney, its freshness and clean flavours welcoming.
Deep fried cured snake head fish with chillies and shallots
Now onto something a little different David had pointed us in the direction of the snake head fish at the market and he described it as ugly but delicious so we felt like we had to order it although this prompts some doubt from the maitre'd Troy who warns us that it is a very strongly flavoured dish and recommends that we have it with lots of rice. The salt garlic and sticky rice cured fish is divine and whilst strong, it's absolutely worth ordering and ends up being the highlight dish of the night. It actually reminds me of Lup Cheong in flavour although you'd imagine there isn't much in common with the primary ingredients.
Pistachio pudding and golden tear drops with perfumed mung beans
The desserts are up next and we ordered a couple more just to be able to try them. The pistachio pudding is like a sweet baked custard and is flavoured with pistachios. Next to this is a mandarin with the centre filled with coconut cream and blissful golden tear drops that release their sweet syrup once you bite into them.
Longan in scented syrup with Thai cup cakes
The longans were enormous and poached in a fragrant syrup and served with delicious little Thai cupcakes which are two small concave cups sandwiched together. Each cup is made up of coconut milk, rice flour, young coconut steamed rice and sugar. It's grilled and crispy edged on the bottom with a creamy filling in the centre and and spring onions on top.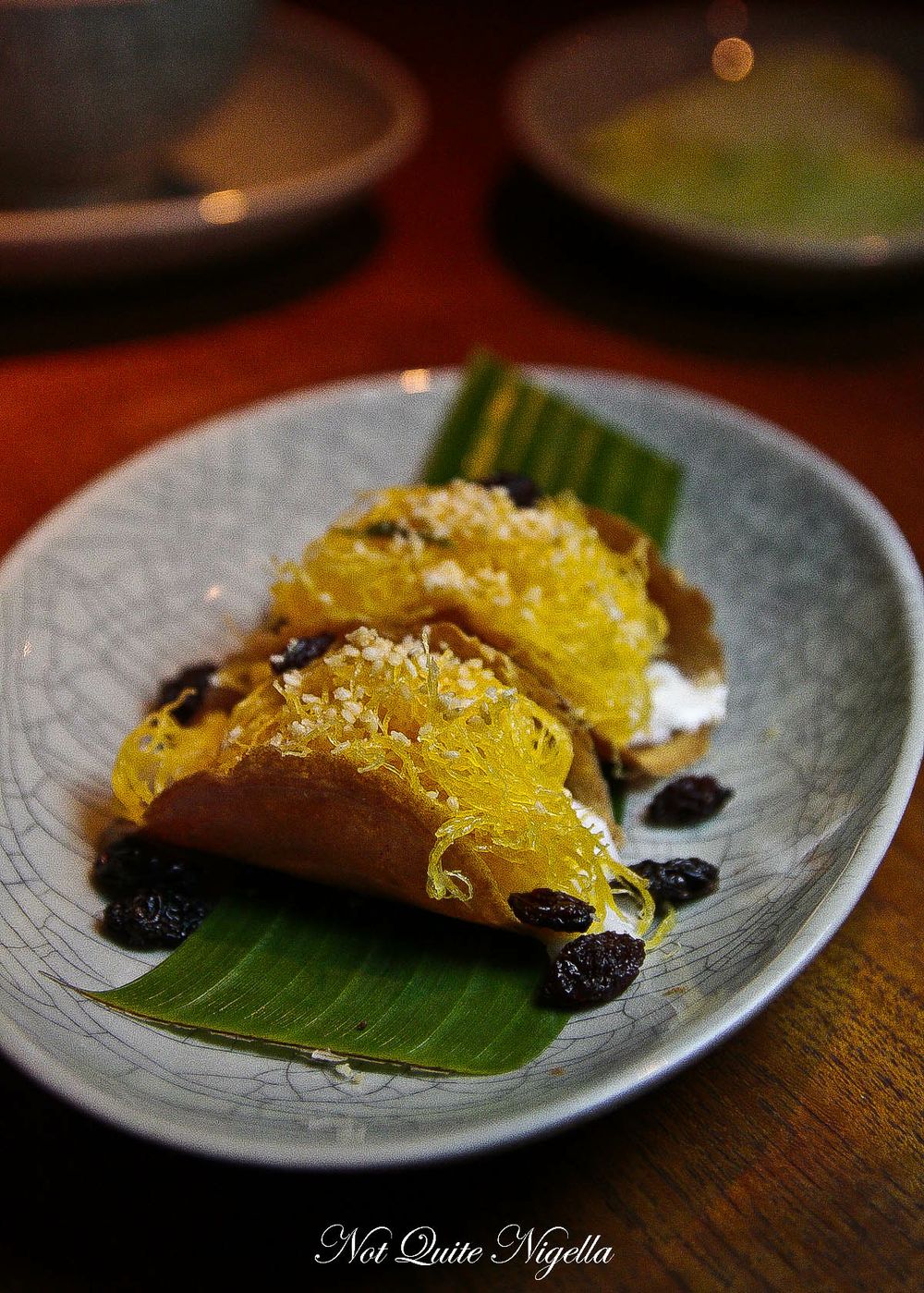 Sweet Thai wafers with poached persimmons and golden duck egg noodles
The only dessert that I wasn't as taken with as the others were the sweet Thai wafers which we saw being made the day before. A sweet egg yolk mixture is poured into a slotted cone and this is twirled in a circular motion over a wok of simmering syrup. They gather the mixture up and fold it over and it fills the sweet wafers along with raisin. It's good but it tastes like pure syrup without any aromates.
Durian and white sticky rice
We were curious to try their durian dessert, that ever controversial fruit. Thai durian is milder than the truly stinky Malaysian durian which durian connoisseurs prefer. I think for a non durian eater like me, the Thai one is preferable and I can really see the appeal of the creamy texture and flavour of the durian which a nice match for the white sticky rice.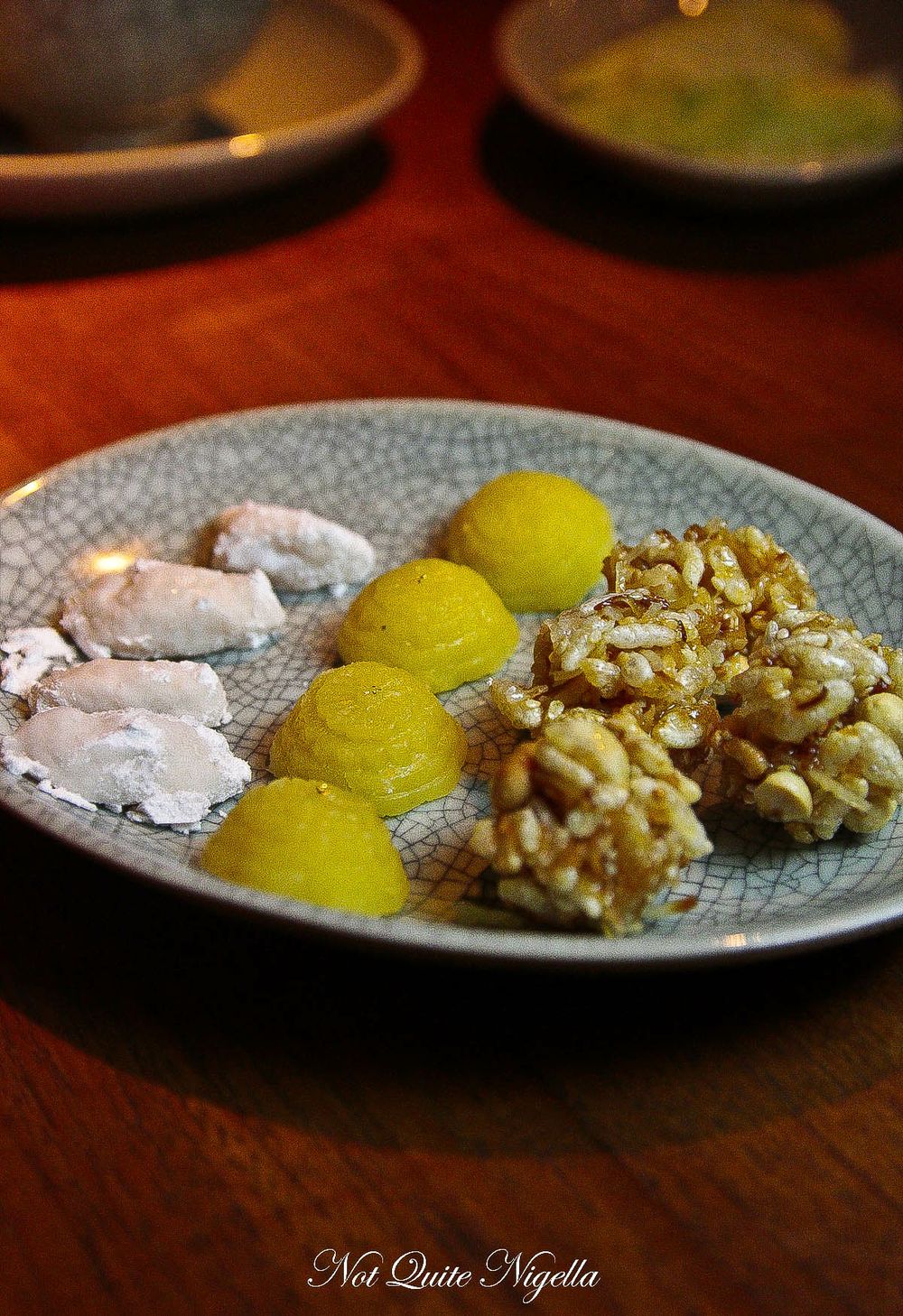 Thai petit fours
There are three types of petit fours on offer. The first ones are sweet puffed wheat balls, the second are half spheres of sweet egg yolk and the third are most intriguing and made up of young coconut milk rolled in icing sugar. They melt on the tongue easily and are the perfect sweet, melting ending to an extraordinary meal.
So tell me Dear Reader, what is your favourite Thai dish? Can you take bird's eye chillies? And what do you think of a non native chef being known for a particular cuisine?
NQN visited Thailand as a guest of COMO Hotels and Resorts
Or Tor Kor Markets
Kamphaengphet Road, Bangkok, Thailand
Nahm
Metropolitan by COMO, 27 South Sathorn Road, Sathorn, Bangkok, 10120, Thailand
Phone:+66 2 625 3333