His name is Braheem. He's a former Muay Thai Boxer and there I sit, gripping the back of his bike going at speed whizzing through Bangkok's unfathomably busy streets, ducking through the tightest of spaces. It's raining lightly in Bangkok this evening and the splash of rain and the wind pulling at my eyelashes can't dampen the smile that appears permanently attached to my face.
I haven't stopped smiling the entire way.
Braheem
I was supposed to be part of the Grasshopper Tour Night Ride in Bangkok but my inability to cycle meant that I could either meet them at the third of their three stops or try and learn to cycle in an afternoon and test it out on the streets of Bangkok. Not a great idea if you think about how busy the streets are, particularly during peak hour.
So while everyone donned helmets and got fitted for bikes, our guide Tammy struck a deal with a motorbike rider for hire Braheem and that's how I find myself clutching the back of his bike soaring over streets and into laneways following the cyclists. He's a great driver, considerate and making sure all of the bike riders don't get left behind and the ride is smooth.
Seeing Bangkok at night and by bike is a fascinating experience. It's cooler for starters in a city that can get very hot and steamy during the day. And visiting landmarks like the stunning Wat Arun temple in all of its gilded glory means seeing it when there are no crowds and you can appreciate how truly beautiful it is. To get there is the longest part of the ride where we go through all of the undercover tourist hot spots that Westerners frequent.
We pass tourists negotiating for massages, a group of young girls enjoying cocktails and a Thai tattoo artist emerges from a parlour with his eyes rimmed with tattooed kohl a la Cleopatra. He looks straight on at me, his face impassive. I pass another man who looked like the Thai version of John Lennon. As we ride past he smiles and holds up a peace sign with one hand and a cup of tea with another. It's like being in a video game with various people popping out from the sides of the street to say hello.
Cutting through a small narrow walkway along the Chao Phraya river we drive down a food street with locals enjoying an early dinner. It's truly marvellous how the traffic on the streets works together and vehicles make room for each other-you need your wits about you to drive or bike in Thailand and a horn is rarely used in anger, merely to signal your presence behind someone that may be unaware. Our group has the advantage of numbers as they form a large eleven person pack which makes turning and changing direction easier.
It is after here that Braheem and I must part ways with the group temporarily as they go across the river on a boat and he and I take another route. He is a careful driver but at some places he must drive at speed to avoid disrupting the rhythm and it's nothing short of exhilarating.
We rendezvous at the first destination, Siriraj hospital and continue on our ride to Wat Arun which is closeby. The Buddhist temple, known as the Temple of Dawn (wat meaning temple) is one of the most beautiful sights seen from the river, it's gold resplendency striking against the black night sky. Young monks study and live there and we watch as they read books in their richly coloured saffron coloured robes.
The first version of Wat Arun stood at just 16 metres but an additional 51 metres were added to make it stand at 67 metres. The finish is made up of china porcelain and broken shells. It is one of over 30,000 temples in Thailand and undoubtedly the most famous.
Our next stop is the Flower Market and we part ways with the group again as they'll be riding through narrow streets. Tammy warns them that if they feel unbalanced or wobbly and fall to the side, they'll end up in someone's living room it's that narrow (and the group report back that it's true, they could see directly into everyone's living rooms!).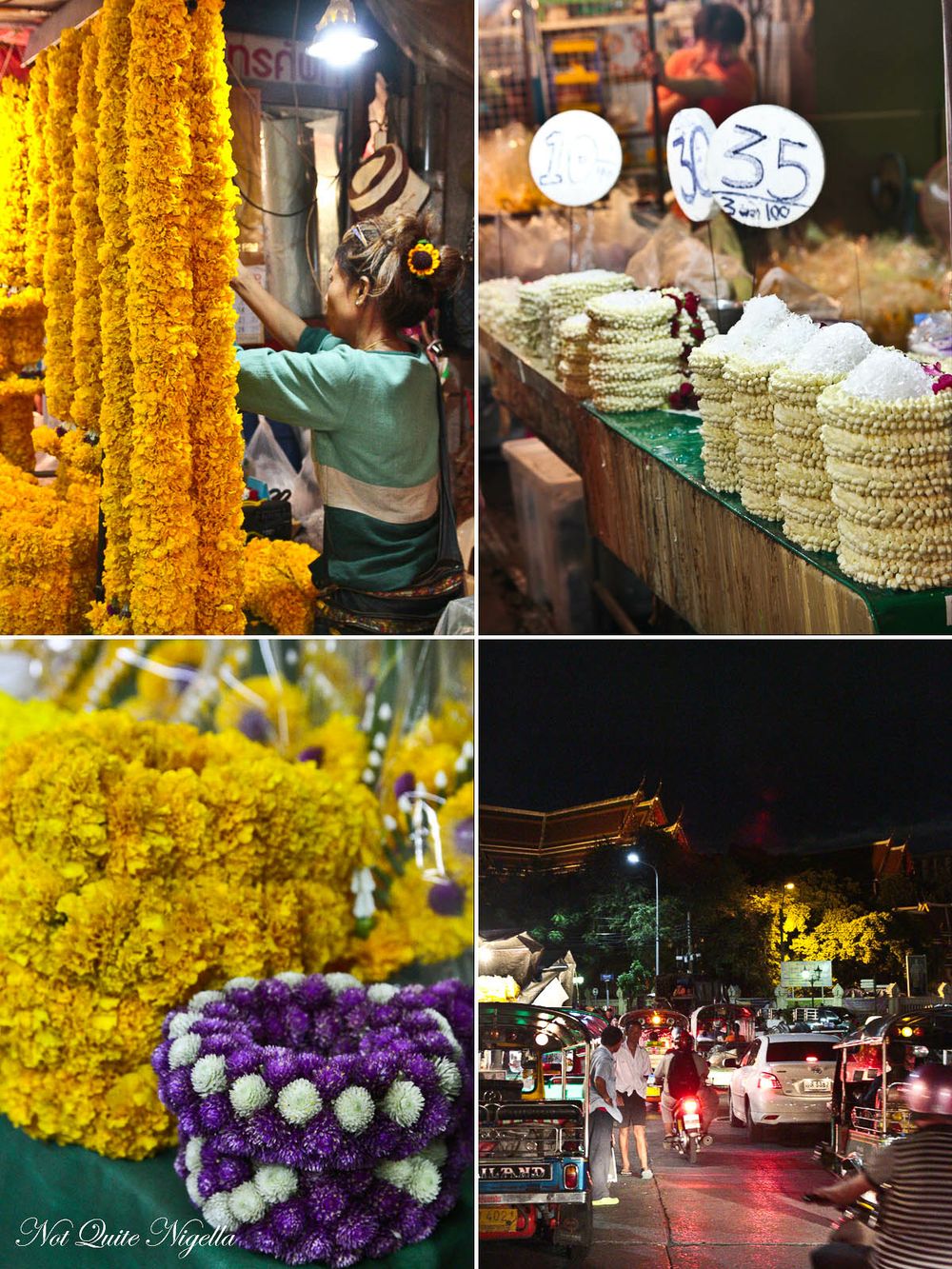 Braheem and I arrive at the flower market on Chak Phet Road near Saphan Phut or the Memorial Bridge which is buzzing with excitement and activity. A enormous market it is open 24 hours a day but is best seen at night particularly after midnight. The smell of chrysanthemums turns into jasmine at every turn and it is intoxicating. The colourful garlands are religious offerings and we watch vendors thread the fresh blossoms. Prices for bunches of flowers are ridiculously cheap from 20THB or $0.68AUD for a bunch of  beautiful fresh and colourful stems.
Stunning lotus flowers are sold with the blush pink buds tightly closed while others unfurl the flower and arrange it to resemble a blossom with a large centre.
Stands of blooms become fruit vendors and fresh, sweet fruit is plentiful in this kingdom. Sugar cane is sold short stick form while a fruit that looks like an egg is also sold with the ever present betel leaf.
It's here that we'll have our first taste of food. Tammy leads up to a grilled pork skewer stand and each skewer is 5THB or $0.17AUD. The meat is sweet and delicious and we inhale the four skewers we are given quickly.
Our next and final food stop is at a stall with a friendly lady that sells lotus/banana leaf wrapped dumplings. These are filled with sweet pink hued banana and red beans and each pairing of dumplings tied together is 12THB or $0.41AUD. The only disappointment is that there isn't a lot of food on the tour and I think we were all hoping for more, even if we were given extra time by ourselves to buy something as the food stands are plentiful there.
We are on our way to the last stop, Wat Pho otherwise known as Wat Phra Chettuphon Wimon Mangkhlaram Ratchaworamahawihan or the Temple of  the Reclining Buddha. There are over 1,000 iterations of buddha throughout the site and the famous is of course the golden reclining buddha. Interestingly, there is a school located on the ground that teaches traditional Thai massage, masseurs from all over the country study here and a certificate from Wat Pho virtually guarantees them a job.
We pass the various plaques on the outside which show the human anatomy from the front and back. There are several gold buddha statues and we wander through to the ordination area.
The rain starts again and I don the rain jacket offered to me by Braheem. He wipes the rain off the seat and we are off back to the Grasshopper tour office. The rain by now is coming down heavier and our clothes and bags get soaked but when we meet the rest of the group they're exhilarated from the ride and the smile hasn't left their faces.
So tell me Dear Reader, have you ever done a bike tour? And do you or would you ride a bike in your home city?
NQN travelled to Bangkok and a guest of Qantas and the Como Metropolitan Hotel. 
Grasshopper Adventures
57 Ratchadamneon Klang Rd, Phranakorn, Bangkok 10200, Thailand
Phone:+66 2 280 0832
Metropolitan by COMO
27 South Sathorn Road, Sathorn, Bangkok, 10120, Thailand
Phone:+66 2 625 3333
Qantas
www.qantas.com.au