All images taken on a Sigma 17-50mm F2.8 EX DC OS lens
I'm counting with my fingers-yes I still do that, and I try and recall the last time that I visited Thailand. Mr NQN was with me so it must have been in the last 13 years. I'm not surprised to see that in the distance of time and in my mind's eye things look quite different. I breathe in the air and I know that I am home again. That is, my home away from home in Asia.
The car ride from the airport is smooth in the hotel's BMW and in this humidity I remove my cardigan and take a sip of water. My driver is chatty and friendly and I ask him about food in Bangkok. He warns me about the traffic-it's something that I'm constantly warned about and I enquire about travelling times for my plans to meet a friend for dinner that evening. It's apparently 10 minutes away but in peak hour it's 40 minutes.  I think about the baht that I've taken out and do the mental arithmetic in my head and dividing huge sums by thirty.
Twenty five minutes into the ride we pull up to the entrance of the Metropolitan Hotel. Located in the CBD area on South Sathorn Rd it's said to be a happening area with plenty of the chic luxe brands opening up there. It is located about ten minute's walk to the Skytrain and within walking distance of shops, malls and busy streets teeming with street food - even notorious Patpong isn't too far away, yet the hotel still maintains a tranquil ambiance. Things are sleek, modern and luxurious. Flawlessly deferential staff wearing Commes des Garcons clothing and Calvin Klein shoes are charming and offer the Thai wai greeting: hands pressed together as if in prayer and a slight bow. The lobby is decorated with elegant purple orchids and manicured guests perch on modern lounges.
I make my way up to the room 818 on the eighth floor (how's that number for good luck?). It's a large space and one of the Met rooms which is the most popular and common room type. Space is a feature in this hotel and the room measures 54 square metres. The room is minimalist and modern and I'll admit that it didn't wow me at first but after a day or two I did grow to appreciate the lack of clutter. The king bed is on the left-it's one of the most comfortable beds I've slept in, the Egyptian cotton sheets are smooth as silk and the goose down duvet is heavenly. A BOSE player is on the left but only plays CDs but an adaptor is available to connect your device (although this isn't apparent until you ask and it doesn't charge your device at the same time). Thai art by artist Natee Utarit adorns the walls.
I take a look at the lounge area with large cushions and an antique Ming style chair made with teak and rattan which also serves as a meditation chair. Other furniture is made with Mahka wood. The desk is sizeable and the mini bar is well priced with a soda water at 120TB or just over $3AUD -not cheap by Thai standards but reasonable for ours. Free wireless is also a feature of all Como hotels and it is fast here. The doorbell rings. It's a delivery of fresh fruit and a freshly brewed tea to welcome and refresh the weary traveller.
Giorgio Armani designed robes
The bathroom is large too with a single sink (although the tap could be a bit smoother but I'm being picky here) and the walls and floor are made with limestone and mosaic. Beautifully scented Como Shambhala products feature and there is a shampoo, conditioner, shower gel and body lotion. A small box holds additional amenities like cotton tips, cotton pads, toothbrush, shower cap, comb and a sanitary bag. The Giorgio Armani designed robes are excellent and perfect for the warm weather. There were a couple of glitches: the safe and iron were not working and had to be fixed.
There are a few other features of Como Hotels and this one in particular is known for its food. There are two restaurants the most famous being David Thompson's Nahm restaurant opened in 2011 to much buzz and controversy. It recently earned the number 32 place in the "World's 50 best restaurants" list by San Pellegrino (there's a separate story to come on Nahm).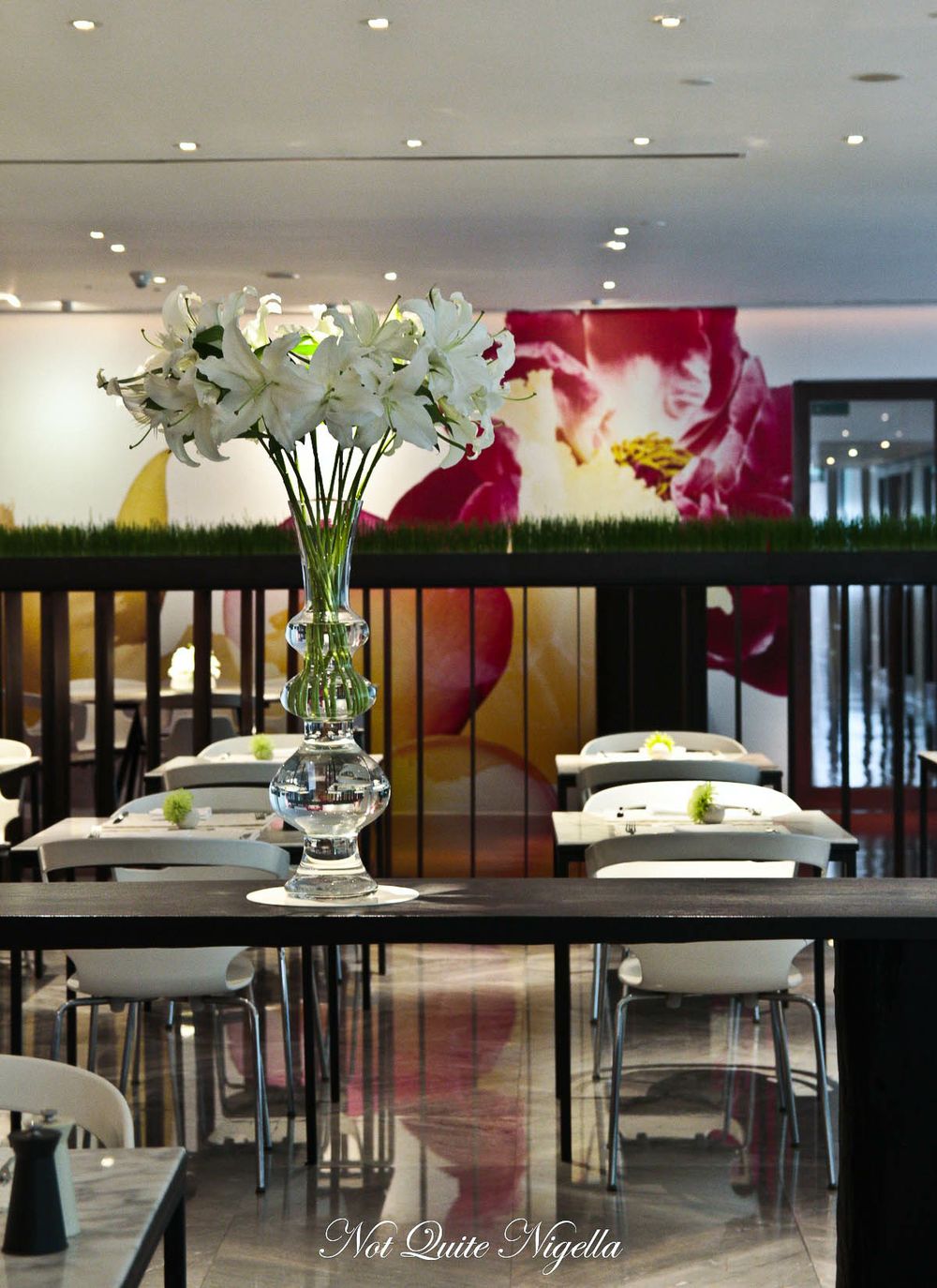 Glow restaurant
Then there's Glow, a popular restaurant for breakfast and lunch. Now readers that have seen my story on what I eat in a week may recall that I usually skip breakfast. But here I need to make a concerted effort to go every day because once I see the breakfast a la carte menu I'm rather smitten. And then there's the must try Tom Yum cocktail at the Met Bar which is the perfect balance of the tom yum flavours of lemongrass and kaffir lime with a hint of spiciness.
Tom Yum Martini
So my strategy is to use the gym (I know, but the clothes are already feeling a bit tight) and it just happens to be past the Glow restaurant where breakfast is held and past the spa. I am hardly a gym addict but it appears to be a really good gym with a good range of weight equipment and treadmills to use.
I know, I can't believe that I put a picture of a gym here...
My reward is a visit to Glow for their big breakfast buffet and a la carte menu which I always love because then you get a bit of choice but then something freshly cooked. The a la carte sixteen item breakfast menu allows you to choose one item from either the regular or the healthy menu and both sound equally tempting. I decide to err on the side of healthy and choose the roesti because I'm curious to see what a healthy roesti will be like.
I help myself to some of the buffet and the pastry selection glistens like a Parisian bakery. There are individual banana breads nestled in banana leaves but the donut with a green pandan custard peeking out from the hole catches my eye. I sink my teeth into the cinnamon sugar crunchy outer and the custard inside is silky and aromatic.
I try some of the house made jams displayed in small copper pots: a pineapple, ginger and lemongrass jam is sweet and sticky and the papaya and passionfruit jam is delightful.  The lime curd has a satisfying zing and the chocolate tamarind is smooth, silky and the tamarind gives it a nice slightly sour element like dark chocolate. I add a little avocado salad, tomato, smoked chicken, smoked salmon and edam cheese to the plate.
Zucchini and whole wheat roesti with smoked salmon, zucchini and dill salad and lemon scented cottage cheese
The roesti is made with zucchini and whole wheat rather than potato and it is topped with a generous amount of smoked salmon, cottage cheese, zucchini ribbons, slices of lemon and a sprig of dill. It's slightly sour from the lemon inside and I remove it before eating more. A lot of these choices are made using low salt and sugar and I found that once I added salt then I liked them a lot more.
Raw young coconut, cinnamon and almond "porridge", with banana and strawberries
The next day I try some of the coconut and almond porridge. Served cold, it is made up of ground up coconut, almonds and coconut milk and provides a long term energy boost for the whole day.
Tofu scramble with peppers and sweet corn, cherry tomatoes and coriander
Another breakfast was the tofu scramble with halved cherry tomatoes, a tomato concasse and fresh herbs with small pieces of soft tofu. It's good but once again, when I add some salt and pepper and it tastes delicious.
Raw "toast" with avocado, tomato and cucumber and lemon dressing 
My last breakfast was also from the healthy menu side too with raw toast. This is a dried seed based slice, quite crispy and a little hard to cut although it was very tasty and healthy. It was topped with ribbons of cucumber, mashed avocado, tomato slices and corn.
Lunchtime at Glow is a healthy affair with plenty of organic and raw offerings on the menu, the latter not being heated above 40C or 104F . Most dishes can also be veganified or made vegetarian. We start with an apple, celery, fennel and wheatgrass juice which is fresh but still sweet.
Raw pumpkin and tamari soup
Our soup comes out and it's a raw pumpkin and tamari soup with pepitas and parsley. None of us have had raw pumpkin before and it has a slightly grainy texture but an excellent flavour with plenty of ginger and umami is provided by the tamari.
Seared tofu, mushrooms and Asian greens with miso dressing
The two mains came out share style and I try the seared tofu with a range of Asian mushrooms and asparagus. The flavour is excellent, slightly tangy and the tofu, even though thick and firm has a lot of flavour seared into the crust.
Petal, herb and avocado salad with sweet and sour dressing
The petal salad is intriguing and we fish through the raw pumpkin, herb and avocado salad for little pieces of the petal. They're actually jasmine petals and eaten separately they're quite bitter, the bitterness more pronounced the more you chew on them. Here, they're used sparingly to balance the flavours of the salad which is spicy and delicious.
Mango and macadamia cheesecake with fresh mango and papaya sorbet
I'm always a fan of raw desserts as they're lighter in texture. This is a mango cheesecake which is made with a ground macadamia crust. There are slices of dried mango on the side and some mango and papaya sorbet.
Our serene yoga instructor. She didn't fall over once...
The other pillar to feature in the hotel's portfolio is fitness with daily free activities including a yoga class as well as pilates and Tai Chi. I've never done yoga in a class before so the whole time I spend like a monkey in a banana shop trying to balance and breathe occasionally forgetting to do both and above all trying not to fall over in front of my more learned colleagues!
The Como Shambhala spa is sublime although pricey for Bangkok standards. I booked in for a Super Hydradermie Facial which is an electrotherapy treatment that uses mild galvanic and micro currents to allow the gels and creams to penetrate into the skin better. The treatment is 3700THB or $126AUD and goes for 90 minutes.
I disrobe in the changerooms and sip on a sweet, hot ginger tea and my therapist Sudjai comes to collect me. The treatment room is minimalist and features the instrument of torture (just kidding!) as well as an enormous array of Guinot gels and creams. The lighting is a bit brighter than I'd like but perhaps that's because they are using electronic equipment and I settle in with Sudjai's firm massage.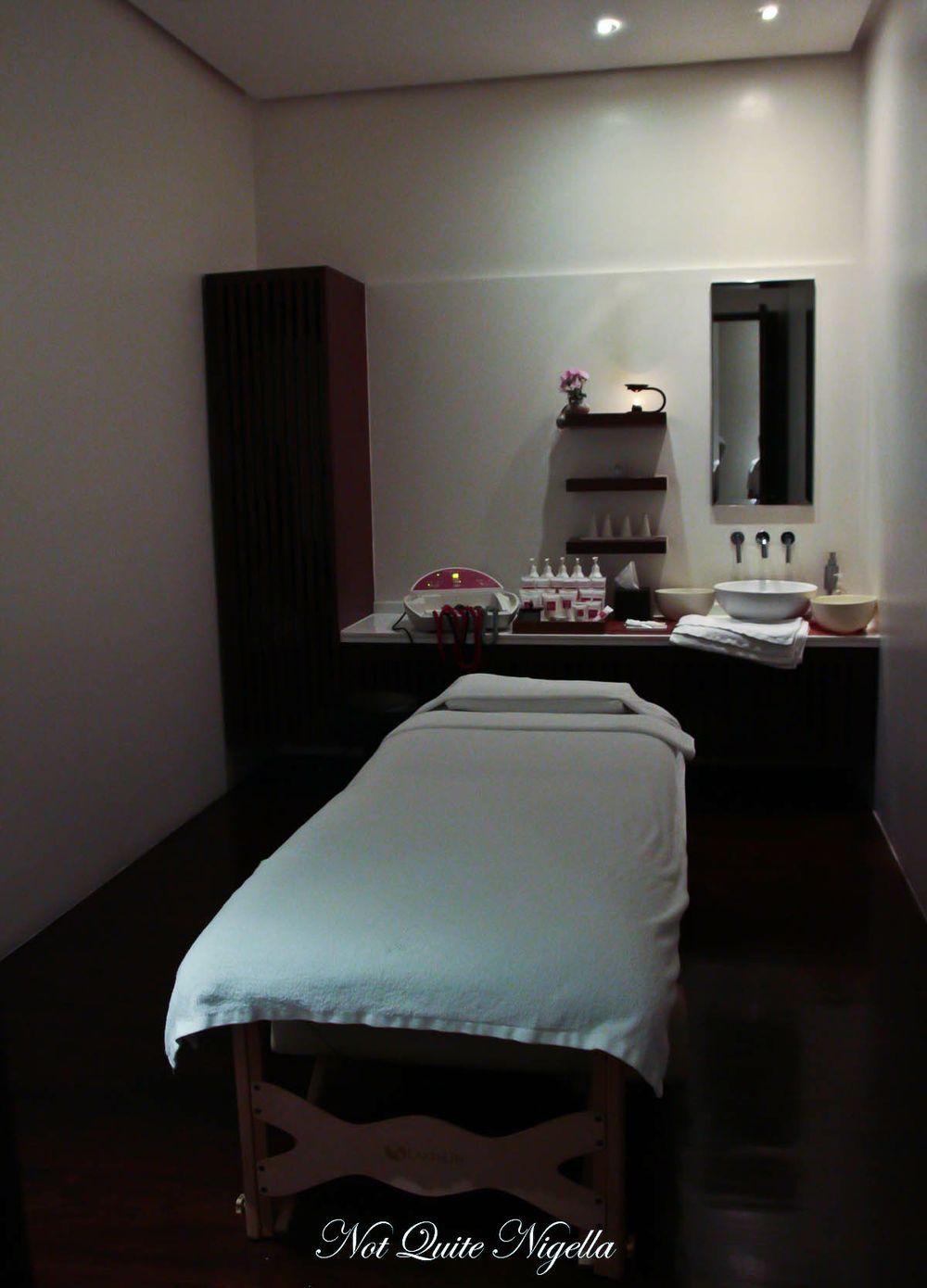 She applies the cream in a smooth, flawless motion and soon I lose count of the number that she has applied and removed. There's a light buzzing and then she uses three different metal rollers on my face-the first using an ever so slight electrical current while the third has a faint buzzing. She finishes off the treatment with a leg, arm and shoulder massage.
I think I might even be glowing.
So tell me Dear Reader, do you go for minimalist modern hotel room or ones with lots of decor? And do you use the hotel's gym?
NQN travelled to Bangkok as a guest of Qantas and The Metropolitan Hotel
The Metropolitan Hotel
27 South Sathorn Road Tungmahamek, Sathorn, Bangkok 10120, Thailand
+66 2 625 3333