The other day I looked down at my "to cook" list and saw that ten out of the twelve items that I wanted to cook were sweets. And you know Dear Reader, I must confess that's not the first time that has happened...
There's only so often that you can serve up an omelette to your husband with a bright "ta-da!" before he starts to question whether you are just a cake and sweets blogger rather than an all round food  blogger. So with no dinners to eat, I had to think quickly to remedy the situation. I remembered a recipe I had seen on Lisa's lovely Gourmet Wog blog. It was for a market favourite: gözleme. Chances are if you've been to any markets in Sydney lately, you'll have come across a stand selling delicious Turkish gözleme.
To those that haven't tried one of these before, gözleme are a filled pocket of thin pastry encasing fillings from spinach and cheese, mushroom, beef, seafood or sucuk sausage among many others. The word gözleme comes from the word goz which means compartment (hence the pocket). The gozleme stall queue always seems to be the longest and is quite a sight to behold as you can see half a dozen women hand rolling the pastry using a thin wooden rolling pin. They are then filled and freshly cooked on the grill to order. I usually time market visits with lunch so that I can nab one of these, usually with two pieces of lemon.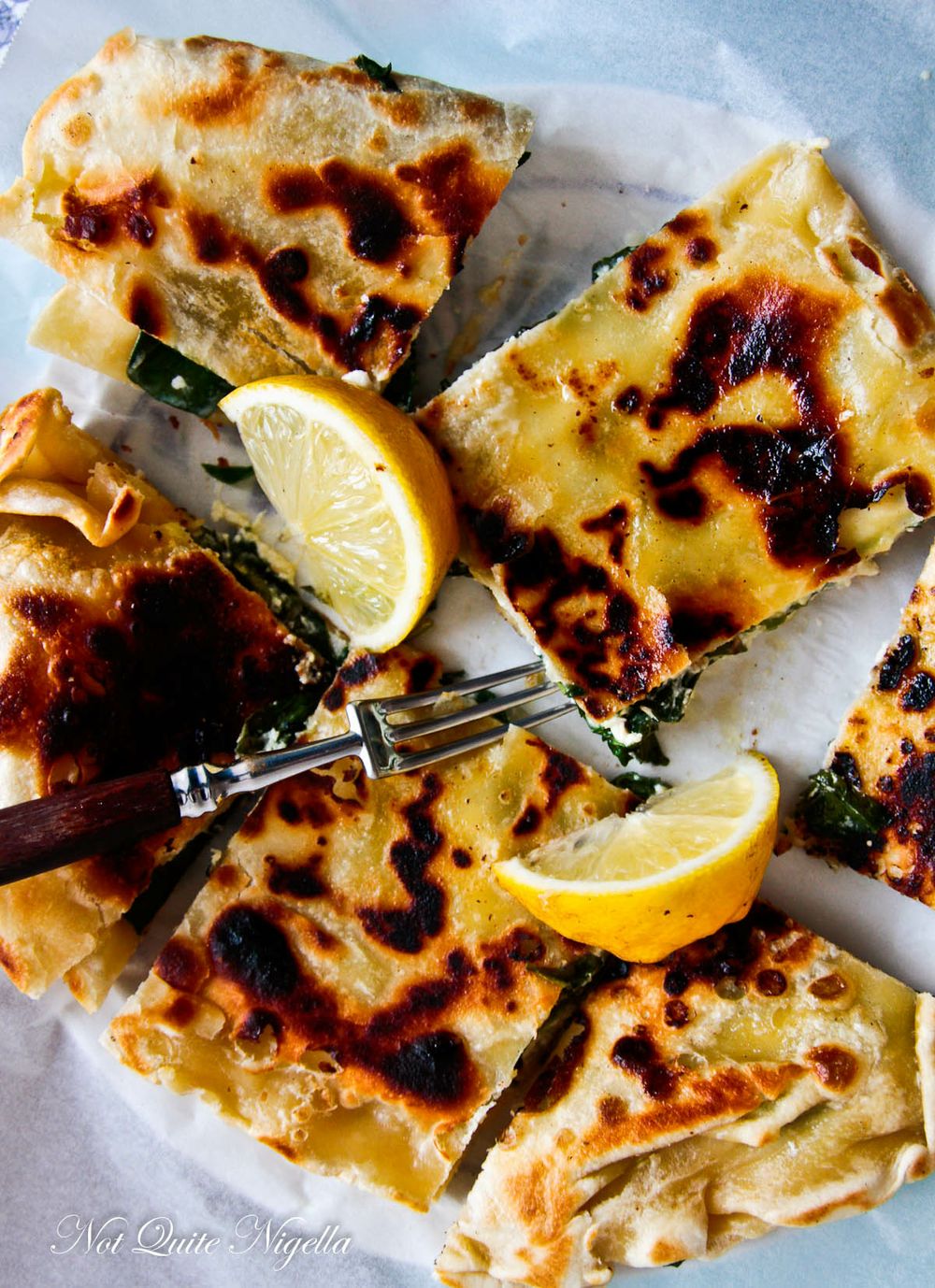 I was curious to see whether it was as good as what you find at the markets. I had actually asked Lisa how they compared and she said that they were very similar, even perhaps better. The dough was fairly easy to work with although I would recommend resting it for at least 30 minutes or maybe a couple of hours so that it rolls easily. Apart from me charring them too much and perhaps I could have rolled them thinner, they were wonderfully good indeed, so much so that I risked burning my mouth with them. I made spinach and cheese ones which are what I usually order from the market and it took all my willpower not to eat an entire gozleme before Mr NQN came home.
Although, it did occur to me that perhaps I could serve him another omelette just one last time... ;)
So tell me Dear Reader, do  you prefer cooking sweets or savouries?
DID YOU MAKE THIS RECIPE? Share your creations by tagging @notquitenigella on Instagram with the hashtag #notquitenigella
Spinach & Cheese Gozleme
Makes 2 gozlemes
2 ½ cups plain all purpose flour
1/3 cup olive oil plus extra oil for cooking
For filling
Salt and pepper to season
1 lemon cut into quarters, to serve
Step 1 - Place the flour and salt in the bowl of an electric mixer fitted with a dough hook. Add the olive oil and water and knead on the lowest speed until it becomes an elastic dough. Cover with cling wrap and rest for at least 30 minutes.
Step 2 - Meanwhile, make the filling by mixing the feta, baby spinach and egg together. Most feta is quite salty so you shouldn't need to add a lot of extra salt but season to taste
Roll out the pastry so that it is as large as your frypan (unless you have a griddle)
Topping it with filling
Step 3 - Divide the dough into four parts and shape into a ball. Roll out as thinly as you can get it. It is a fairly easy dough to work with and doesn't shrink too much or stick to a surface. Place the dough on a clean surface and then roll out another round. Top these two rolled out doughs with the filling mixture, dividing it evenly in half. Then roll out the other balls and place on top of the filling and seal by pressing down with fingers.
Sealing the gozleme
Step 4 - Heat the frypan on medium heat and add oil. Fry the gozleme on one side and then turn over and fry until golden. Slice into pieces and serve with the lemon wedges.