Looking for a wonderful way to keep warm in the cooler weather? Try these knishs a humble Jewish snack filled with potato and cheese. Used to warm up people on cold days or even as a prop by opportunistic politicians to curry favour with voters it's a simple but oh so rewarding snack. On the outside is a wonderfully crumbly sour cream pastry for some truly delightful carb on carb action. Just add hot mustard!
The first and only time I tried a knish was in New York about 20 years ago during a cold New York Christmas. My sister and I were staying in a small hotel in New York and had spent the previous night craning our heads to watch the small television that was anchored to the ceiling. I had chosen the hotel, in my haste I didn't realise that I needed to see dimensions of New York hotel rooms and it only made us more determined to leave the room as soon as possible. To the comforts of the snow and chill outside. How unlike me. I'm the hotel cat that sits in front of the fireplace but that just goes to show how modest the hotel was. Mea culpa.
The next morning it was snowing and it was early in the morning so the only people out were the friendly sort of morning people except we were in New York and they were busy but not unfriendly. I've never found New Yorkers unfriendly, they were to the point and didn't waste time and I can appreciate that. They also seemed fascinated by our accents although they had decided that we were English. I'm guessing this was because it was before Nicole Kidman, Hugh Jackman and Russell Crowe really hit the big time and all they had was the exaggerated strains of Crocodile Dundee to go on.
My sister bought the knish for breakfast because we had never heard of it before. She got so excited at her first bite and passed it to me. Her face was lit with excitement as she handed it over. I sunk my teeth into it. It was hot and buttery and there was something so deliriously good about the melted cheese, soft potatoes and that flakey pastry. I can still remember it even though it was decades ago.
Knishs are all sorts of shapes be it round or rectangular, some with filling poking out, some enclosed. Coney Island knishes are square shaped pockets that are deep fried (how wonderful does that sound on a bitterly cold day?) with a lot of different types of fillings but usually mashed potato features inside them alongside cheese or ground beef. Whatever takes your fancy really. They're sold in areas where there is a large Jewish population.
With the cooler weather I decided to give knishes a go. It was on a particularly rainy day and I made up a huge batch of them. This recipe makes 16 so in actuality it makes about 14. I minused two because I ate two hot out of the oven. Nobody needs to know the original number and I won't tell I promise ;) The rest went to Mr NQN for lunch and he adored them although he couldn't quite remember the word for them. "Knonishi?" he'd say. But he'd keep asking for them. They're best warm but you know what? They're also wonderful cold.
So tell me Dear Reader, have you ever had a knish? What do you turn to eating when the weather gets cold? Do you have a vivid food memory?
DID YOU MAKE THIS RECIPE? Share your creations by tagging @notquitenigella on Instagram with the hashtag #notquitenigella
Cheese Knish Pastry
An Original Recipe by Lorraine Elliott
Makes 14-16 knishes ;)
Preparation time: minutes plus 1 hour resting time
Cooking time: minutes
2 cups bread flour
2 teaspoons fine salt
113g/1 stick cold butter, cut into cubes
225g/8ozs. sour cream (full fat)
For filling
500g/1.1lbs. potatoes
1 tablespoon butter
3 onions, peeled and finely chopped
2 cloves garlic, peeled and finely chopped
2 cups cheese (I used a mix of ricotta, cream cheese and parmesan)
3 tablespoons chopped parsley
salt and pepper for seasoning
1 egg for egg wash
Hot mustard to serve
Step 1 - First make the dough as it will need to rest for an hour. Place the flour, salt, butter and sour cream in a food processor and blend until you get fine crumbs. Empty it out onto a large, clean surface and knead into a ball. Cut the ball in half and wrap each half with cling film. Refrigerate for 1 hour.
Step 2 - Meanwhile, steam or boil the potatoes and then push them through a ricer. Then place a saucepan on medium heat and saute the onions and onion in the butter until soft and fragrant and add to the potato mixture to cool a bit. Then mix in the cheese and parsley and then season with salt and pepper.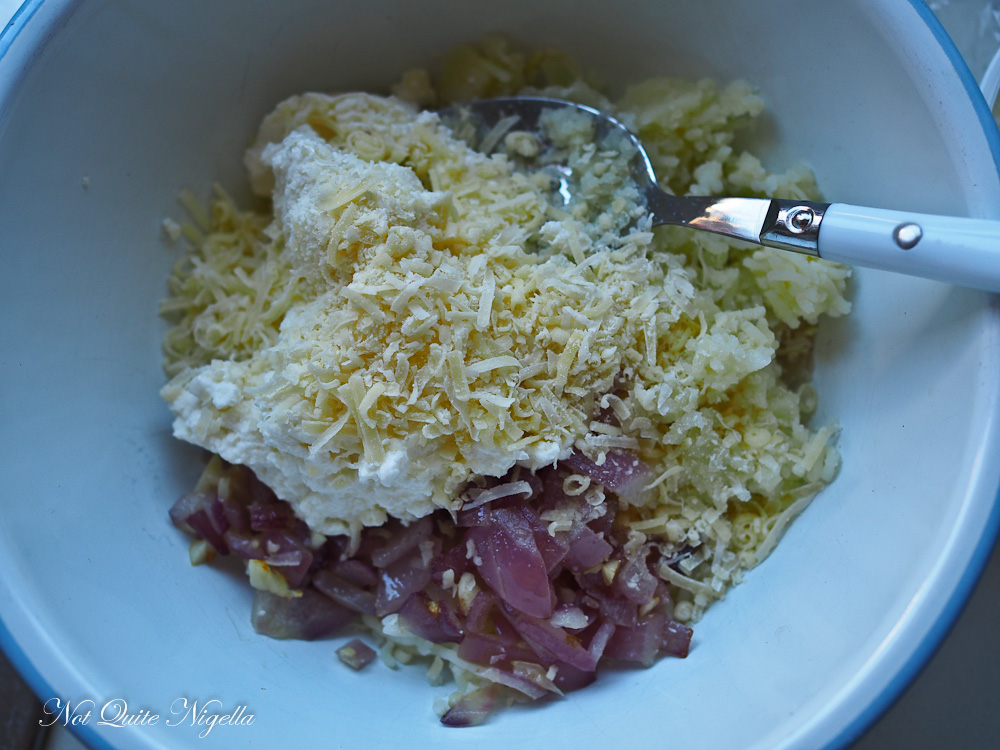 Step 3 - Preheat oven to 200C/400F and line two baking trays with parchment. Roll out one of the balls of pastry to a large rectangular shape. Cut into 8 rectangles and then divide the potato filling in half. Place large dollops of the filling on each rectangle. Brush the egg wash around the rectangle and use to seal it shut.
Step 4 - Place each knish on a baking tray. Repeat with remaining dough and filling. Brush generously with the egg wash on one side. Bake for 20 minutes. Serve with hot mustard.