For a city girl like me, the chance to visit a farm that prides itself on fresh fruit and vegetables plucked as close to the day that they're ordered as possible is like the childhood equivalent to being asked to go to the best birthday party-you know the one with the pony _and _the jumping castle. So when the lovely people at Field to Feast contacted me about coming out for a visit to their farm, the answer was "Absolutely, when?". I invited my in laws, a bunch of country lovin' folk who left their idyllic country home to venture out into the capitalist jungle of Sydney, but who still missed the country setting.
](https://images.notquitenigella.com/images/fresh-fv-from-field-to-feast-and-a-hangi/a-finger_eggplant.jpg)
Cath (who runs the marketing) and Hapi (who runs the farming) have 5 acres of land for their vegetables all neatly rowed and pretty as a picture with vivid greens and purple sprouting like exotic flowers, all lined up to bask in the goodness of the sun under Hapi's green thumb. So blessed is he that he holds the record in his native Tonga of the largest taro at 6 foot long.
We're shown the rows of produce, all beautifully cultivated and mostly unsprayed (only when absolutely necessary). The cabbages are bursting open with their wide open leaves like petals.
Lemon chilis
We see their range of chilis including the fiery hot Habanero, milder Jalapeno, long reds as well as a new one, the Lemon Chili, with a whole new taste to it. It's said to be particularly good for Indian cooking and they cannot keep up with demand.
Black capsicum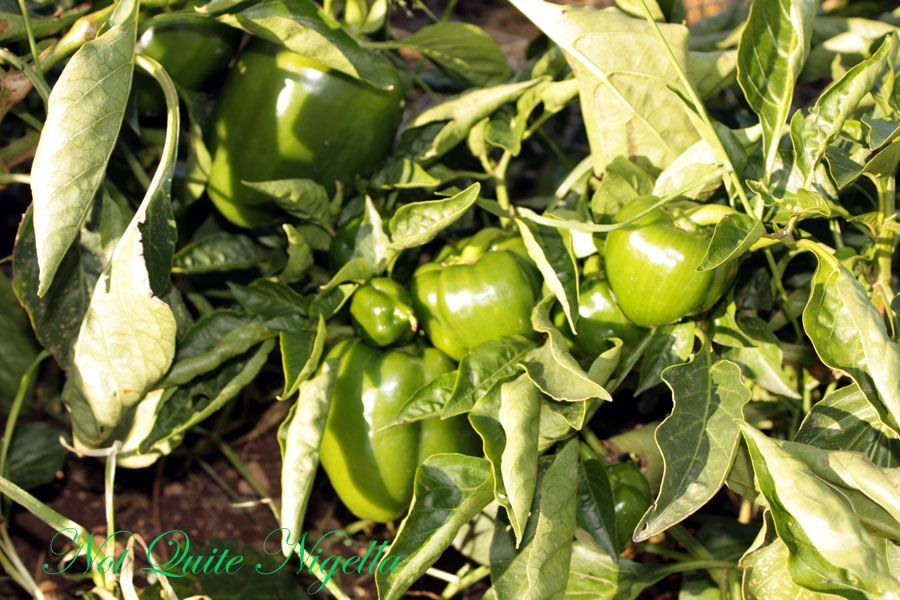 Capsicums
There's also Cavalo Nero, aka Black Tuscan Kale, a leafy vegetable that Cath says doesn't sell well because people are not quite sure what to do with it (it's similar to spinach).
We're shown the green capsicums which are brightly polished and gleaming in their boxes ready for market tomorrow. Plucked this morning, Happi urges us to tap on them. They're firm and do not give at all.
"They're super fresh" he says and Cath recalls a customer telling her that they must put their capsicums in cold storage, hence the firm exterior which is as far from the truth as it could be. "It's a constant education process, a lot of people don't know what really fresh vegetables are like".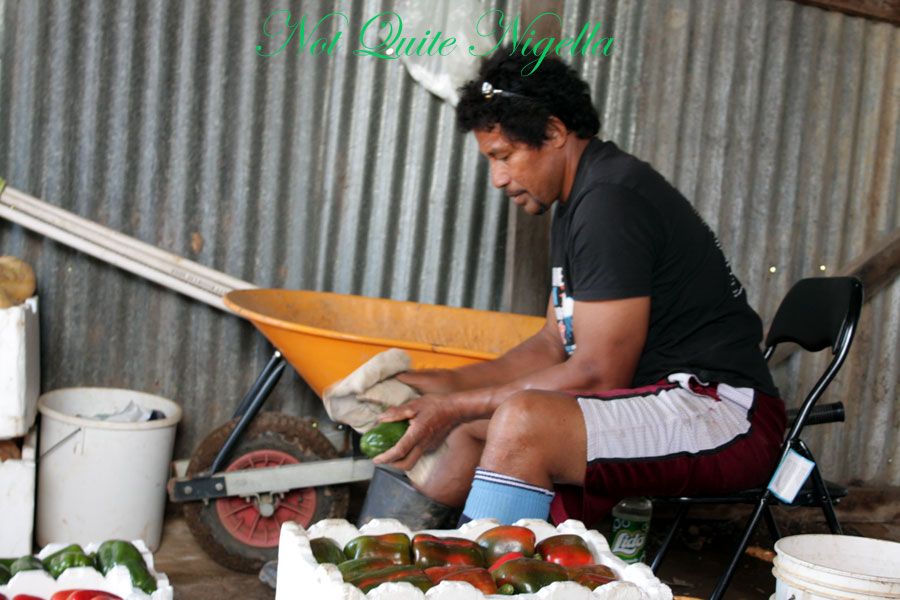 "I have some cabbage that was harvested 1 week ago which for us is long, yet the ones on the supermarket shelves are probably 4 weeks old" she adds. Many would assume that what they get in the supermarket is close to fresh and when they come across something different in taste or texture, they question its freshness.
There are also mini pumpkins, perfect for scooping out the flesh and stuffing and a pile of huge pumpkins.
Hapi shows us his tools, imported all the way from Tonga which allow him and only him to tend to the entire 5 acres by himself. There's a small shovel designed so that you use less elbow grease and a long 12 foot hoe.
Interestingly, Tonga has an underground water basin which never runs out, which serves as an aquifer as opposed to the claylike Australian soil so that in Tonga the produce doesn't hit solid ground. The islands too are volcanic which tends to make the soil richer. In Australia they have about 30cm of friable soil (loose and loamy) and then there is a clay table which tends to stop roots from growing forward.
We taste the vegetables, the cabbage is sweet and crisp, my husband, a cabbage fanatic loves these. The parsley is vivid and fresh, with not a single mark.
The radishes are delicious, the fruit is as close to ideal as you could taste and everything that we take back home lasts for ages as we got them so close to the time they were picked. Everything is much sweeter and juicier and "truer" in flavour than we've had before.
One thing that Cath shows me in the huge room full with styrofoam boxes. Some markets have regulations where the produce can only be brought and sold in brand new styrofoam boxes and that all of these boxes that aren't in pristine condition are simply discarded. If they are not packed in new boxes then the farmers will only receive a third of the price.
Cherry tomatoes gone to seed because they are slightly too large.
She also recalls bringing a large harvest of cherry tomatoes to a market and being told that they weren't quite the right size (they were only slightly too large) and that they wouldn't sell them so the entire lot had to be thrown out. A huge waste and an absolute shame.
Ota Ika
It is then that we are served up a meal to end all meals. Cath and Hapi have ordered a whole suckling pig and are putting on a Hangi (food baked in the ground). It's a first time for both for us, and I've daydreamed about this coming up to the day. Figaro salivates and can't keep away from the roasting pig whilst my vegetarian in laws are fascinated by the hangi covered with thick blankets, hiding a delicious bounty of vegetables beneath.
Pickled vegetables-a family recipe
There is also delicious pickled eggs, Ota Ika (raw salmon, tomatoes, capsicum and onion in coconut milk) which I adore, as well as tasty Pickled vegetables (from a family recipe of Cath's) as well as delicious southern highlands olives, huge and fragrantly with herb scent.
Hapi removes the bricks and blankets from on top of the Hangi and explains that to make his Hangi, he cut a tin drum in half and placed in in a hole in the ground and added the root vegetables to cook for about an hour.
](https://images.notquitenigella.com/images/fresh-fv-from-field-to-feast-and-a-hangi/a-otherhalfdrum.jpg)
The other half of the drum
Back home, families would pack their food in the Hangi and leave for church and when they came back, a feast would be waiting for them. The vegetables, a mix of pumpkin, sweet potato and yam are perfectly done. We help ourselves to the food and enjoy the country air.
The pork is incredibly moist and juicy with rosemary and thyme herbs adding a delicate scent. It's so good Figaro virtually station himself at the carving area and helps himself to portion after portion. The two adorable dogs are smart, they station themselves at his feet, knowing that he'll be the man for the bones.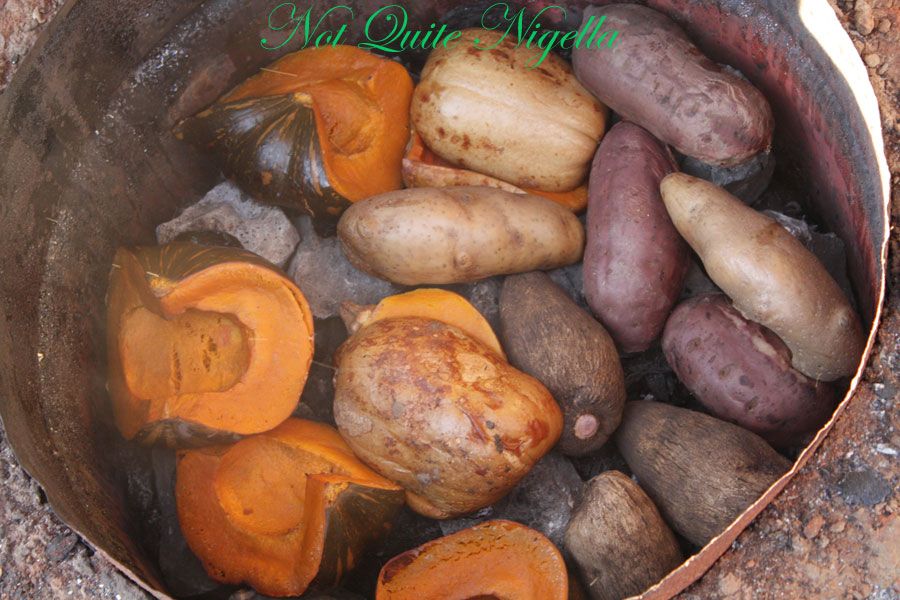 For those of you interested, Cath and Hapi will be selling at this Saturday's Parramatta markets. Their produce will be picked either the day before on Friday or two days before on the Thursday ensuring that you get the freshest possible produce.
Field to Feast at Parramatta Markets
Figaro contemplates moving here for the Suckling Pig