I once met a food writer that asked me what I thought of truffles. I told him that I loved them and every year I would look forward to when these earthy, aromatic specimens would come around and dust dishes with their fragrant, dark brown dust or thin shavings.
"I think they're totally overrated, they're a waste of time" he said to me.
I was surprised to hear a) the ferocity of his tone and b) why he'd start a conversation about something he clearly didn't like. What was next? Asking me what I thought of Westboro Baptist Church?
I stand my ground when it comes to truffles. And once you try a top quality truffle you may be just as intoxicated by these little specimens as I. Most people's first experience of truffle is using truffle oil which is not the best introduction.  Many of them smell like gasoline but a real, fragrant truffle? That's a thing of beauty. Truffles are increasingly grown in Australia, our relatively uncultivated soils and cold weather conditions mean that these beautiful little specimens are more accessible than ever. According to the Australian Truffle Grower's Association, there are now 150 truffieres in Australia and they are located in NSW, ACT, Victoria, WA, SA Queensland and Tasmania. Larger production truffieres are located only in WA and Tasmania but  smaller producers are dotted among the other states in areas traditionally thought to be warm like Queensland.
In NSW's Oberon Valley Col and Sue Morris of Lowes Mount truffles have been growing black Perigord truffles since 2002 as an "ambitious retirement project" and visitors can participate in truffle hunts among their 500 trees and enjoy lunches cooked with the truffles. This is how the Inter Continental's Tamas Pamar became acquainted with the Australian version of the European truffle.
During the month of July from the 1st to the 28th, diners can book in for a six course truffle degustation priced $85 for food or $115 with five matched wines. Most of the ingredients and the wines come from local suppliers. Mr NQN and I were invited to try it at the InterContinental's Cafe Opera. It is the same location as the buffet and while other diners partake of the buffet, we and six other guests enjoy the truffle dinner. We're told that you don't need to book the truffle dinner in advance but during busy periods like Friday and Saturday nights, you may need to book to secure a table.
Canapés served with 2009 Logan M Cuvee, Orange
The canapes were presented as a three parter starting with a seasonal winter dish of a small cup of soft boiled truffle infused quail egg with a confit chestnut nugget inside and a crunchy crouton. Next to this was the jamón ibérico potato croquette with truffle aioli which was crunchy on the outside with a soft, creamy filling. The last bite was the truffle infused wagyu bresaola, cloth matured King Island cheddar on a bread round which was beautifully fragrant. When each plate was set down in front of us the aroma of truffles was quite strong.
Truffle and scallop served with 2011 Logan Weemala Riesling, Orange
The next course was a Hervey Bay scallop with caramelised quince, quince puree, truffle creamed cabbage, a soft, airy sea urchin sponge and a little mound of soft, custardy sea urchin. There were thin shavings of truffles alongside this. This was a sweeter dish because of the addition of quince and while it was delicious, I did wish that there was some bread with which to mop up the sauce.
Truffle and egg, served with 2010 Hungerford Hill Chardonnay, Tumbarumba
My favourite way to eat truffles is with egg as the creaminess really brings out the best of truffles so I was really pleased to see this dish which was one of my favourites. It was a soft organic egg, sheets of folded ravioli pasta with twice cooked Berkshire pork belly, a sweetish mushroom soil and eggnog puree. The flavours of this dish were excellent although it was a little difficult to eat as you need a knife to cut the pork and a spoon to scoop up the rest so whilst the slice of pork belly looked good, I think it would have been easier to eat if it were sliced up into pieces.
Truffle and veal served with Scarborough Pinot Noir, Hunter Valley
The last course was a pomme de terre truffée with smoked foie gras, globe artichoke and oyster mushroom. The veal is tender and served pink, the smoked foie gras from Les Landes in Rouget from the South West of France is a flavour and aroma sensation strong enough to rival the truffles themselves. The texture is almost sweet and sticky, the foie gras caramelised and given a gentle smoking. And the Scarborough Pinot Noir from the Hunter Valley was a fantastic beautifully smooth red.
Truffle vacherin 
Our cheese was a prettily presented rice cracker on top of creamy, soft vacherin cheese drizzled with Assam black tea infused honey and toasted slivered almonds. And of course I managed to get some herbs tangled in my hair when I was eating this (you really can't take me anywhere...).
Truffle and chocolate served with 2007 Cargo road Dessert Zinfandel, Orange
Our final course is a dessert course with truffles that we're instructed to eat from the front to the back. It's a little light handed on the truffle with a few shavings of truffle accompanying the Guanaja chocolate pave, chocolate beignet, beurre bosc pear and truffle ice-cream. When you eat the truffle and the chocolate, the aroma of the truffle plays second fiddle to the chocolate almost disappearing. The truffle ice cream is not particularly sweet although it goes well with the beurre bosc pear and the chocolate beignet is a quenelle shaped sugar dusted donut. It's served with a red dessert wine with a good acidity to it.
I think back to meeting that journalist and shake my head and silently disagree with him one more time.
So tell me Dear Reader, what do you think of truffles?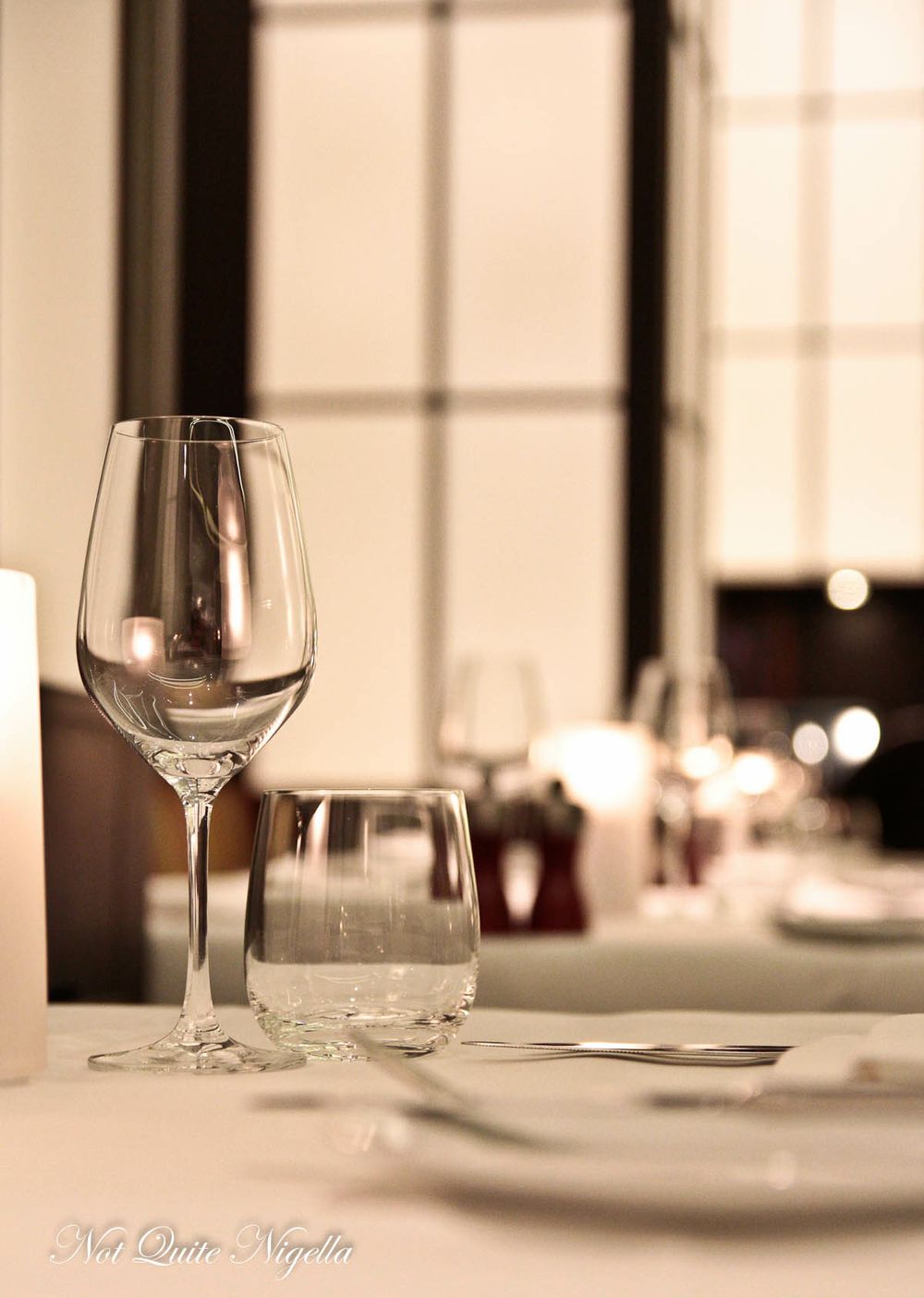 NQN and Mr NQN were guests of the InterContinental Hotel
InterContinental Hotel
117 Macquarie St, Sydney NSW 2000
Tel: +61 (02) 9253 9000
The Taste of Truffles Dinner is held from the 1st-28th of July, 2013 at Cafe Opera.