I think that every keen cook has probably thought that they had Italian heritage at some point or another. It's wishful thinking on the most part but I do know that this Italianophilia (not even a word really) is often most strongly felt after a visit to Italy. Even Nigella Lawson has said that she feels Italian (and just an aside, poor Nigella, look at all that she has gone through lately!).
My short time in Rome felt as though I had been swept up in a warm embrace by everyone that we met. It's their La Dolce Vita or appreciation for the Sweet Life. Those stolen sometimes brief moments that they take in their day to appreciate life appeals, particularly if you've been working at a hamster's pace on a wheel.
I love trolling supermarket and store aisles for new items and one item that I found recently was Farro. All I knew about it was that it is an ancient grain from the wheat family. It is sold dried and just requires cooking in water. It can also be ground into flour for pastas. It comes in three varieties and is low in GI and high in fibre and full of important minerals.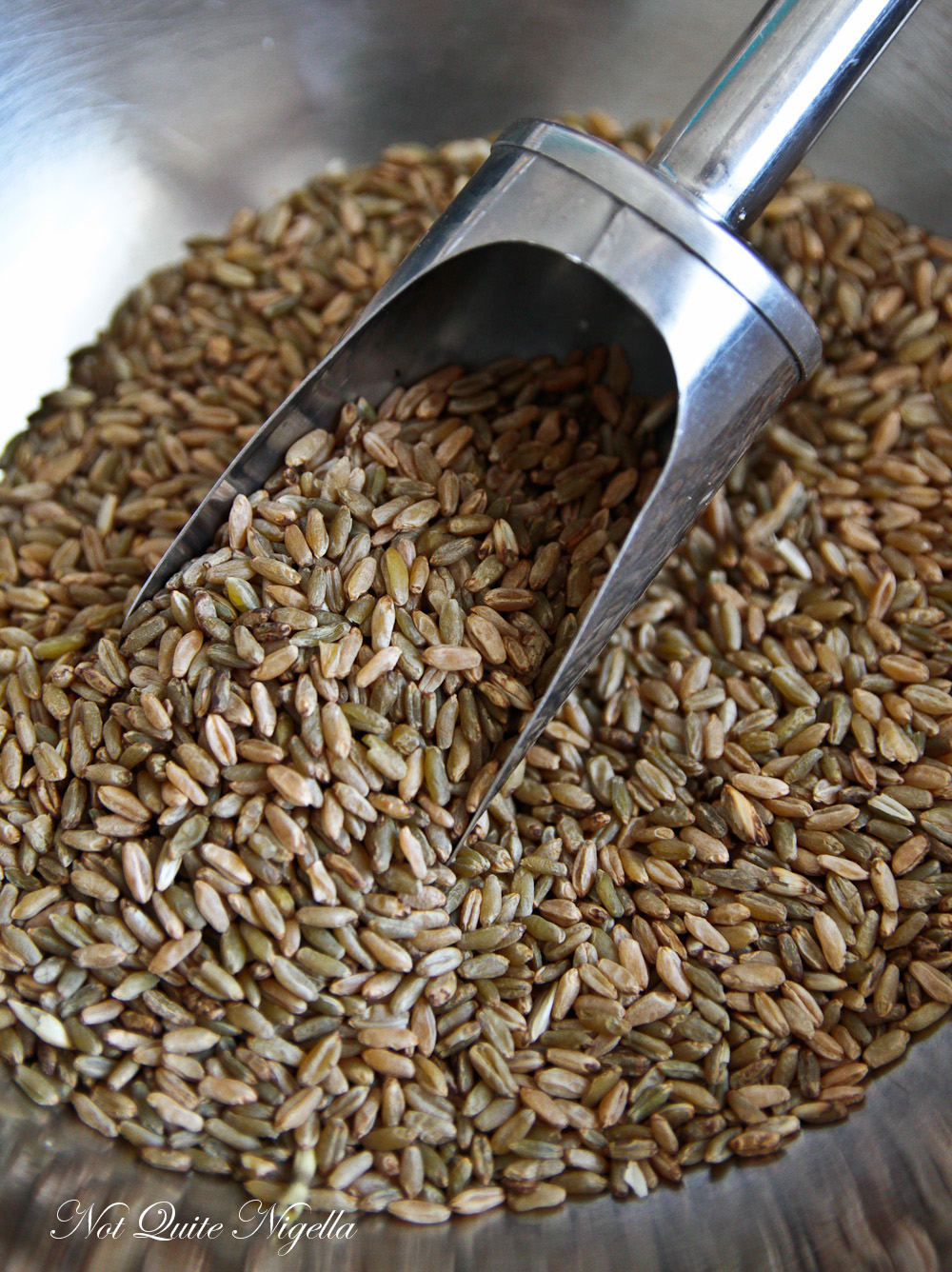 Semi pearled farro
Apparently the Italians have been using it for thousands of years but in many other countries we're only just discovering or rediscovering it. The packet that I bought gave me instructions on how to cook it. All it required was the same treatment as boiling brown rice, just a rinse and then simmering for 30-40 minutes.
Like I envisage people do in Italy, I went to the market with just plain farro in my mind as the base for a salad. I picked up some summer ripe cherry tomatoes and a whole smoked trout and thought that I'd make a salad out of it. It was the day before a big trip overseas and I wasn't going to take any photos as I had plenty to do.
I cooked, rinsed and cooled the farro, added the flaked trout, tomatoes and a simple vinaigrette using a divine black cherry vinegar and olive oil, some dill from the fridge and some pickled carrots that my my friend Tania from MyKitchenStories gave me for Christmas.
Pickled carrots
After a taste, I had to press pause on the rushing around. I had no idea that this salad was going to be so delicious. I loved the nutty, chewy texture of the farro and the sweet and tangy dressing was perfect but not too overwhelming for the delicate smoked trout.
The tomatoes provided a succulent burst of summer and the pickled carrots really just made the salad. And yes Dear Reader, this is one of those pushy recipes that I urge you to make. It's summer on a plate and I've made this countless times now. Somehow, this salad told me in the most delicious way to focus on La Dolce Vita.
So tell me Dear Reader, if you could be from any country, what would it be? And if you could live in any city, what city would it be? And what do you think of everything that Nigella has been going through lately?
DID YOU MAKE THIS RECIPE? Share your creations by tagging @notquitenigella on Instagram with the hashtag #notquitenigella
Farro, Smoked Trout & Cherry Tomato Salad
An Original Recipe by Not Quite Nigella
Serves 4-6 as part of a larger meal
Preparation time: 10 minutes (can be done during cooking time)
Cooking time: 30 minutes
250g/0.5lb. farro (you can also use pearl barley, quinoa or brown or red rice)
2 cups water
3/4 cup of 10 minute pickled carrots* (recipe below)
1 whole smoked trout, skinned and filleted
1/3 cup olive oil
1/4 cup black cherry vinegar (or your favourite vinegar)
2 teaspoons honey
400g/14ozs. cherry or small plum tomatoes, halved for the larger ones
2 cups baby spinach leaves
3-4 branches of dill
Salt and pepper to taste
Buyer's Tip: Buy farro from health food and gourmet stores. Try to buy a packet with instructions on how to cook it as it comes in regular, semi pearled or pearled and the cooking time varies a lot for each. I bought a 500g packet of semi pearled farro from Peters of Kensington for $6. Farro is definitely not gluten free as it is wheat based but you can use quinoa or brown or red (non glutinous) rice instead if you are looking for a gluten free substitute.
Step 1 - Rinse the farro and put it onto boil in a saucepan with 2 cups of water. Simmer with the lid on for 30-35 minutes until done (mine was semi pearled but if you use regular or pearled farro, adjust times accordingly). You want it al dente rather than too soft. Rinse with cold water until it runs clear and set aside.
Step 2 - While the farro is cooking, make the pickled carrots (see below) and fillet and skin the trout. The skin comes off easily once you remove the head. Then just gently remove the meat on one side and then turn over then do the other. You should be able to keep the main bone as one piece. Flake the pieces of trout with your hands or a fork - I keep them semi bite sized as I don't like them too small.
Sorry there really aren't any progress shots because I was experimenting and I didn't expect it to be so good!
Step 3- Whisk the olive oil, vinegar and honey in a large bowl. Place the drained, cooled farro in the bowl. Add the trout, tomatoes, spinach leaves, dill and 1/2 cup of the pickled carrots. Toss gently to coat the salad and and season with salt and pepper to taste.
10 Minute Pickled Carrots
4 tablespoons rice wine vinegar (or you can use another soft white vinegar)
4 tablespoons pure icing sugar (dissolves very quickly)
1 tablespoon water
2 carrots, peeled thinly into ribbons
1-2 teaspoons grated ginger
a pinch of salt
1 zip lock bag
1 extra teaspoon soy sauce
Step 1 - To make the pickles put the vinegar, sugar and water into the zip lock bag or bowl and add the grated carrot and ginger and a sprinkle of salt. Zip up the bag or cover the bowl and shake till combined. Leave for 10 minutes