One of the best things about eating out is getting ideas to cook things at home. I don't mean molecular gastronomic creations (I can imagine these may go horribly home at Chez Elliott and I like my eyebrows) but things that are inspirations can still be found at the fanciest restaurants. Case in point, my trip a few months ago to The Royal Mail. They gave us a simple heirloom tomato salad simply dressed with basil and chives. It was easy and it was simple and absolutely possible to recreate at home.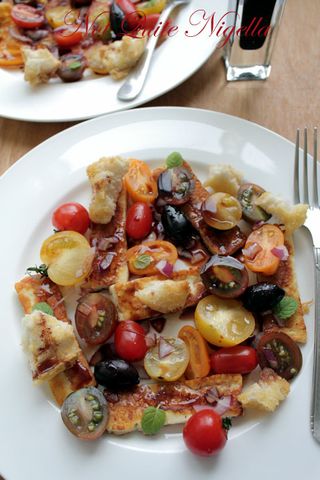 I have a bit of an obsession with heirloom tomatoes. Whenever I see them I have the urge to purchase them. Last year they were frightfully expensive (I saw four tomatoes for $8) but now they're more accessible and when I find them reasonably priced I grab them. My favourite thus far are the Johnny Love Bites which are so sweet they almost make your jaw ache with pleasure. I used a gorgeous aged Morello Cherry balsamic that I was lucky enough to get at Max's Restaurant in the Mornington Peninsula which was syrupy and gorgeous. I figure if I'm going to let the ingredients be the star of the dish I should use an excellent aged balsamic. It was so hot off the presses that he was mid design for the bottle, hence the hand drawn label!
Heirloom tomatoes are the tastiest tomatoes you could dream of. Almost bred out of existence by the  demand from supermarkets who wanted hardy tomatoes that could stand knocks  (and are therefore easier to transport with less wastage) whilst sacrificing taste, these taste laden tomatoes are making a comeback. This is an example of a recipe that I make often that almost didn't make it to the blog. I considered it too simple and perhaps not blog worthy. I then have Mr NQN, the voice of reason telling me that not everyone wants to make a Barbie pavlova and sometimes simple will do. He complains that I never listen to him and always go off and do my own thing which may be true. Stubborness is often attributed to my starsign (Taurus) but I protest and claim that most people are in fact stubborn as mules. We Taureans get a bad rap! I do in fact listen to his advice on occasion and when I made this, I knew that whilst it was simple, it was too good not to write about.
So tell me Dear Reader, what is your star sign and do you think that you are typical of it?
Halloumi and Heirloom Tomato Salad
Serves 4
100/3.5 ozs. white Italian bread, torn into rough pieces

40g/1.4 ozs butter, melted

300g/10.5 ozs pound Halloumi, sliced

7-8 large heirloom tomatoes or 400g/14ozs smaller ones

1/4 red spanish onion, chopped into small pieces

A good aged Balsamic vinegar

A good olive oil (I used a chilli and garlic infused olive oil)

Freshly ground black pepper
**Buyer's Tip: Heirloom tomatoes can be found at some Farmer's Markets, Parisi Rose Bay, Fratelli Fresh and Thomas Dux and even Coles. Dear god I hope they don't do anything untoward with them...
Step 1 - Grill bread until lightly toasted. Toss in melted butter and put aside. In a non stick frypan, fry the pieces of halloumi without any oil until they are soft and golden. Place on a large platter or four smaller plates.
Step 2 - Slice heirloom tomatoes and place on the plate along with the buttered bread pieces. Scatter the onion on top of this. Drizzle aged balsamic and chilli oil on top and season with ground pepper