It was time for a catch up with the girls Celia, Charlie and Tania. We needed to find a place that Tania could quickly and easily get to after work so I suggested Nomad in Surry Hills, a cellar door and restaurant on Foster Street.
It's an enormous space - so much so that we look around wondering what used to be here (it was furniture store Spence & Lyda). Nomad's focus is on an extensive wine list with every single wine available by the glass. And then there's the food menu. First arrival Celia has already ascertained that they smoke the meat and make their own yogurt and bread themselves.
Bookings can be made online and an SMS is sent upon confirmation saying that you can SMS back to confirm or cancel. Except that Nomad is relatively new and they're setting up systems so they don't actually receive any SMSs and you need to call to make any changes. I'll spare you the number and time changing palaver but there we were, Celia and I waiting for Charlie and Tania. They both walked in within minutes of each other cold, shell shocked and bedraggled by the rain. "I've just had to fight for a park" one said while the other echoed that drivers were unnecessarily aggressive in the area.
They needed food so we take a quick look at the menu. Service by the waitstaff is lovely and enthusiastic except for one and we get some recommendations. They're a little worried that we have over ordered. The one page food menu has a good range of starters and mains. Chef Nathan Sasi is from Heston Blumenthal's Dinner in London, Sean's Panorama and Est.
The room fills up quickly, clearly a seat at Nomad is a hot ticket in town. The space is on-trend with high ceilings, exposed brick, clouded windows, ironwood columns and exposed piping and lightbulbs. It has an industrial feel given sleekness from smooth Nordic style blond wood chairs and tables.
Woodfired sourdough $2.50 per person
The house made bread made in their own wood fired oven was good although it was expensive at $10 for this serve. It comes with some excellent black salt butter.
House made Nomad Charcuterie $26
They house made charcuterie ranges from mortadella, chorizo, pork and fennel sausage, pork shoulder and ox heart. I'm not usually one for mortadella but I loved the aromatic spice and slight sweetness of it here and the paper thin peppery oxheart is another divine morsel.
Foie gras and chicken liver parfait $26
If anything warrants abandoning a diet, it's this creamy, buttery smooth parfait. Made with foie gras and chicken liver it is parfait perfection. It comes with a round of Iranian plum paste although it's still sensational without it and in a certain ratio spread on bread the two together remind me of the umami sensation of Vegemite and butter. To the side are pickled radishes to refresh the palate.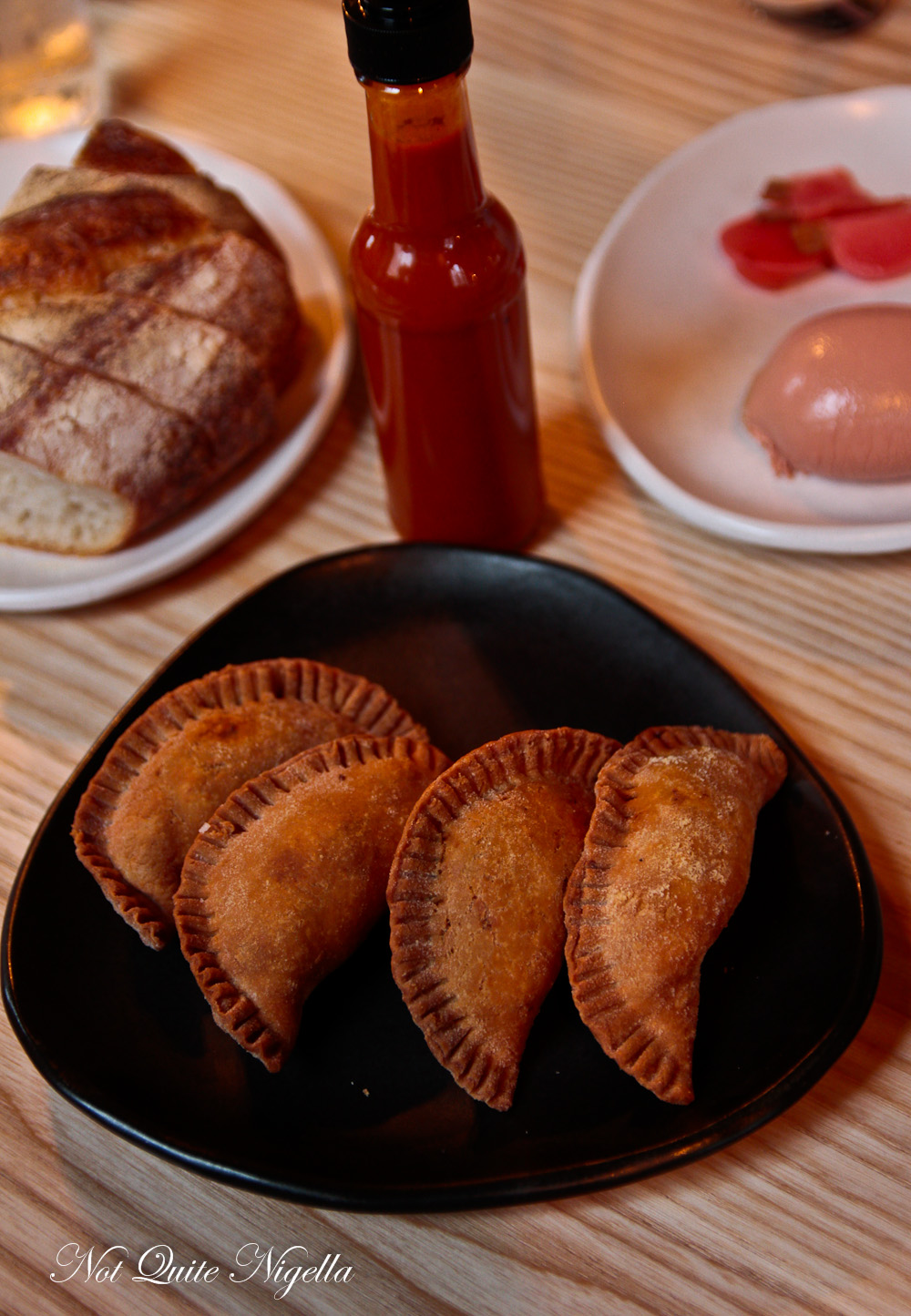 Smoked pork empanadas $28
The smoked pork empanadas come out looking rustic and hand rolled. They're not bad and need the harissa hot sauce to the side, otherwise they can be a little dry.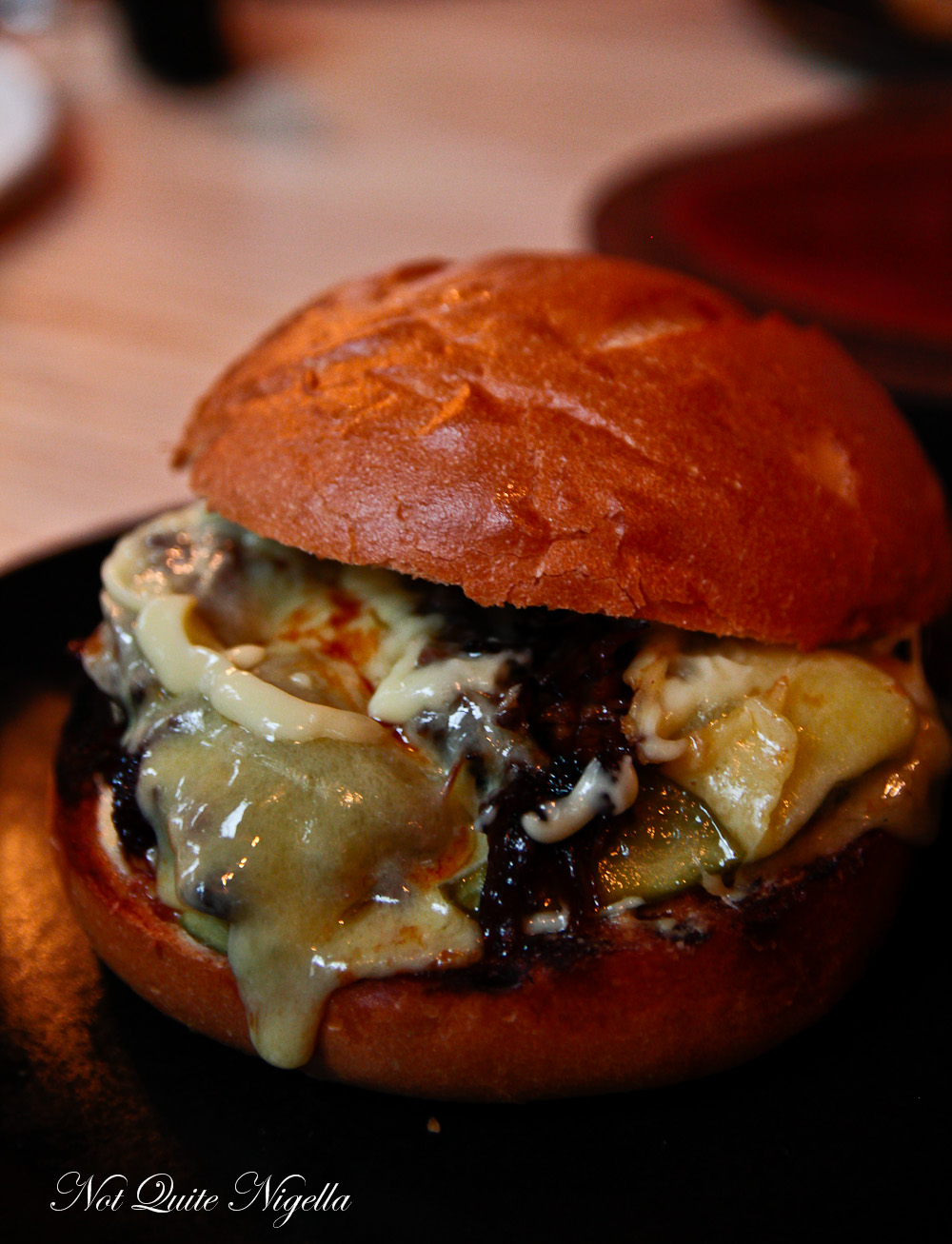 Beer Braised Shortrib Roll $13
This baby is only available at lunchtime and if there's any reason to battle the parking demons in Surry Hills during lunchtime, it's for this luscious and generously portioned number. The soft braised shortrib has flavour from the beer treatment and it is topped with their own Nomad smoked cheddar cheese and bread and butter pickles on their own light, soft bun. And it's large enough to slice into four should you wish to although it is that good that we wanted one for ourselves.
Pigs Ear Schnitzel Roll $12
The pig's ear schnitzel is a crispy crumbed leaf with a thin layer of pig's ear inside. The schnitzel itself is quite oily and the preserved lemon, mustard coleslaw is tangy but it's not quite in the same league as the shortrib roll.
BBQ lamb ribs $32
Our lovely waitress comes by to check how we were doing with our food and if we still want our mains. We confirm yes and our lamb ribs arrive looking luscious and inviting. Celia can't wait to dig into them but I'm not sure whether to wait for our carrots. Lamb gone cold does tend to congeal but given that there is no sign of the carrots we dig in. Each lamb rib is luscious and soft and given sweetness and caramelisation from the quince molasses. It is served with their own garlic yogurt.
BBQ carrots $15
The carrots arrive when I've got a single mouthful of lamb left and our waitress is apologetic about it. The two dishes go well together the barbecued Dutch carrots sweet and spicy and given extra crunch from the almond dukkah. The labne to the side is creamy, almost like a mascarpone and doesn't have the tang that you usually expect from a yogurt labne.
Bunuelos $14
There's only room for one dessert given how much we had eaten so we go for the bunuelos or the cinnamon sugar dusted donuts. They come with a rose water and cardamom custard, strong in cardamom which it needs to give flavour and moisture.
So tell me Dear Reader, do you more often dine out as a couple or in groups with friends? And do you usually order wine by the glass to try more or by the bottle?
This meal was independently paid for.
Nomad
16 Foster Street, Surry Hills, NSW
Tel: +61 (02) 9820 3395
Tuesday – Friday Lunch from noon – 3pm
Monday – Saturday Dinner from 6pm