A popular cafe on Albion Street in Surry Hills, Reuben Hills specialises in coffee and has a tempting menu with twists on classics like Iced Vo Vo milkshakes, "really f'ing great fried chicken" and Not Reubens (their version of a classic Reuben sandwich). Be prepared to wait in a queue on weekends and during busy times.
Although I am finally on my full driver's license (yippeee!) it doesn't necessarily mean that I'm better at driving. Take my little trip to Reuben Hills on Albion Street, a street I know well as I've worked there before. Around and around I went looking for the spot, it turned out that I hadn't gone far enough down the parallel street. I felt like I was in the roundabout scene of National Lampoon's European Vacation. "Hey kids, there's Big Ben and the Houses of Parliament!" I muttered to myself.
I'm running a few minutes late as I hate to be for a meeting. Miraculously a spot is free just outside Reuben Hills and I do my first right side parallel park. There are two people sitting in the window looking at my ham-fisted maneuvers. "Don't mount the kerb!" I say to myself silently. I'm pretty sure the expression on their faces is pure pity. Or actually they don't care which is more likely.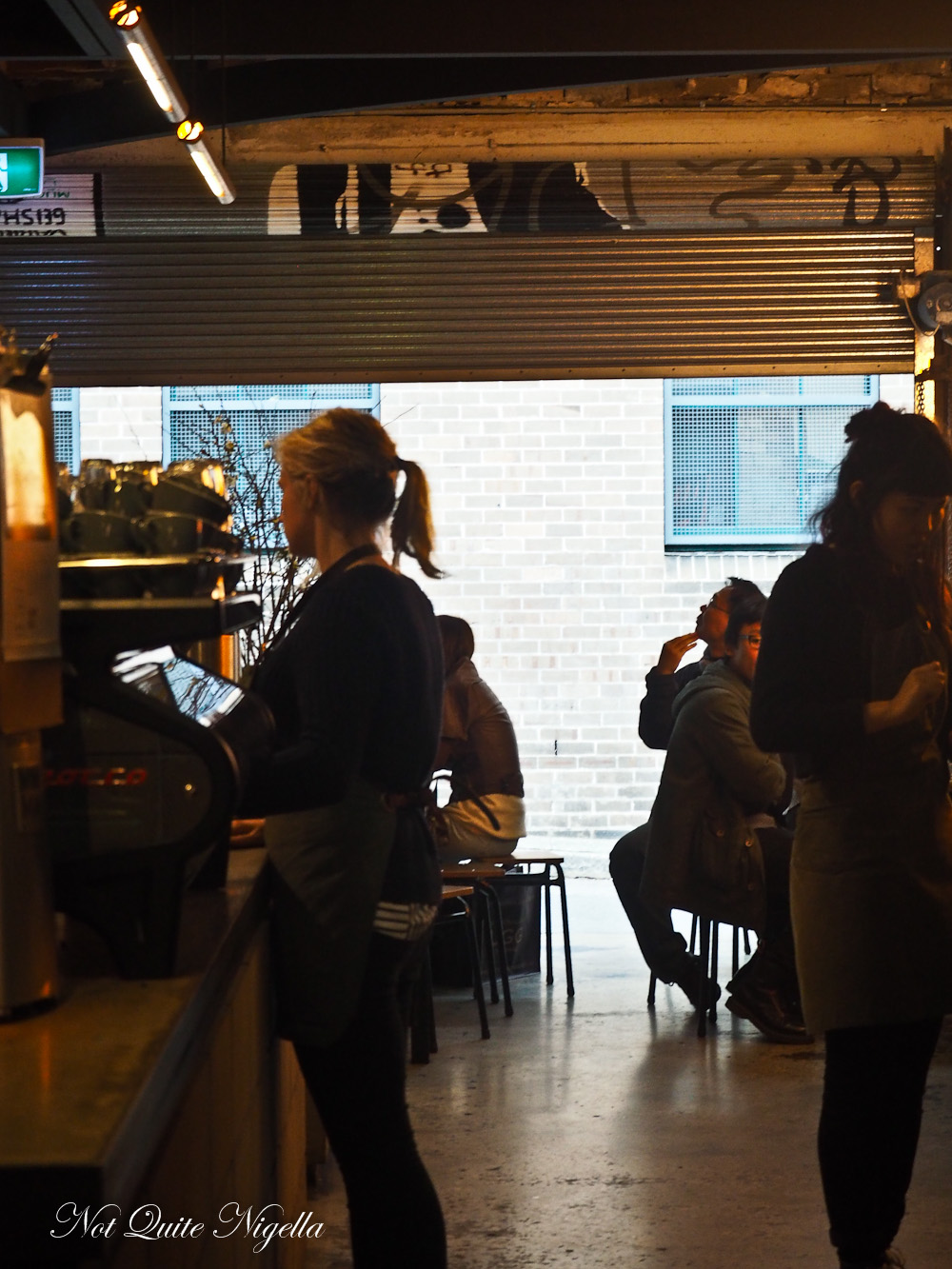 It has taken me the longest time to make it Reuben Hills. Every time I walked past there was always a contingent of hipsters standing outside sipping macchiatos and smoking. But it was a meeting that brought me here today. The cafe is a long rectangular shaped space and there is an open kitchen.
Iced Vo Vo Shake $8.50
I gravitate towards the Iced Vo Vo shake. At $8.50 it's not inexpensive for a shake but our waitress recommends it over the salted caramel which is my other choice. It arrives in a tall metal shake canister and I take a sip. It's delicious - reminding me what a fantastic combination raspberry and coconut is. And for good measure there is an Iced VoVo on top (which I promptly lose to the depths of the shake, a spoon would have been great to fish it out).
Really f*ing great fried chicken with chilli in a basket $18
Okay I didn't call it that, that is the name given to the fried chicken on the menu. "Fried chicken at lunchtime?" I say aloud. The waitress reminds me that they aren't open at night so lunch time is the only time to have it (unless of course you want it for breakfast). The chicken pieces are boneless pieces with a light flour coating. The chicken is incredibly moist inside and the breading is golden good. There is a chilli sauce and a chilli mayonnaise as well as lime wedges and pickled chillies to refresh the palate. I just want to take a serve home with me.
Dirty Bird - spiced grilled chicken, tomatillo salsa, cheese, pickles, chipotle aioli on brioche $17.50
Two chicken dishes in one lunch? This was wholeheartedly recommended to us so we order the "Dirty Bird" aka the chicken burger. It's a fillet of spice grilled chicken topped with a tomatillo salsa, melted cheese on the brioche bun, carrot and cabbage pickles and chipotle aioli. I absolutely love pickles on a burger, especially burgers on a rich brioche bun so I really like this. I think the aioli could be spicier but that's just me, I'm a chilli freak.
The menu looked so intriguing that it necessitated a second visit exactly one week later with Jaqi. She is already in possession of a table which saves us a wait. She has also ascertained the best thing to order on the menu and thankfully that coincides with what I want to order. Service again is very friendly and we order herbal teas and watch the dance of the tables.
Rise & Shine $4.50 Lemon myrtle, lemongrass, licorice and ginger root and Nourish Aromatic Spice $4.50 Aniseed, fennel, clove bud, cinnamon and ginger
My impression is that tables are hard to get here (my trainer Nina was once asked to leave after finishing her meal and coffee due to the queues). People usually only wait a few minutes and given that it's a week day, any time outside 1-2pm is best.
Soft baked eggs with chorizo, spinach, ranchero and rye $18
We opt for the soft baked eggs in a tomato based sauce served with chorizo (there's also a choice of jamon or feta). It's one of their best sellers and it's a filling and tasty dish with soft googy eggs paired with the pan fried chorizo adding a lot of flavour. It's spicy but is perhaps a little too spicy for Jaqi.
The NOT Reuben $18
We both adored the Not Reuben, an interpretation of a Reuben sandwich with Wagyu salt brisket, plenty of pickled slaw, manchego and horseradish cream on toasted rye bread. The horseradish cream adds a lot to this and we savour each bite. Waiting too long would mean that the bread that only just holds in the creamy slaw, cheese and slices of soft wagyu might start to fall apart but this isn't a concern as we eat hungrily.
Charquican chillean beef stew w soft fried egg, tomato rice and fermented pebré $16
This is Jaqi's choice as she felt like a warming stew and we figured that we could take whatever we couldn't eat home. This is a milder flavoured dish particularly after the spicy soft baked eggs and has more of a wholesome quality than a wowing one.
Dogg's breakfast ice cream sandwich w salted caramel $9
There is a choice of four types of desserts and we opt for this as recommended by the waitress. The Dogg's breakfast is a vanilla ice cream sandwich between two layers of chocolate sponge with a generous scoop of salted caramel. The caramel is the thing that really makes the dessert - the ice cream could have more vanilla bean and the chocolate sponge is fine but doesn't offer much texture but it's back to the scoop of salted caramel we go again and again.
So tell me Dear Reader, do you feel pressure reverse parallel parking in front of people? And are you a yay or a nay to pickles on a burger?
Reuben Hills
61 Albion Street, Surry Hills, NSW 2010
Tel: +61 (02) 9211 5556
http://reubenhills.com.au/