Mr NQN and I approach meals in a completely different way. While I plan my meals as far as one week ahead, he will often find himself first contemplating filling his tummy when its rumbling starts to drown out any other noise. I would be beside myself if I ever got to this stage so planning my meals ahead of time makes me happy. It also makes him happy because apparently I am a terror if hungry.
This story is for those of you out there like me that look forward to your meals and plan them meticulously. Last week, we got to preview a new concept at Devon Cafe in Surry Hills called Devon By Night. The only catch is that these nights don't start until this Thursday the 3rd of July.
Chef Zachary Tan
Devon Cafe sits on Devonshire street (no it's not named after the dubious quality luncheon meat) where former Bistro Guillaume, Guillaume at Bennelong and Pier chef Zachary Tan has swapped fine dining for more casual eating. Usually open just during the day, they're now open at night for a nine course degustation menu for just $60 per person.
I'm dining with Louise, Viggo, Nick and Mr NQN and the last minute Belinda is able to join us as she is given a reprieve from work. The evening menu is very different from the brunch lunch offerings which offer a polished take on sandwiches, baked eggs and brioche French toast. The Devon by Night concept offers Malaysian based treats, spurred by 31 year old Zachary Tan's feelings of nostalgia. He moved from Malaysia to Australia eight years ago with the purpose of learning French techniques. He studied at Le Cordon Bleu but found that as he matured as a chef, he drifted back to familiar feelings of nostalgia for his homeland, last visited three years ago. His focus is on his home town of Penang and the hawker street food but it is given a sophisticated twist using items such as lobster, truffles and wagyu.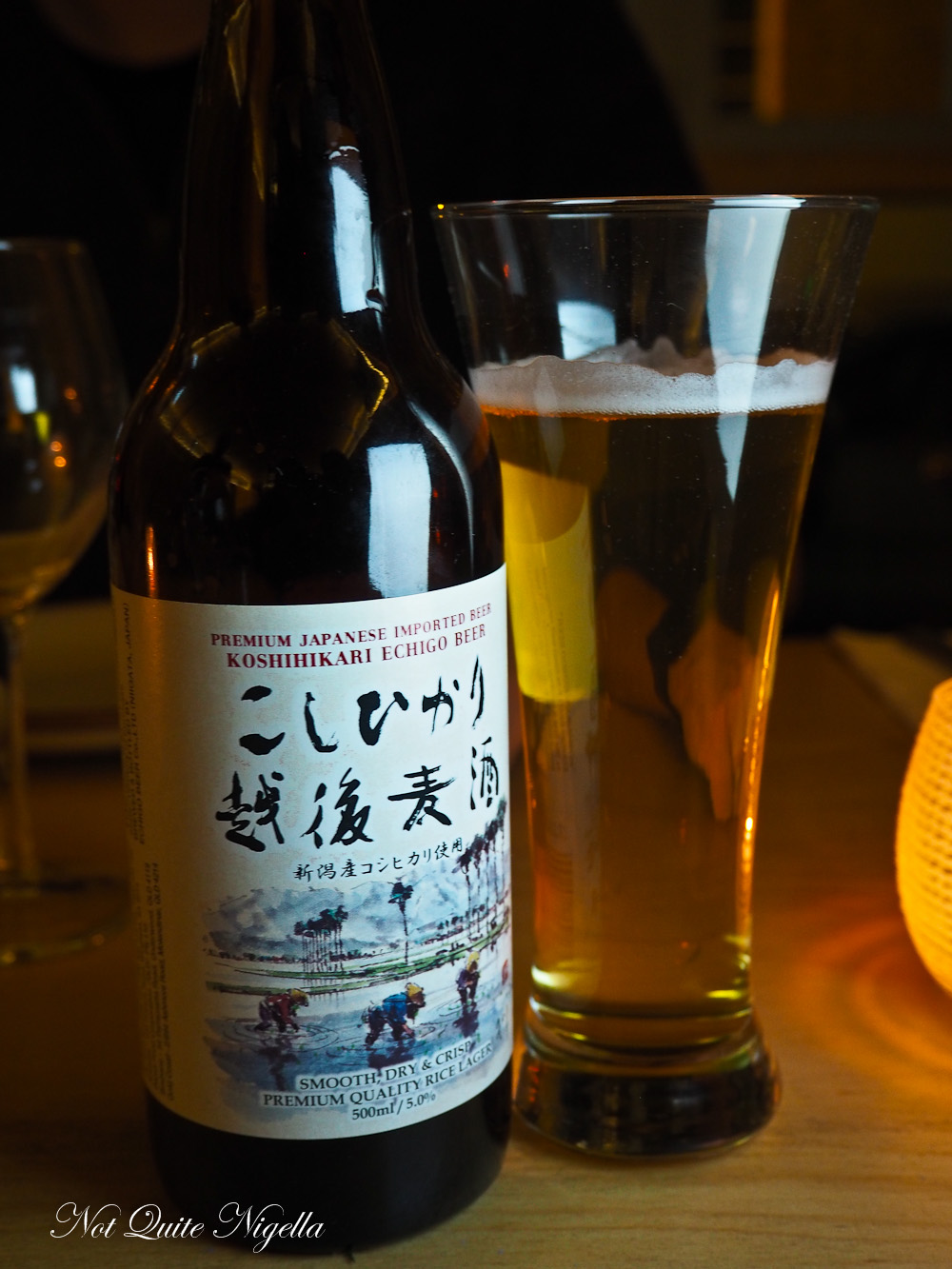 We start with drinks and Mr NQN orders a steam ale and Viggo orders a Japanese rice lager. The wine list comprises of Asian and local beers and wines.
Our first taste comes out and they are two small cups filled with nibbles. One is a kacang puteh or fried spiced chickpeas that have an addictive umami quality and the other an Indian snack mix with peanuts and fried noodles.
Oysters with passionfruit yuzu granita
Most of the food is made to share but the first course of an oyster has one oyster per person. There is a choice of oysters natural or ones topped with a pineapple yuzu granita and we all opt for the latter. These are Coffin Bay oysters and the granita is strong in passionfruit, perhaps a little too strong as the passionfruit overwhelms the oyster.
Pig's ear katsu (non shellfish option)
As Viggo has a shellfish allergy, he gets a small sandwich all to himself and it's a beauty with a pig's ear katsu, cabbage, wagarashi mustard and tangy bulldog sauce.
King salmon sashimi, avocado, toamto jelly, ikura, chives
The next course is a delicate and beautifully presented king salmon sashimi with each slice topped with avocado, tomato water jelly, ikura (salmon roe) and chives. It's fresh and delicious, the pearls of salmon roe popping in our mouths with every bite.
Devon's lobster roll
I think that with the exception of Viggo whose allergy prevented him from eating this, the lobster roll was everyone's favourite course. It's a very light brioche roll filled with medallions of lobster meat, Kewpie mayonnaise, baby radish and tatsoi. There was no way that anyone was not going to finish every bite and silence descends on the table as we savour every bite of the perfectly cooked lobster and light-as-air, buttery bun.
Steamed pork buns - rice flour buns, Hakka style pork belly, taro (non shellfish option)
This was Viggo's non shellfish selection and he seemed very happy with it.
Chargrilled corn, miso butter
The corn wasn't what we expected at all. There is one baby corn per person served in burnished corn silks and scattered with a coffee based powder. I'll be the first to admit that baby corn isn't my favourite vegetable - perhaps from too many dodgy stir fries when young. The fresh baby corn however takes on the flavour of the miso butter and the coffee powder enhances the flavour of both.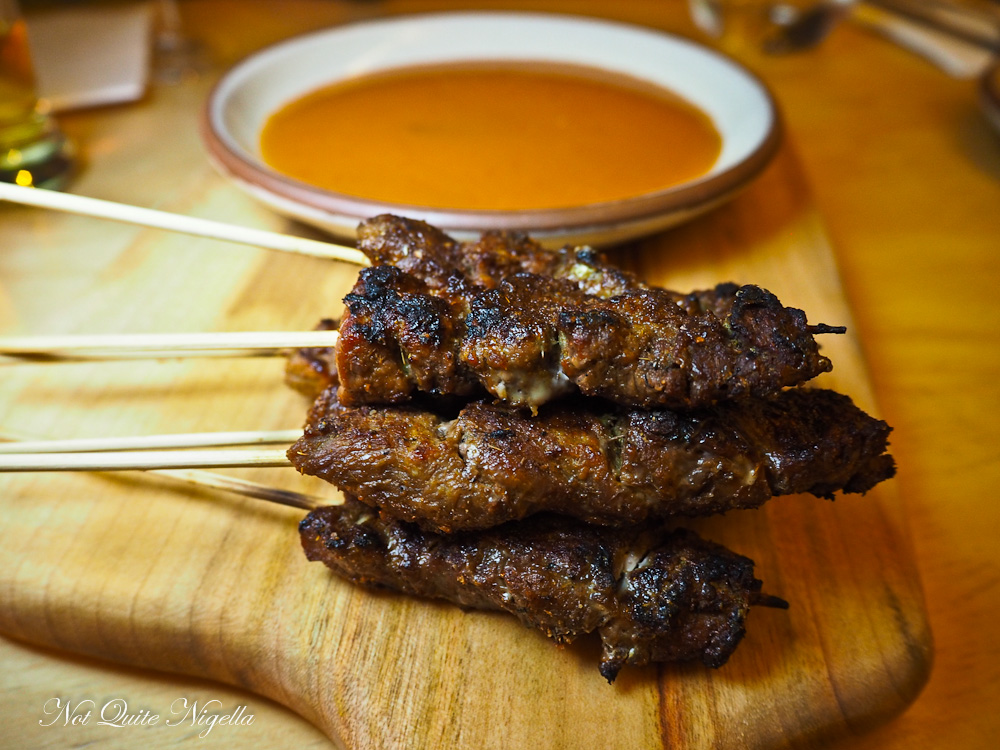 Satay babi
The satay babi is a nod to Penang Hainan style street food. They tell us that only two stands sell this particular pork satay that is paired with a unique sweet potato and peanut sauce. The sweet potato flavour is definitely there although it does remind us of satay but it's the succulent char of the pork pieces that wins us over.
KJI fried chicken wings, go chujang and peanut sauce
Apparently nobody ever asks what KJI stands for but it actually stands for Kim Jong Il. Not the North Korean dictator but a former chef of the same name who put the KJI chicken on the menu. Here, chicken wings are floured and deep fried until crunchy and then served with a gochujang based sauce that has a sweet and sour quality to it. It is finished with crushed peanuts on top. There are enough for two wings per serve. We pick up spoonfuls of the viscous sauce and pour it over the crunchy wings.
Chinese egg custard and fresh WA truffle
This dish had me swooning. Chinese steamed egg custard is a simple dish often cooked at home but here it is elevated by the addition of shiitake mushrooms, black fungus, yellow needle flower, goji berries and an intoxicating fresh WA truffle shaved on top that perfumes the dish with its distinctive aroma. The custard is silky soft and there are batons of yau ja gwai or Chinese deep fried bread sticks that give it an appealing crispy crunch without being greasy.
Wagyu 6+ striploin, ponzu, garlic
We're onto our last savoury course and it is a luscious wagyu 6+ rating striploin, sliced on an angle and served with ponzu sauce and garlic. The beef is succulent and we dip the pieces in the sauce and dab them on the plain rice.
Broccolini
The wagyu comes with a generous serve of broccolini with oyster sauce and garlic chips. It's perfectly cooked and a good counterpoint to the rich meat.
Mixed mushrooms
They open up a foil pocket to reveal our other side: mixed mushrooms. They're a mix of Asian mushrooms cooked with soy sauce, lemon zest and butter. They're silky smooth and full of flavour.
Fried ice cream baos
There are two choices for dessert and since all of us are good sharers (we're the six people that spent a whole day sharing banh mi across Sydney) we pair up and divide each bun in two. The rice flour buns are filled with coconut crusted fried vanilla ice cream and house made kaya coconut jam. It's probably quite obvious that it's a rich dessert but it's indulgent and fun too and a tribute to coconut in all of its textures.
Coconut jelly, guava sorbet, freeze dried pineapple
I look over and Belinda is having a moment with this dessert as a satisfied murmur escapes from her lips. I dig a spoon in and I see why. This dessert is refreshing and perfectly sweet at the same time. There's a layer of tapioca with coconut water, guava sorbet and freeze dried pineapple. And even though we've had so many courses, not a drop goes back to the kitchen. "What a way to end off the week!" Nick says.
So tell me Dear Reader, how far ahead do you plan your meals? Do you know what you're having for dinner tonight? What is on the menu for your household?
This preview meal was independently paid for.
Devon Cafe
76 Devonshire Street, Surry Hills, NSW
Tel: +61 (02) 9211 8777
Mon - Fri: 6:30 am - 4:30 pm
Sat - Sun: 8:00 am - 3:30 pm
Open for dinner Thursday to Saturday from July 3rd, 2014