Chef Darrell Felstead has revamped and renamed Surry Hills' Foveaux to become Foveaux Street Dining. A contemporary Australian menu features items such as a rich pâté with shaved pork dust and a luscious pig's head terrine complete with toffee apple in the centre. On our visit we ordered the chef's tasting menu made up of eight courses selected by the kitchen.
It was a hot Summer's Friday night. On the dot of 6 o'clock, Belinda, Mr NQN and I stood in front of Foveaux Street Dining. Opening the door on the right we stepped into the small lobby area with wine racks to the side and climb the stairs. Seeing the dining room before anyone else is in it is quite a sight. "Is it open?" I whisper to Mr NQN. It's a long rectangular room with the glass partitioned kitchen at the back. There are no settings on the tables so it appears that it is not ready for diners and we are shown to the table nearest to the front. It is only when we sit down that the table is set.
Previously known as Foveaux, the space has been renovated and Foveaux's chef and owner Darrell Felstead has returned. One and a half years ago the chef struggled with depression and was diagnosed with manic depression. "I'm looking to set up a foundation to help people. 1 in 5 people in Australia suffer with the illness and the highest cause of death in Australia is suicide. I want to help people and get people talking and connecting and that's why I have been able to rebirth my restaurant and wine bar," he says.
The interior is on trend with exposed brick walls and an industrial look lit with naked lightbulbs, hipster staff and the music this evening is firmly from the 90's. As for service, it runs hot and cold. One staff member is courteous while another swings between chilly and warm depending on what you ask for. "Can I keep a menu at the table?" is greeted with a crisp "No. We don't have enough."
The menu has a range of snacks through to starters to mains. Darren's says of his menu, "Dishes are very much about a story and a journey I have gone through with the rebirth of the my restaurant and Deli wine bar." There are also two chef's menus: the first is "a few of our favourite things" for $65 per person and the second is a "few more of our favourite things" menu for $85 where the chefs decide on the courses. Now this is a risk because there are a few items that I want to order and from asking our friendly waiter, they're very good. But in the end we decide to go with the full chef's menu for $85, courses come what may! Belinda and Mr NQN like the sound of the wine list and the wine that they've chosen, a Félix Callejo Flores de Callejo Tempranillo from Spain.
Three oysters come out to whet the appetite. They're Sydney Rocks from Merrimbula and served with a shallot vinaigrette. They have a satisfying briny, sweet punch.
The pâté comes out as three generous scoops. It's fantastic stuff, the sweet, citrusy pork dust on top giving the rich pâté sweet relief. The only thing is the lack of bread. I eat a little of the pate but it is buttery rich so I ask for bread. A boule of black rice bread is brought out, hot and straight from the oven. It's excellent with a crispy crunch on the outside but it really should have come with the pate (it's $6 extra).
I put mackerel in the same category as sardines. I love both these intensely "fishy" specimens and the mackerel is paired with a foamy white gazpacho cream and thin shavings of toasted pumpernickel.
The next two courses arrive together. The first is a pig's head terrine, something that we had our eye on. A whole pig's head is cooked in water, vinegar, sugar and spices for about three hours. The liquid is reduced and then the terrine is set, sliced and then caramelised with a blow torch.It's full of soft, unctuous meat on a bed of walnuts, walnut powder and walnut oil, baby celery and fermented red cabbage. The toffee apple is coated in a thick layer of toffee, not ideal for sharing unless you all don't mind biting from the same as it's a bit too thick to cut up but the soft, rich meat needs an acidic counterpoint like this.
One of my favourite courses is the barramundi tartare, full of fresh flavours with a lime curd, cucumber, mango pieces, sesame, sourdough toasts, salad burnet and a fresh citrus ponzu dressing. Scattered on top are tiny, thin green beach bananas that have a salty, fresh flavour reminiscent of cucumber.
They bring out the next pair of courses and the first thing to hit us is the aroma of smoke. It is a Brook Trout cooked perfectly so that it is lusciously soft. It sits underneath a carapace of thinly shaved two day fermented beetroot and beetroot powder with smoked eel and a fermented beetroot dressing. I would have loved a bit of textural contrast with the beetroot, perhaps some crispy discs of beetroot o give it a variety of textures but Belinda really likes this dish.
This is paired with a fresh salad made of soft baby gem lettuce, cabbage, cacio di bosco (truffle pecorino) cheese and crunchy macadamia nuts. This needs a little seasoning but is a good pairing with the fish.
It's now time for the main, main event. I was really hoping for the short ribs and by now we realise that perhaps going with this menu was perhaps not the best idea as there were a lot of other dishes that we wanted to try that aligned with the waiter's recommendations but these weren't served to us so it's best to specify these if you have them as obviously the chefs won't know otherwise. Having said that, the lamb rump is delicious. Perfectly seasoned and juicy it has an intensely meaty flavour without that overwhelmingly strong aroma that a lot of lamb has. I particularly like this dipped in the jus with the individual leaves of charred pearl onion. There is also baby gem lettuce, crisp peas, green olive puree and squares of dried nori. It is finished with a pea vinaigrette made with lamb jus emulsified with lamb fat.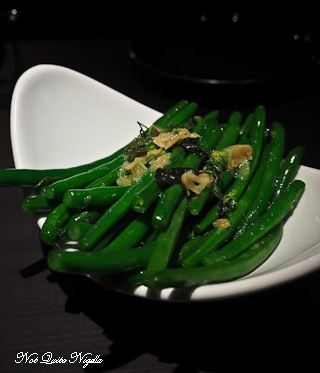 The lamb comes with a side dish of crisp beans with a full flavoured confit garlic and lemon topping. I particularly like the strong flavours of the garlic and lemon together that give this a Mediterranean or Greek aspect.
There are two dessert courses for the three of us and I start with the rich dark chocolate mousse with a sour cherry sorbet, fresh cherries and dried cherries on top. The chocolate mousse is appealingly rich flavoured but light in texture and the cooling sour cherry sorbet tastes like pure sour cherry.
It's a toss up for favourite dessert. The smoked caramel custard is thick and luscious and paired with passionfruit curd. Together they have an excellent balance of tart and sweetness. The dehydrated chocolate shard is reminiscent of Ovaltine and isn't particularly sweet but we go back for spoonful after spoonful of the custard and curd.
It's just past 9pm and they are eager to bring us the bill which is curious as the restaurant is about half full and people are still in the middle of dining. The bill comes in a hollowed out book. Given the early time that we've finished, it feels like the night is still young and full of possibilities!
So tell me Dear Reader, do you have chefs that you follow when they open or close their restaurants? And do you know people that have struggled with mental health issues?
Foveaux Street Dining
65-67 Foveaux Street, Surry Hills, NSW
Tel: +61 (02) 9211 7752
Open Tuesday to Saturday evenings from 6pm until late
http://foveauxstdining.com.au/