I do adore my daffy and long time friends Miss America and Queen Viv. I've known them for over 20 years and they've known each other for 20 more years and are such good friends that even Mr NQN's mother Tuulikki has mistaken them for a married couple.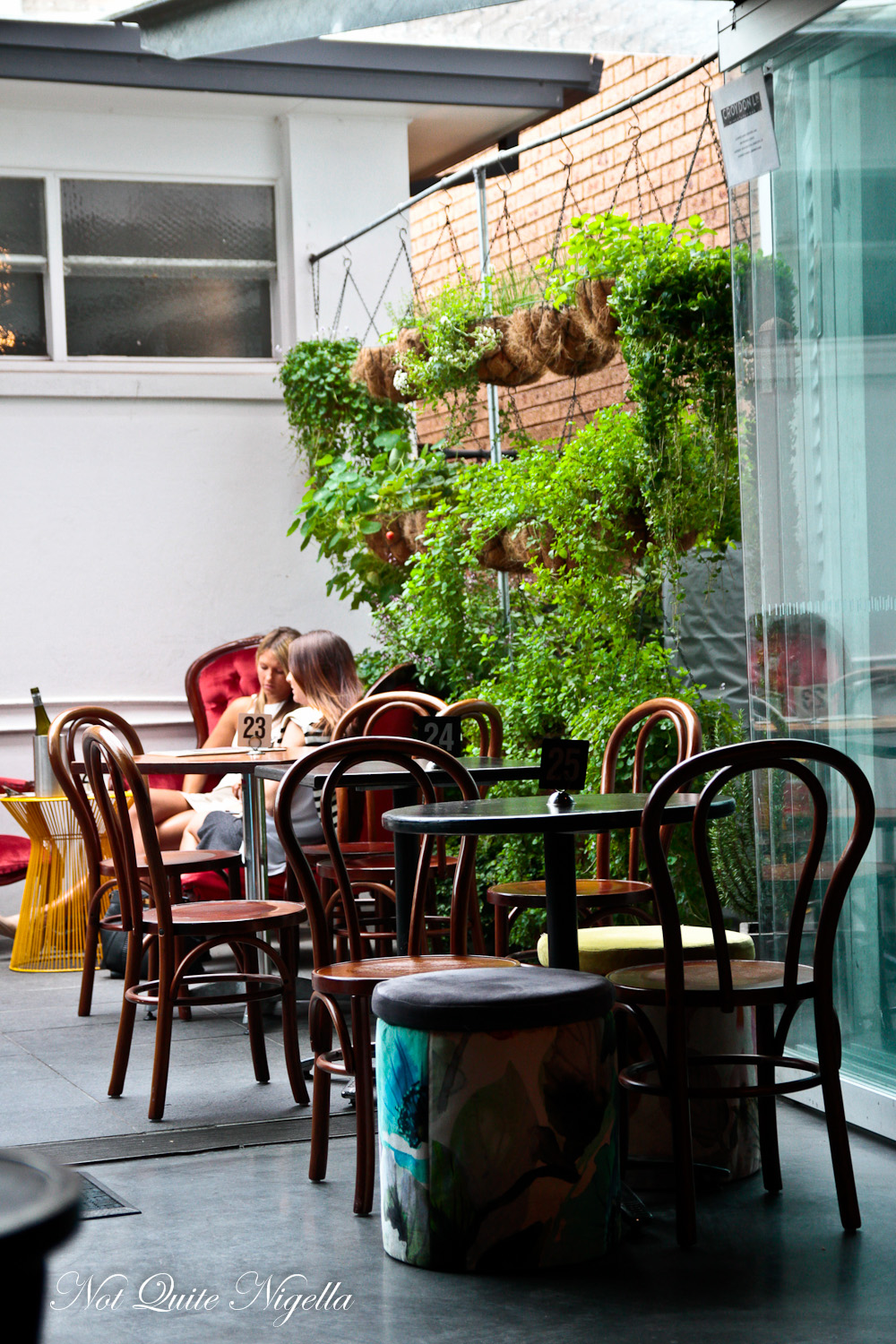 So it's with love and affection that I worry about Queen Viv when it comes to directions. For some reason Queen Viv who lives in the Inner West of Sydney, always goes to Croydon whenever she is headed somewhere. The believer in me thinks that it's a spirit guiding her there but she's more pragmatic. "I just have a bad sense of direction" she says. But when I tell her that the address for this evening's dinner is called Croydon Lane but it is in Cronulla, I have to stress the Cronulla part a few times. Just in case she goes via Croydon of course.
Miss America, Mr NQN and I make our way there separately. I always like the drive to Cronulla. It's far away enough to fool myself into thinking that it's a little holiday to the coast and on a sunny day it's a pretty vista that greets you at the end of the Kingsway. We find a park and take a look around for Croydon Lane Tapas. It's hidden away past Banyan Tree Thai and another restaurant.
I was put onto it by food writer Carla Grossetti who lives in the area. Trusting her taste, we booked a table and it's a lucky thing that we did because come 8pm, every spot in Croydon Lane Tapas is taken. It's full of gorgeous girls in various shades of "Lara Bingle" wearing colourful dresses who perch on a bar stool.
To order food, you do so at the bar but the rest is like a restaurant where they bring the food to you and you pay at the end at the table. I take some recommendations from the staff who are all friendly and eager to help.
House made pâté $5
The house made pate comes with four pieces of lightly toasted Sonoma grain bread. It's silky smooth and delicious although there is just enough of it to spread on three pieces rather than four. A little bit more would have been welcomed.
Halloumi Salad with grape tomato, caramelised fig $14
We all love halloumi and it comes as three pieces of pan fried halloumi with a sliced caramelised fig, a grape tomato salad and toasted hazelnuts. The mildly salty halloumi and sweet figs are pleasingly juicy and I think we could have easily devoured this whole serve ourselves.
Zucchini flowers $6 each
These weren't a recommendation but we order them because Queen Viv loves zucchini flowers. Th zucchini flowers are filled with Meredith goat's cheese and sweetcorn. They're then dipped in tempura batter and deep fried. The preserved lemon flavour was light on this but it added a piquancy and saltiness.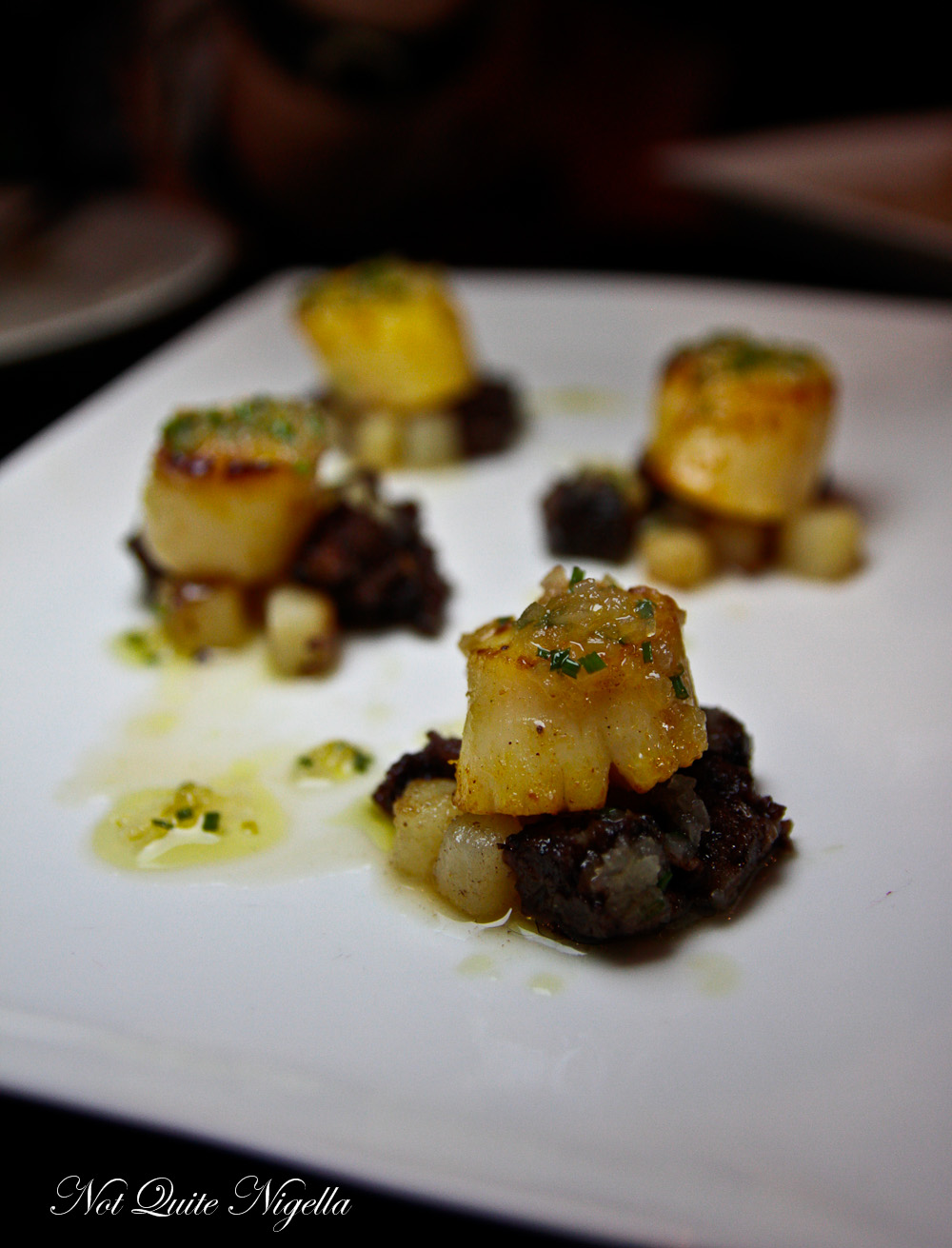 Seared scallop, potato confit and morcilla $6 each
These little piles of succulent scallop, cubed potato confit and morcilla or Spanish black pudding were hard to transport to our respective plates but they're worth the precipitous journey. The three are a natural pairing and I eat this in three sweet and satisfying mouthfuls.
Croydon Lane's Kingfish ceviche, sweet potato, pink grapefruit, spanner crab $17
This is one of my favourite dishes as well as Queen Viv's. The kingfish ceviche is silky in texture and sits on top of a bed of diced sweet potato giving the tangy ceviche a welcome sweet element. The spanner crab on the side is also a nice touch adding texture and richness to the dish.
Slow roasted pork belly $24
We tossed up between the pork cutlets and the pork belly which is a special and we went with the latter. The pork belly comes as four slices with a divine smoked potato puree and a red cabbage and apple slaw to help cut through the richness of the other two elements.
Bebere Spiced chicken with molgrabi couscous, pickled cucumber and mint $23
This is Miss America and Mr NQN's favourite. It is four pieces of tender spiced char grilled chicken flavoured with an Ethiopian spice mixture with a hummus yogurt, large mohlgrabi couscous balls, ribbons of pickled cucumber and fresh mint leaves. The whole dish has fabulous Middle Eastern flavours to it.
Salad of fried cauliflower $12
Miss America and Mr NQN are still hungry so I order some more dishes. The cauliflower florets were fantastic in their tender sweetness (I would love to know how they make them so delicious). The chickpeas are mild in comparison to the cauliflower but the Pedro Ximenez soaked raisins added a juicy kick to the dish echoing the cauliflower's sweetness.
Black Angus sirloin, twice cooked glazed short rib, carrot puree, roast zucchini and speck $29
We felt like we should finish the savouries on something rich and the sirloin delivered that. With the pink cheeked sirloin on one side and the dark and rich glazed short rib sitting in a daub of creamy sweet carrot puree, it was hard to choose which side we liked better. I preferred the intensity of flavour of the short rib but the sirloin is perfectly cooked and juicy.
Churros con chocolate, home made strawberry jam $10
It's time for dessert! The churros arrive as five hot poker straight donuts donuts dusted in cinnamon sugar. To the side are a small pot of dark chocolate and a home made strawberry jam. Whilst the jam is good, it doesn't really need it as the chocolate by itself is a great match.
Vanilla rum flan, caramelised mango cigar, coffee ice cream $12
There are three parts to this dessert, a super rich, creamy, eggy flan and a milk coffee ice cream as well as a caramelised mango cigar which is like a sweet mango spring roll. The first two elements go well together while the mango cigar is best separately as a crunchy sweet bite at the end.
Queen Viv turns to me and says "Well that was worth the trip!". And she didn't even detour through Croydon!
So tell me Dear Reader, do you always book a table when you're going out? And do you prefer to eat around the area in which you live or do you go out further? And are you a pragmatist or a dreamer/believer?
This meal was independently paid for.
Croydon Lane
8/30 The Kingsway, Cronulla, NSW
Tel: +61 (0)434 742 265 Thu - Sun: 5:00 pm - 12:00 am