Bart Jr. is a new bar on Pitt Street in Redfern. Already a popular spot, nabbing a seat here is harder than one might think. There's wine, cider, beers and cocktails but there's also fabulous food offerings available at very reasonable prices. But just who is Bart Jr.?
My friends and I have a strategy for when a place is new, hot and doesn't take bookings. Our aversion to queuing is only matched with our enthusiasm for dining early, especially in Winter when an early night is somewhat of a victory. And when JY aka the Black Widow suggests that we meet at Bart Jr in Redfern at the tender hour of 5.45pm I readily agree.
Let's start with the name. Bart Jr is apparently named the numerous offspring of "a promiscuous cat" called Bart Sr. He's the fluffy ginger cat that appears on the flipside of the menu. The team at Bart Jr is from Scout's Honour and Morris.
Luckily JY has situated herself at the bar because that means that we don't have to get up and down for service. It does mean that she is elbow to elbow with everyone else that does though. I bypass the cocktails (it's hard to do as I love them so much) and order a glass of the 2015 Couer Clementine Rose.
It's the first day of the new menu and as a result there are a couple of dishes that aren't yet available. Alas they are the ones that we want but there's still plenty that we want to order. You can either start a tab or pay up front here and we opt for the latter.
Sheep's Milk halloumi $18
The first thing that arrives is the sheep's milk halloumi, three fat, squeaky squares of cheese with a divine burnt honey, rosemary, currants and verjuice browned butter with toasted hazelnuts. It looks like a lot of rosemary but it isn't out of place at all. In fact with the creamy cheese and all of this delicious browned butter we feel compelled to order some bread to go with it to mop up any stray glistens.
Toasted sourdough, fermented chilli butter $5
The slices of sourdough are perfectly charred and you can either spread it with the spicy fermented chilli butter or olive oil. I can't go past the butter though. I'm a butter person-how about you? Butter or oil?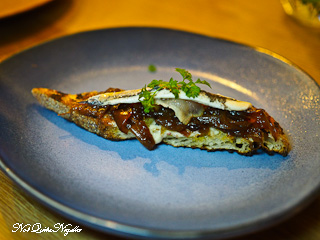 Anchovy Toast $7
JY is allergic to walnuts so they put the Romesco sauce on the side. It's a thin single serve of toast (which we split for maximum tasting ops) with romesco sauce, sweet onion and smoked lardo. The predominant taste was the sweet onion on this and I almost forgot that there was smoked lardo here. I worship lardo. Yes that is an odd thing to worship but I do.
Carpaccio $22
The carpaccio is a sizable dish and comes with a bowl of potato chips. The pasture raised beef is tender and topped with a rich anchovy cream, pickled onion, fried capers, chives, pine nuts and fresh horseradish. The flavours are like a vitello tonnato and I love the raw execution of this dish which is bursting with flavours and textures. We try scooping some onto a chip as well as crumbling the chips on top-both worth doing.
Slow cooked pork and beef family Ragu $28
Our last dish is the biggest main dish on the menu and it's another beauty. It's a slow cooked pork and beef tomato ragu with melt in the mouth meat chunks atop a bed of creamy taleggio and parmesan polenta. Next to this are pieces of sourdough bread. BY now I'm getting really full as we've ordered so much but it's hard to resist the soft comfort of a forkful of ragu with creamy polenta.
"Hot Sandwich" Bart's fishy fingers, house tartare, radish and pickles with hot sauce $14
And then the lovely bartender waitress comes over and tells us that the fish finger sandwich that was not available before is now available and before we know it, we are slipping $14 across the bar and trying the first one. Greed made some stomach space and I'm so glad that it did. The sandwich is on soft white bread (which is a rare but oddly joyous occasion) with crunchy fish fingers, terrific pickles, thinly sliced radish and a delicious tartare sauce. There's also potato chips and a bottle of hot sauce which gives it a nice degree or two of heat but without it you get more of the tartare flavours.
There's no dessert on the menu which is probably a good thing as half a fish finger sandwich currently occupies my dessert stomach.
So tell me Dear Reader, are you a butter or an oil person? What's your modus operandi for going to popular places? Eat early or queue? And how do you feel about white bread?
This meal was independently paid for.
Bart
Bart Jr.
92 Pitt St, Redfern NSW 2016
Phone: 0402 567 134
Wednesday & Thursday 3pm–12am Friday & Saturday 12pm–12am
Sunday 12–8pm
Monday & Tuesday Closed