The statistics are staggering. When I read that 3.3 kilos of Russian caviar and 73kgs of lobster are consumed every day by guests on the Queen Mary 2, my mouth fell open. Only to be closed again because that is bad manners of course.
Nowhere is the sheer volume of food on a cruise more apparent than on a boat like the Queen Mary 2. Feeding 2,400 guests each day three meals a day means that up to 15,000 meals are served on a daily basis. Add to this the fact that the Queen Mary 2 only uses Wedgwood crockery and linen napkins over disposable ware. This makes the operation larger than one could ever consider.
The role of the executive chef for the Queen Mary 2 falls to Nicholas Oldroyd a chef from Yorkshire who has 15 year's experience on cruises. He oversees the 163 chefs under him who work in each of the ship's eight galleys which are operational for 24 hours a day.
Wearing his cloche and chef's whites, Nicholas stresses that everything on the Queen Mary 2 is made from scratch every day just before serving. We watch as chefs plate up prawns for the upcoming lunch. Each serve is portioned identically using rings and these are placed in holders waiting for guests' orders.
The Queen Mary's food supplies are replenished in each major port. Nicholas is looking forward to reaching Sydney which is one of his favourite ports for produce. He particularly likes the barramundi, moretan bay bugs, john dory, blue swimmer and mud crabs on offer and they will buy enough fresh produce to feed the guests for three to four days.
After that, they will arrive in Brisbane which is one of the major ports in which they will take on more dry and frozen items. These arrive in crates from England. Even though some products like beef are Australian, they are transported from England as they buy these in bulk for ten ships and the result is still cheaper than buying them in Australia.
At major stops like Fremantle, they take on 9x 40 foot containers with 25-30 pallets in each with each container weighing about 22 tonnes. Fresh produce like fruit and vegetables can last for up to 16 days given the correct storage conditions - that is with air circulating around each to avoid mould growth. They receive items like bananas in three stages: green, half ripe and ripe.
Suppliers often charge them more at ports if they know the ship doesn't have many stops. An example of this is on a World Cruise "They've got us and they know it" Food and Beverage manager Glenn Milway says.
As the menus are changed on a daily basis according to supplies it is an enormous task to print daily menus but necessary in order to maximise the produce. At the dock, there are two chefs present to check the condition of the produce and the shelf life. In terms of storage, there is a floor below the galley floor for all of the supplies. It is also where all of the food is washed and prepped and then brought upstairs to cook.
Each chef is assigned to a station for most of the duration of their tenure on the ship. This is to ensure consistency of product and also produces efficiencies. One chef is responsible for cooking the steaks for the steaks for the entire ship. This may mean up to an incredible 900 steaks cooked a day.
Special orders are also catered for at their own separate station. Gluten free, kosher, low salt and fat meals are accommodated among others and each passenger registers their dietary needs prior to boarding. Each kitchen is also divided into the port and starboard sides depending on where the guests are seated so the waiters know exactly where to pick up their meals and deliver them.
We take a look at the butchery station. In the morning, the red meat is butchered while in the afternoon the poultry is done to avoid cross contamination. Fish is filleted and prepared in a separate area.
All of the red meat trimmings are used in the burgers and crew stews to minimise wastage. Meat and fish are also defrosted three days ahead using a gentle fridge defrost so the kitchen is always working three days ahead. We watch as they tend to lobsters - 1,200 lobsters will be served that evening as a special.
Nicholas brings us around to the pastry department. As Valentines Day is coming up, chocolate is a huge feature of the following evening's menu. "If there isn't a heart on every dessert come and see me" Nicholas says. They use a 65% Cacao Barry chocolate for their desserts as well as Valrhona on occasion.
Glenn shows us around the buffet prep area. This is where all of the salad dressings are prepared. All of the compound salads are rotated using a 12 day cycle so that guests don't see many repeats.
We walk past the dishwashing station where six dishwashers tend to what must seem like an endless barrage of plates and cutlery. 87,000 pieces of china and glassware are used in the dining areas of the ship every day.
And what about wastage? Waste is a problem on a ship as large as the Queen Mary 2 and HAACP regulations mandate that all food is prepared and served within a four hour cycle which may mean that much is thrown out.
Recycling is important even down to the small pots of jam used at breakfast. Each one is washed out with hot water and then crushed on board. The food waste is compacted to become a slurry which is then released twelve miles from shore.
So what is the food like on the Queen Mary 2? There is everything from buffet to fine dining. The following restaurants are all included in the tariff although all drinks (alcoholic and non alcoholic) are extra, except for water.
Kings Court Buffet
Now cruise ships are known for buffet food and given the time that we board, the only restaurant open is the buffet Kings Court. The buffet was a very typical style of buffet with a hot selection and a cold selection. Cunard is a British cruise line and with a large base of British customers the offerings tend that way of cuisine with roasts and steak and ale pie.
I find more luck with the breads, crackers, cheese and pate over the salads and cakes. Drinks are extra but it is fine to take back your drinks to your cabin if you don't finish them.
La Piazza at Kings Court Buffet
At dinner time on certain evenings, the Kings Court restaurant (which is the only restaurant where guests can wear casual clothing) turns into La Piazza, an Italian restaurant. Here they offer a four course Italian menu from antipasto, soup, main and dessert.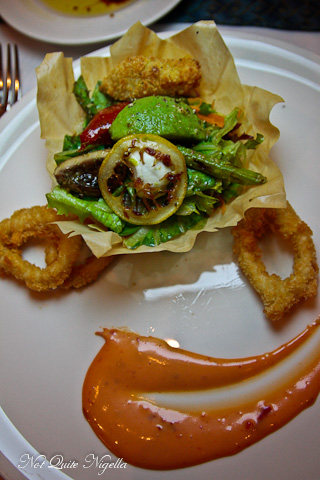 The presentation for the antipasti was quite different than what we had expected. Along with marinated vegetables there is also fried calamari and grilled asparagus in a filo pastry cup.
I preferred the selection of simple cured pork and beef with slices of cheese on top.
Unfortunately this soup was mostly left behind. We found many of the soups on board to be in need of reworking.
The minestrone fared a little better but aware that we have two courses to go, we save our stomach space for the main event.
There is an extra pasta course and one of the staff (not a chef) cooks the pasta in front of us. There is a creamy pasta sauce and a tomato based pasta. They're not bad and the serves are very filling indeed.
Mr NQN orders the grilled beef fillet - we felt as though we should as we met the chef that morning. The beef itself is well cooked although I'm quite particular about the steaks that I eat.
I really enjoy my guinea fowl breast which is tender with a full flavoured parmesan sauce, two fantastic slices of baked potato and a porcini jus and an assortment of steamed and buttered vegetables. We both quite happily swapped our meals back.
I was intrigued to see how this would turn out and it's a mille feuille made with filo pastry filled with creme brulee custard. It's crispy, crunchy and buttery although those seeking a traditional creme brulee may want to order other desserts.
The bottom layer of this was red jelly which surprised me as it wasn't mentioned on the menu. I like jellies but with real fruit with a softer, more voluptuous texture. This is firm and not the best example of a jelly. The topping is very sweet and eggy and I don't really get much of a hit of marsala.
Sir Samuels
The small cafe Sir Samuels is extremely popular and it's hard to find a table especially if you go mid morning or mid afternoon. The coffee and tea here is charged for unlike if you order it room service but this cafe is said to serve the best coffee on the ship. My iced caramel latte was $5.25USD while Mr NQN's espresso was $2.75USD. I did really enjoy my caramel latte and we did a bit of people watching before ordering some small bites for lunch.
The offerings here include quiches, wraps and pasties. We decide on a muffin and a wrap and these arrive quickly. In fact all of the food on the Queen Mary 2 arrives in a timely manner and you're never left waiting too long. The caesar wrap is flavoursome and fresh and comes with a side salad with a creamy ranch style dressing.
I also enjoy the muffin with a tasty gammon and sliced egg topping. The muffin is fresh and soft while the ham, egg, mayonnaise and cress is a comforting filling.
Room Service
I was very pleasantly surprised to see that room service was complimentary, especially since it is mostly exorbitantly priced and takes a long time to arrive at hotels. As our dinners were quite late with the late seatings at 8:30pm we would start to get peckish at around 5pm. Enter room service. The room service menu is just like a hotel room service menu with a good range of items like club sandwiches, burgers, curries, wraps, melts and salads.
Hungry for something a bit more substantial I try the panini which comes freshly toasted with hot and crispy French fries. The ham is fantastic - it's real sliced ham and I end up polishing off most of this even though dinner is coming up soon.
I would have loved a bit more vanilla in the cheesecake but the cheesecake itself is light in texture with a crumbly digestive biscuit crust and Kirsch infused morello cherries on the side. You can also order just a tea service at any time and it is delivered within 15 minutes maximum and with a smile. There's no signing of slips or tipping for each order either as it is all included in the general tip.
Golden Lion Pub
For a reliably good meal, we head towards the Golden Lion bar which is a classic British style pub on level 2 of the ship. It's busy but there are plenty of chairs and tables on which to sit.
We figure that the British owned Cunard line with its many British guests work hard to satisfy native palates and there's much to enjoy here from the fish and chips, Ploughman's platter, Indian curry and cottage pies to choose from and a hot dessert of the day.
Mr NQN orders an Irish pear cider for $7.19USD and we order a fish and chips and a Cumberland sausage with mash for our mains. They come out quickly and our crispy fish remains moist inside and the chips which are excellent. The portion size is judicious and I like that it isn't too big because overeating on the ship is such an issue. There are packets of ketchup, malt vinegar, tartare and mayonnaise on the side. The side of peas tastes a bit tinny.
I really enjoy the grilled Cumberland sausage which is full of flavour and sits on a bed of mashed potato. On top of this is a delectably thick and richly flavoured onion gravy. We make plans to try the rest of the menu the next day but of course we never make it back as we find ourselves exploring other areas of the ship.
We're impressed that the warm chocolate pudding is served with a molten centre given how many they must serve to guests. It has a dab of peanut butter in the centre and it is good although I would have liked a stronger chocolate flavour to it. The vanilla custard is like a custard made with custard powder but again it's perhaps what guests are more familiar with and apt for a pub over a restaurant.
Britannia Restaurant
The enormous Britannia restaurant is where we have most of our dinners and is open for breakfast, lunch and dinner. We take a seat at our assigned table and during our voyage this will be our table each night that we choose to dine here. You simply take the card which you are given when you first board and show it to the waitstaff who will show you to your table. You can also pre order your wine ahead of time by phone.
The menu changes daily and there are a number of dishes to choose from but I must admit that I often gravitated towards the spa menu which has lighter fare on offer with calorie, fibre and fat counts next to them. We've been eating so much and I am mindful of the formal dresses that I have to wear in the upcoming days.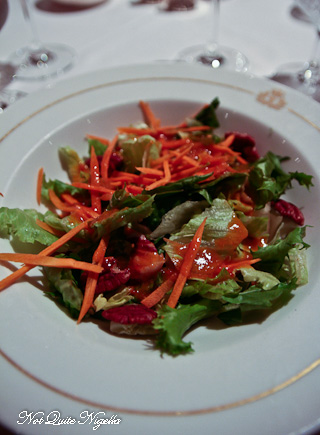 I know spa cuisine is low fat but I really thought that they could have done a lot better than some lettuce leaves, walnuts, grated carrot and a choice of a tomato or thousand island dressing. If I were a teacher I'd probably write "Please try harder" in red pen.
This was recommended to us and it's freshly baked and served warm with a tomato vinaigrette. Whilst it wasn't particularly unusual, it was pleasant enough.
Not expecting much I am pleasantly surprised by the fish which has a delicious tomatillo salsa with the well cooked haddock fillet. There are two kipfler potatoes served with this and it was I wouldn't have really noticed that it was low calorie because of the flavour.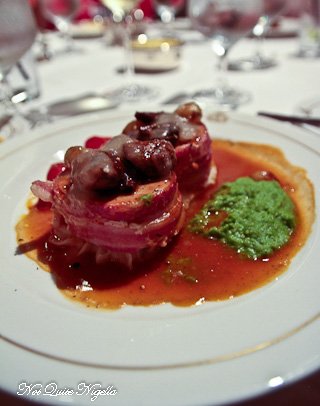 I tried some of Mr NQN's pork medallions wrapped in bacon and the pork is still tender and juicy while the bacon adda much flavour to it. It's an enormously sized dish and it is accompanied by wild mushrooms, caramelised pearl onions and a mustard sherry sauce.
This is also delicious and the almond pear torte has just the right amount of sweetness to it and is topped with tender pears and a vanilla almond base. The vanilla ice cream it is served with is overly sweet and I leave most of this behind but I figure that this will save some calories for the petit fours.
I prefer my tarte tatin with a crisper pastry and out of the two desserts, I preferred the almond pear torte. For me, a really good vanilla bean ice cream is the perfect accompaniment to the tarte tatin but this came with that very sweet vanilla ice cream.
During each leg, there is a parade of chefs and it's a visual spectacle indeed. Music plays and the chefs proudly march through the restaurant while diners wave their linen napkins and applaud enthusiastically. It's a stunning show of numbers and whites and so very Queen Mary 2.
Stayed tuned Dear Reader for a review of the Queen Mary 2's fine dining restaurant Todd English!
Did you know that the Queen Mary goes through:
13 tonnes of fish a day
14 tonnes of meat a day
700 English scones a day
344 bottles of champagne a day
460 eggs a day
1,200 litres of milk a day
6,000 cups of tea a day
8,000 linen napkins a day
So tell me Dear Reader, what do you think of everything being included but drinks? And would you pay extra to visit the fine dining restaurant? Which option sounded the best to you?
Queen Mary 2
http://www.cunardline.com.au/cruise-ships/queen-mary-2/
Queen Mary 2's 13-night roundtrip voyage around New Zealand departs Sydney on March 12, 2015 and is priced from AU$4049* per person twin share for a balcony cabin.