Ahh paella. It's such an iconic dish in which we are served so many variations in restaurants. The very best traditional paella I have eaten in Sydney was at my friend Lulu's house on New Year's Eve. She had a Spanish friend who had offered to make a paella for everyone to eat. It was enormous, the poor man had no idea that Australians ate before 10pm because every five minutes someone would come up to him and ask when it would be ready. It was served, somewhat appropriately given the occasion at close to midnight. It was also spectacular.
I was looking forward to our lunch of paella at 7 Portes, a traditional Catalan restaurant. We arrive just after 1pm without a reservation but they accommodate us easily. After 1:30pm we see the tops of the heads of the crowd amassed outside hoping to get a table. The maitre'd shows us to our table - all couples are offered a table large enough for four where you can both sit facing the restaurant.
White jacketed waiters with black bow ties hand out the menus - they're used to overseas visitors and the menu has separate tabs for different languages. Open for 175 years the restaurant has a long history and was first opened as a cafe by a wealthy Catalan businessman called Josep Xifré i Cases who was also the wealthiest Catalan at the time.
7 Portes or 7 doors is known for their paella and for their autograph room. Here a vast array of celebrities have visited and left their pen marks. These are framed and displayed in the second dining room which appears closed for lunch despite the queue outside. We are in the main dining room and we immediately zero in on the paella section in which there are eight varieties.
We try the "Rich Man's Paella" and the "Arroz Negre" or black rice. The rich man's paella is also nicknamed the lazy man's paella so called because the seafood is taken out of the shell and the meat deboned for easy eating. For good measure we also order a serve of the the cannelloni, a house specialty.
Said to be "A very Catalan tradition!" according to the menu, the cannelloni here is served as three tubes of pasta stuffed with minced veal, pork and chicken, smothered in bechamel sauce and baked in the oven. It's very rich and creamy and the meat inside is soft and flavoursome.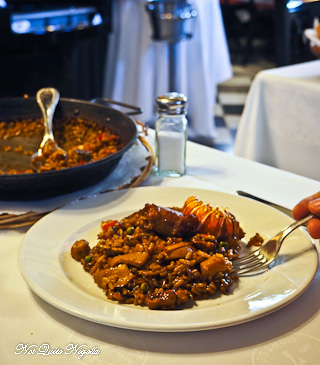 The paellas come out together and our waiter turns around and presents them to us for a second before plating them up for us. As promised, all the ingredients are shelled, boned and ready to eat. It's an intensely rich paella and tastes like rich shell based stock and saffron. They are generous with the seafood and meat included in the paella that includes prawns, mussels, peas, chicken, pork, a delicious herby and peppery sausage called butifarra and a small lobster tail. Later we notice that most couples share a paella and a bottle of wine. Clearly they're much smarter than Mr NQN and I.
Black as the night the arroz negre or black rice is coloured with squid ink. It comes with plenty of tender squid and two clams on top and it too is intense but delicious. It's hard to pick a favourite of the two rice dishes-they're both very good but different.
I do adore Crema Catalana (Catalan creme brulee) and there is one on the menu but we have another stop in mind. Just five minute's walk from 7 portes near the Santa Maria del Mar Church is Bubo, a dessert bar where award winning pastry chef Carles Mampel creates beautiful cakes, chocolate, macarons, cookies and pastries. People stop by for cakes to take home or you can also enjoy them in the small eating area with a coffee or tea.
It's a hard decision choosing which cake to go for but I am lured by the presentation of the Namelaka Vanilla and the Opera Exotic. They're well priced at just €4.40 each.
Resembling a white bread sandwiche, the Opera Exotic is a pistachio sponge cake, vanilla mousseline, apricot and passionfruit gelee and coconut meringue. It's luscious, tropical and refreshing and worth every calorie.
By contrast the Namelaka Vanilla is sweet hazelnut and chocolate goodness with a hazelnut financier, gianduja namelaka, whipped cream and tonka bean ganache, raspberries, hazelnut streusel and basil. The creamy lightness is the first thing that strikes you with this dessert. It's also sweet but not overly so and what we find with both cakes is that they are perfectly balanced. Namelaka is actually a Japanese term for creamy texture and the Valrhona school of pastry teaches the technique to achieve this texture.
We retire to the hotel for a couple of hours to recover and rest our legs. Before heading out, we try the Tapas Deluxe platter at the Pullman Skipper restaurant with a glass of Catalan wine (red and white). On the platter are the famous patatas bravas. But here they are hollowed out potato rounds filled with chilli and aioli. You pop one into your mouth and it's a garlicky, spicy sensation.
Also on the plate is 5J (the producer 5J Sánchez Romero Carvajal) pure acorn fed Iberian cured ham, all glossy darkness and intense flavour. There are a generous amount of pan con tomate or tomato bread that is crispy and spongey in texture. The king prawns are terrifically fresh and are served with a pear, garlic and oil dressing.
There is also esqueixada a cod salad that is uniquely Catalan where the hand shredded fish is partially cooked and paired with olives, tomatoes, capsicum and onions. This is fresh and mild. Last but not least are the ham and cheese croquettes - tiny squares of crunchy crumbed morsels filled with a creamy, soft filling.
This evening's destination is the Gràcia district, just over 5.6 kms away from our hotel and a 15 minute taxi ride. The Garcia district is a vibrant neighbourhood that was originally located outside the city centre of Barcelona but in 1897 it was annexed to become part of Barcelona.
Nowadays it is a very busy area full of ethnic cuisines, bars and well merchandised boutiques. Streets like Passatge de Ròmul Bosch have plenty of bars but we are on our way to La Xula Taperia on Calle Mare de Deu dels Desemparats 18 just near to one of their markets and a large square.
La Xula is known for their tapas and friendly atmosphere and when we walk in at 8pm when the kitchen opens, we are offered a couple of choices for tables. We choose the one in the back room where a projected television screen plays music videos and we take a look at the one page menu. It's a neat selection and in addition there is also a chalkboard menu and specials of the day. The crowd is mostly young Barcelonians with a bearded hipster or two but there is also an older American couple who don't seem out of place.
*Vermouth €2 and Cana Beer €1.80 *
We start with a drink that is very popular in Barcelona - Vermouth or Wermut in Catalan. The fortified wine is given perfume by aromates and botanicals. It is slightly sweet and herby and immensely drinkable. I can see why it is popular. Vermut in Spain is exclusively made in Spain and is usually had in the early evenings as an aperitif. Mr NQN tries a zero alcohol beer.
Our waitress is fantastic and very helpful. One of the most popular things that she recommends is the red tuna tataki served on a thin cracker. It's absolutely delicious with tomato, chives and slices of fresh tuna.
Patatas bravas or just "bravas" as it is known here comes out next. Any plans I had to spear just a few morsels disappear as soon as I have one piece. The potatoes are very crispy and not just the occasional one but all of them. They're topped with garlic aioli and an onion tomato relish. If you can stop at three pieces, you're a much stronger soul than I.
I've never really seen squid sandwiches on the menu so I order one out of curiosity. It is a very thin, lightly toasted bread roll split in half and filled with lightly battered and very smoky squid rings and an avocado aioli. It's delicious but a little hard to eat and really for those who like a smoky flavour.
Mr NQN loves the cannelloni filled with a delicious mix of Catalan sausage and mushroom. Catalan sausage or Botifarra is a mild sausage made from pork mixed with spices. Several versions are made from white, black (with pig's blood) and even a dessert version exists made with sugar and cinnamon. We both really enjoy the cannelloni here because the flavour of the filling is emphasised over bechamel or other heavy sauces that can obscure the flavours.
Our last course is one of the daily specials - Iberian pork ribs roasted in a honey sauce. Oh my, you know that moment that you're grateful that they've given you three pieces and not ten because if you had ten you'd eat them all and not care a jot? That was me. The ribs are succulent, bliss inducing and soft and the honeyed sweetness is just the way that you'd want to end the meal.
There are desserts available but sometimes you want your tongue to linger on one taste and that should be the last for the day.
So tell me Dear Reader, what is the latest time that you've ever eaten dinner? Where is the best paella you've ever had? And would you go for regular or the black squid ink version?
NQN travelled as a guest of Azamara Cruises and stayed and ate at the Pullman Skipper as their guest. All meals outside of the ship were independently paid for.
Azamara Cruises
www.azamaraclubcruises.com
Pullman Barcelona Skipper
Avinguda del Litoral, 10, 08005 Barcelona, Spain
Phone:+34 932 21 65 65 www.pullmanhotels.com/Barcelona
7 Portes
Passeig Isabel II, 14, 08003 Barcelona, Spain
Phone:+34 933 19 30 33
www.7portes.com/angles/
Open 1pm-1am 7 days a week
Pastisseria Bubó Born
Carrer de les Caputxes, 10, 08003 Barcelona, Spain
Phone:+34 932 68 72 24
Sunday to Thursday 10:00 am - 9:00 pm
Friday & Saturday 10:00 am - 12:00 am
La Xula Taperia
Carrer de la Mare de Déu dels Desemparats, 18, 08012 Barcelona, B, Spain
Phone:+34 931 65 01 01
https://www.facebook.com/LaXulaTaperia
Wed - Fri: 5:00 pm - 2:00 am
Sat - Sun: 12:00 pm - 2:00 am