It's almost impossible to think of the French Island Corsica, without thinking of one its sons, Napoleon Bonaparte. The French General was born on the island between the south of France and Italy and everywhere on Corsica there is the brisk business borne of Bonaparte. And then there's the uniquely Corsican food and drink.
We are on day seven of our cruise on the Azamara Journey and we arrive in Ajaccio, the southern capital of Corsica or Corse as they refer to it on the island. The port is nearby the town. Taking stock of our surroundings we decide to cover more ground by hopping on the little Le Petit Train - for €7 the train takes you for a 45 minute ride up to the monument of Napoleon accompanied by a bilingual French and English recording. If anything, it just allows you to see more of this mountainous island from the comfort of a small open train.
Corsicans consider themselves apart from French. Indeed as they were ruled for around 500 years by the Genoans until 1755 and some remnants of Italian culture remain. Napoleon was born in 1769 in Ajaccio and his home is a popular place to visit. It now houses a museum with a bar next to it. And a Napoleon ice cream shop opposite, naturellement. He is big business here.
I get my first bite of bliss at the markets right in the market square. It's a popular, large market for both locals and tourists. My first spoil is a half dozen beignets from one of the stalls for €3. I don't hold much hope, after all they're not freshly fried but I sink my teeth into one. They're absolutely delicious - the beignets soft and spongey with a square of soft, mild cheese inside and sweet with sugar crystals on the outside.
As proud as Corsicans are of their identity, they are just as proud of their charcuterie. There are endless stalls for saucissons and these include legs of prisutu or ham, figatellu or fitoni or liver sausage. Coppa and Lonzu are also plentiful and many stalls are generous with samples of this and the cheese. Most of the cheese in Corsica is made using sheep and goat's milk. Brocciu is an AOC cheese that they are supremely proud of and is similar to a ricotta made with milk and whey.
Another food that is synonymous with Corsica is chestnuts or at least they were in the past and to a lesser extent now. Chestnut flour used to be added to regular flour to make breads and cakes. We buy some chestnut biscuits - these rusk type biscuits are rough in texture and perfect for dipping in tea and coffee and come in a variety of flavours. We also buy a boxed chestnut cake for a gift.
The pigs in Corsica play a special role for the charcuterie and it is the feasting of the pigs on the chestnuts along with maquis that gives the charcuterie its distinct taste. Maquis is the name for dense scrubland in the Mediterranean region that consists of sage, juniper, buckthorn, spurge olive and myrtle among others. This gives the meat a distinct flavour profile.
We stop for lunch at Da Mama. We had a late start and we have to be back on the ship a bit early this afternoon so we don't have long in Corsica but there's still enough time to have lunch. Da Mama serves traditional Corsican food and is located on Passage Guinguette just off Cours Napoleon down a little graffiti lined alleyway.
There is indoor and outdoor seating. We make the mistake of sitting outside forgetting the French predisposition for smoking. There is a prix fixe menu but we are more inclined to try the Corsican specialties. The food is a tad on the pricey side especially in comparison to other eateries but comes in large portions so it is best to split one main. Every woman that dines there is presented with a rose.
We start with Cap Corse, a traditional Corsican drink. It is a fortified red wine that tastes like raisins and not unlike a cousin of Pedro Ximinez. Mr NQN also orders a Kir.
Terrine de figatellu €9
For our starter we have a terrine de figatellu, two small pots of figatellu or liver sausage terrine topped with a layer of fat that is served along with a salad. The terrine is fantastic and I spread some pieces of fresh sliced bread with it and eat it after spearing salad and tangy cornichons.
Charcuterie Corse E€13
Mr NQN's choice is the charcuterie Corse which is a range of local prosciutto and salumes. He enjoys these immensely and I get a little nibble of everything.
Filet au fromage corse €22
Our mains arrive and the beef is perfectly cooked and topped with a pale, creamy layer of Corsican cheese. Our waiter tells us that it is a mountain cheese and it tastes similar to a blue cheese or a gorgonzola. It's delicious and comes with a baked potato and ratatouille.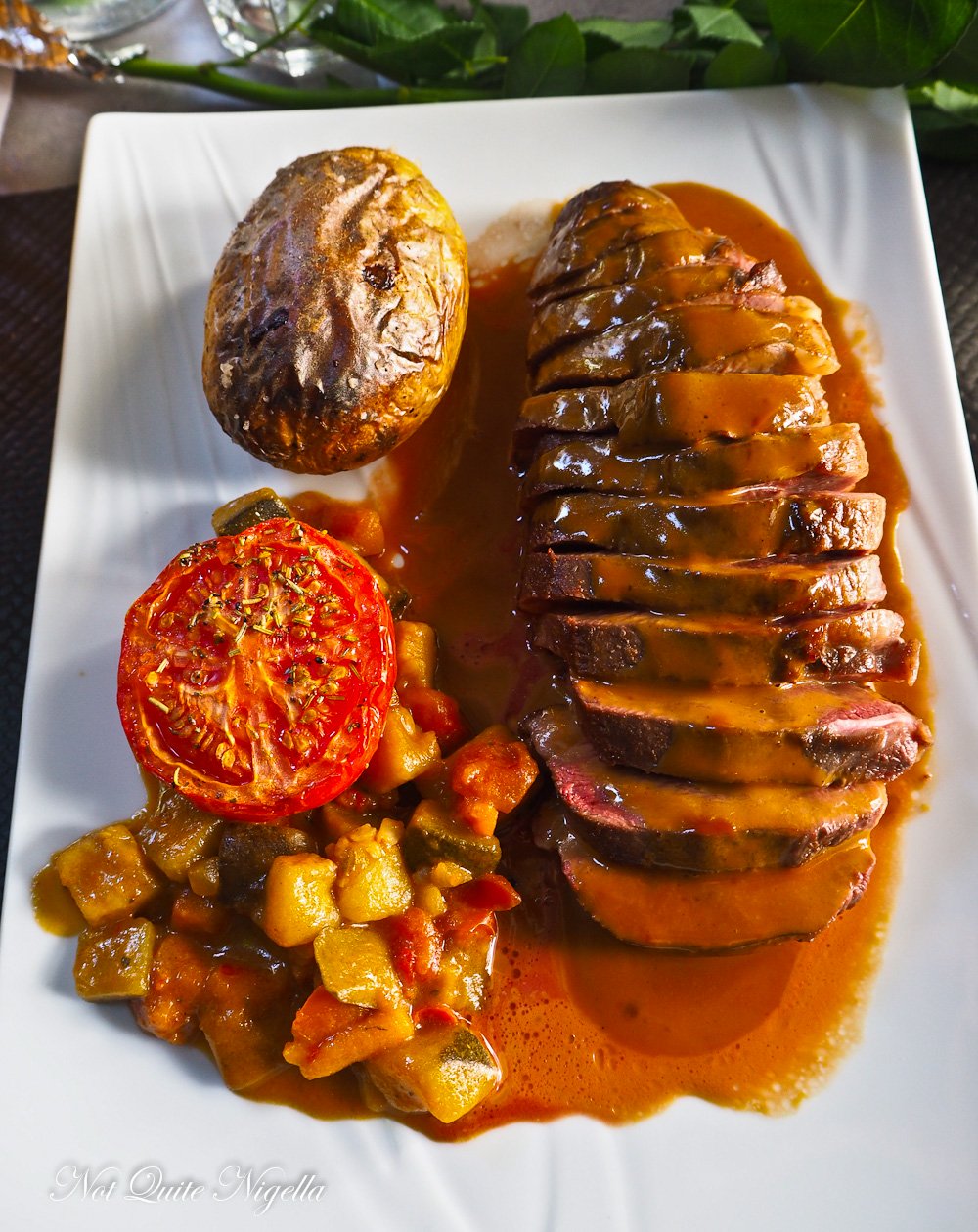 Magret de canard Miel €20
I'm amazed at the size of the dishes and this could easily feed two people with a salad. The duck is cooked medium as the chef has recommended and is perfectly juicy with a sweet honey and herb sauce.
While there are classics like creme brulee, we are on the look out for a boulangerie that is said to be the best in Corsica. On the parallel street on Rue Fesch, Boulangerie Galeani makes breads, cookies and pastries. Service is friendly and I pick some items that catch my eye, all Corsican specialties.
Chestnut fondant €2.20
Sinking my teeth into the chestnut fondant or Fondant à la châtaigne I am in raptures. Soft, light and airy it reminds me of a canelle except without the caramelised outer. Perfectly sweet and with a true chestnut flavour, it is a delight.
Canistrelli €0.85
I buy three canistrelli, the rusk type biscuits that come in a variety of flavours. These aren't overly sweet but they're wholesome in taste and texture. There is an aniseed one, an citron one and a plain biscuit.
Ambrucciate €2.40
Last but not least is a cheesecake, a special Corse treat. Made using brocciu cheese it is either made in a tart shell of pastry or just baked on a leaf. Having tried both, I prefer the one in the tasty pastry shell as the texture of the cheese filling is softer. It's made with brocciu, plenty of lemon, chestnut flour and a splash of eau de vie. It's a delicious and very lemony cheese treat. It is called Fiadone in the North of Corsica but an Ambrucciate in the South.
Dinner this evening is a special treat. Once during a cruise they invite a small group of passengers to dine with four senior crew members called "The Best of the Best" dinner. This is held in The Drawing Room library that has been closed for the private function. Tonight we are dining with Stefan Vikingsson the staff captain, Heike Berdos the Hotel Director, Evagelos Miskedakis the Chief Engineer and Erik De Gray, the Entertainment Director.
Executive Sous Chef Neil Goldie introduces himself and explains the menu. For these "Best of the Best" dinners he is given free reign to create whatever he would like for the four course meal. All of the guests' names are typed on the menu along with the officer's who have also signed all the menus.
Asparagus and red pepper terrine served with Sauvignon Blanc, Alan Scott, Marlborough New Zealand
The first course arrives and it is an asparagus and red pepper terrine with saffron swirl and a herb dressing. I would have loved it to be a bit stronger in flavour.
Grilled scallops served with Pinot Noir, Belle Glos, Meiomi, Monterey, Sonoma, Santa Barbara, California
The grilled scallops come with three purees: a beetroot, butternut squash and cauliflower puree, all giving their own distinct flavour to the perfectly cooked seafood. It is hard to choose a favourite puree.
Lemongrass sorbet
The lemongrass sorbet is deliciously refreshing and fine textured.
Roasted Halibut served with Chardonnay, The Olive Grove, McLaren Vale, Adelaide Hills, Australia
There is a choice of a fish or lamb main and I choose the fish. It's a roasted fillet of halibut served atop grilled asparagus, baby carrots and mashed potato. It comes with a Riesling cream sauce and a red onion confit. The fish is well cooked and the accompaniments support it well.
Fillet of lamb served wtih Malbec, Salentein, Uco Valley, Mendoza, Argentina
I try a little of Mr NQN's lamb served with celeriac, snow peas, heirloom tomatoes and thyme jus. Whilst I really enjoyed the lamb, there was quite a lot of thick cut celeriac and I noticed that many guests left much of this behind as we did.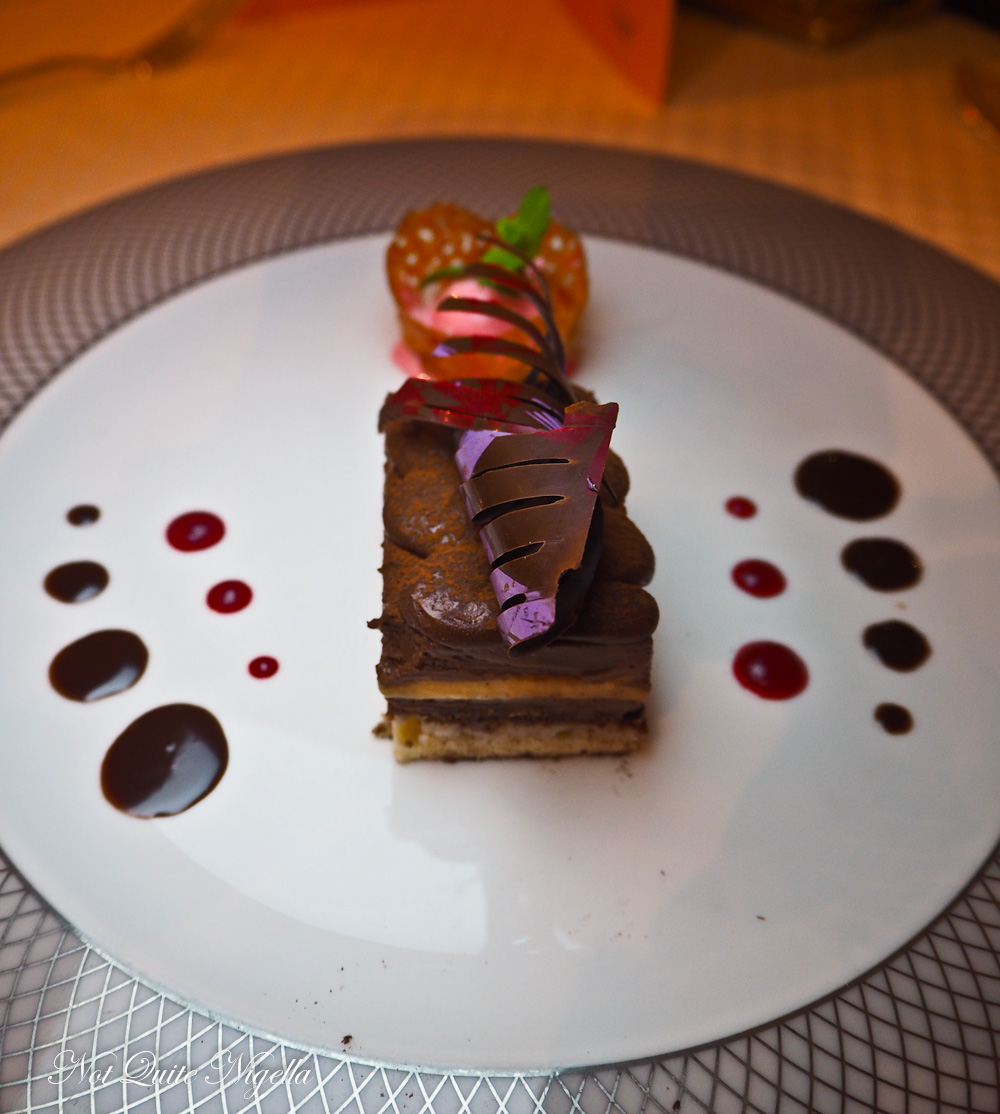 Chocolate and raspberry delice served with Porto, Fonseca, LBV, Portugal
Well you can never go wrong with chocolate and the chocolate slice is a delicious mousse topped chocolate cake with a feuilletine layer and a thin sponge base. It's comes with a strawberry ice cream scoop in a brandy snap basket.
When we return to our stateroom, the rose from today's Corscican lunch is still on the bed and we snack on the Canistrelli biscuits with tea while the ship heads towards our final destination of the cruise: Florence!
So tell me Dear Reader, what is your preferred way of sightseeing in a city? By foot, car or bike? And do you think that what an animal eats has an effect on the taste of the animal? And have you tried any of these Corsican items before?
NQN travelled as a guest of Azamara Cruises. All meals outside of the ship were independently paid for.
Azamara Cruises
www.azamaraclubcruises.com
Da Mama
Passage Guinguette, 20000 Ajaccio, France
Phone:+33 4 95 21 39 44
Tuesday to Saturday 12pm-2pm, Sunday to Saturday 7:30pm-10:30pm
Boulangerie Galeani
3 Rue Cardinal Fesch, 20000 Ajaccio, France
Phone:+33 4 95 21 39 68
Open 6:30am-8pm Monday to Saturday; 6:30am-1pm Sunday