Happy Sunday Dear Readers! I hope that you started the day well and that it's a relaxing day for you! I know that it has been a while since I did an In My Kitchen which is Celia's round up of the new things in my kitchen but this month I have some really fun goodies to share with you! All with a theme of chill or winter because of course I'm a total chicken with cold weather and you'd think we were heading into Siberian temperatures...
In my kitchen this month are:
Merquén or Merkén
Some Merquén or Merkén, a dried, smoked chilli pepper from from recent visit to Chile. Merkén is a Chilean/Andean spice chilli pepper spice using cacho de cabra peppers. Creating merquén is a time consuming process as they harvest the peppers while green and wait for them to turn red. They're then sun dried until they turn a dark red, wood smoked and then crushed with coriander and salt. Merquén is definitely on the spicy side and it's one of the ingredients in a warming Curanto or a pit dug seafood and meat barbecue that originated in the wintry but stunning Chiloe Island.
Chocolate Bitters
Some chocolate bitters. These are from my trip at the end of last year to Vancouver. Devised by bartender Lauren Mote, they come in a range of flavours including seasonal ones. Of course I went for chocolate!
Molten Hot Salt - tongue on fire a bonus
Molten Hot Salt, also from Vancouver. My friend Lisa and I were holed up in a gorgeous little cafe in Vancouver and happily enjoying cups of tea and sweets. Part of the cafe is a store and while we waited for the rain to subside, I ended up buying most of my souvenirs from the store. This is a finishing salt that contains some of the hottest chillies in the world including the ghost pepper or bhot jolokia!
Fabrics
Some fabrics that I bought to make into napkins and tablecloths. As someone that can't grow plants or sew, the sewing part will be kindly done by my mother. I absolutely love the blue and white Indian block pattern print and the textures on the thicker fabrics. These will be perfect for winter.
My last find is also from Chile - actually Chiloe Island. Chiloe is an archipelago of islands and I was lucky enough to visit the big island. The main handicrafts are made of wood and wool (I honestly cannot wait to show you pictures of the island, it's so remarkable). These little hand made sheep are a wonderful memory of my trip there.
In the theme of barricading oneself in or at the very least having a really leisurely weekend spent in your pyjamas, may I also offer you this simple but delicious recipe for smashed avocado toast. Truthfully I didn't even think that a smashed avocado recipe would even warrant a recipe but when I added the roasted chilli and corn it gave it so much flavour that I thought I would pass it on.
The roasted chilli corn does take about 20 minutes to do but because I'm veeery slow in the mornings (I'm a night person) I didn't even notice the slow start to the morning. The rest of it is so very easy and once you have your corn you can be sitting down to your own cafe style breakfast while still in your PJs. That's a win for a weekend I think.
So tell me Dear Reader, what time do you wake up on the weekend? What do you look forward to most come the weekend?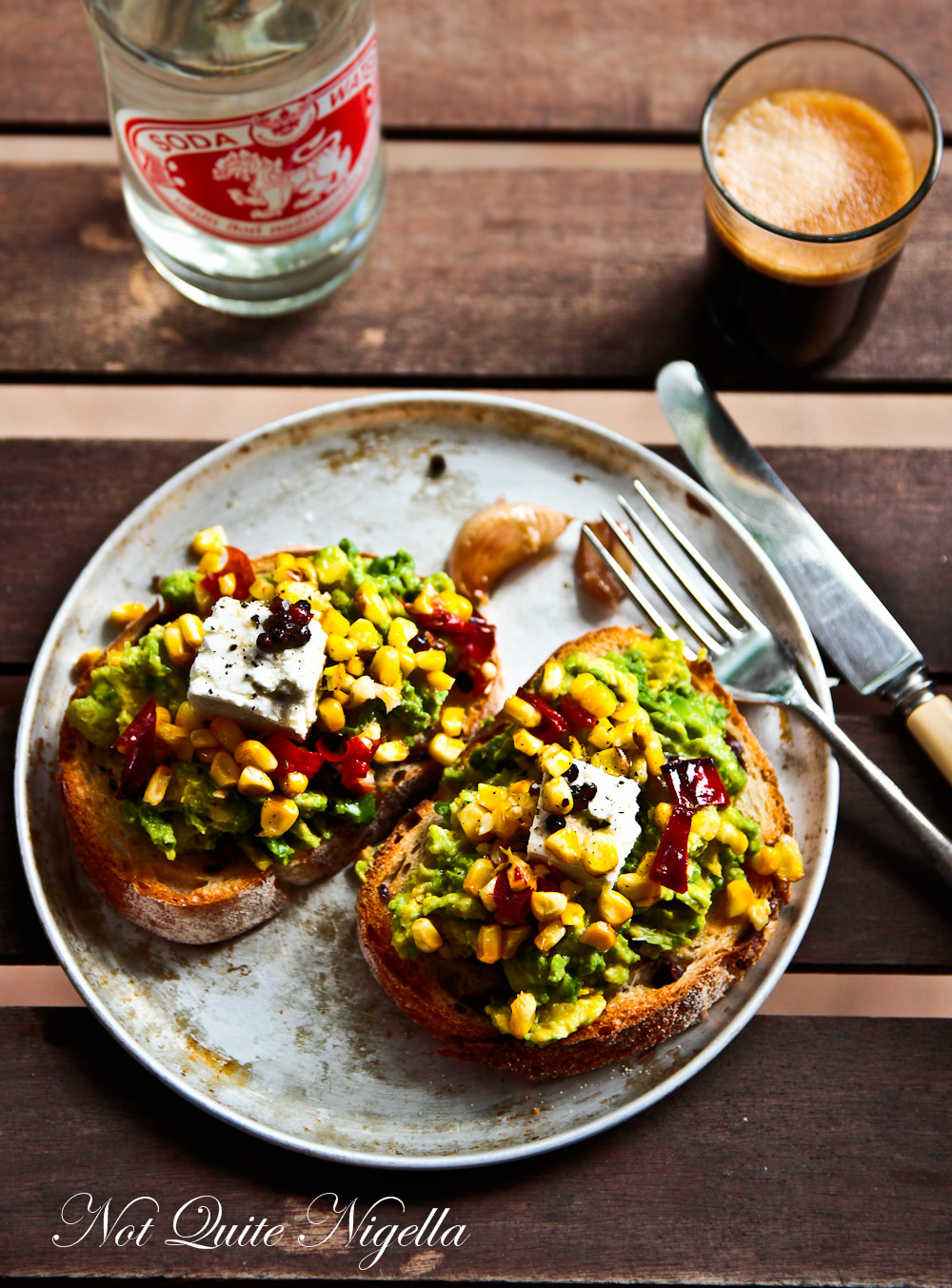 DID YOU MAKE THIS RECIPE? Share your creations by tagging @notquitenigella on Instagram with the hashtag #notquitenigella
Smashed Avocado Toast With Feta & Roasted Chilli Corn
An Original Recipe by Not Quite Nigella
Serves 2, makes 4 toasts
Cooking time: 20 minutes
Preparation time: 5 minutes
Garlic oil
1 cob corn, silks removed
1 long red chilli
4 slices of bread
1 ripe avocado
2 tablespoons sweet chilli sauce
4-8 small cubes of marinated feta
Salt and pepper for seasoning
Step 1 - Heat the grill on high and brush the corn cob and chilli with the garlic oil. Roast for about 15 minutes turning from side to side. The chilli will be ready in less time than the corn. When done, slice the kernels from the cob and chop up the chillies. Toss with a teaspoon of garlic oil and a little salt and pepper.
Step 2 - Toast the bread under the grill. Mash the avocado with the sweet chilli sauce. When the bread is lightly toasted remove from the oven and brush with garlic oil. Divide the avocado into four portions on top of the bread. Top with a piece or two of feta and the roasted chilli corn.