For the longest time, well my entire life until this year, I've been a hot breakfast sort of person. That is, given a choice along with an early hour, I wanted eggs and bacon. But lately, I've been foregoing eggs and other things as I find them heavy and instead prefer to have something lighter like bread or cereal or shock, horror, fruit! Although a part of me suspects that the love of a Continental Breakfast is more to do with the love of butter, cheese and ham in the morning than any sort of new dietary regimen...
The idea for these came to me recently. At a restaurant I was offered a breakfast bun flower with small rolls slightly attached to each other. They reminded me of hot cross buns - and given the choice when eating them, I would always opt for the buns in the centre as they would have the softest edges. I pulled one off the plate and buttered it, my teeth sinking into the soft herbed bread slathered with butter. Then I took another, and then another.
So much for that healthy eating regime huh? Oh and if that wasn't bad enough, the next day, they also did a sweet bun too with cinnamon sugar. Just replace the herbs with cinnamon sugar and perhaps you'll soon be baking these in your bathrobe as I did one morning.
So tell me Dear Reader, are you a Continental breakfast (cereal, pastry, fruit) person or an American breakfast (eggs, bacon, omelette) sort of person?
Savoury Breakfast Buns
An Original Recipe by Not Quite Nigella
1/2 cup lukewarm water

3 tablespoons white sugar

1.5 tablespoons instant dried yeast

2 cups milk

60g/2 ozs./0.5 stick melted butter

6-7 cups of bread flour

2 teaspoons fine salt

Non stick oil spray

4 teaspoons za'atar or dried herbs (I used a za'atar from Grandma's Little Bakery, near Canberra)

1 egg whisked with 1 tablespoon milk for egg wash
Step 1 - In the bowl of an electric mixer fitted with a dough hook, add the water and sugar and sprinkle with the dried yeast on top. Cover with cling wrap and allow to rest in a warm spot for 10 minutes until the yeast gets foamy.
Step 2 - Add the milk and butter to this mixture and then add the bread flour and salt-put in about 4 cups and knead on the lowest speed using the dough hook and then add more flour as necessary-I used 6 cups of flour on this batch but it depends on the flour. You want a slightly sticky dough but not a wet one. Cover and rest in a warm place for an hour (since it is cold here at the moment, I put the bowl in another bowl of hot water to assist in proofing).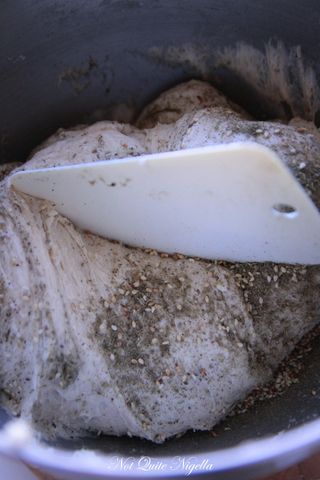 Step 3 - When doubled in size, think of the annoying neighbour who kept you up all night with their music or woke you up with the same music and satisfyingly punch the dough down. Take the za'atar or herbs and add these to the dough knead it and separate into four lots. Spray a large round tin or a saucepan with an ovenproof handle with non stick oil spray and starting around the outside, place the balls of dough, they should just touch. You should get quite a lot of buns and this dough which weighs about 1.5 kilos or 3 pounds should fit into a 30cms/12 inch diameter pan. Spray some cling wrap with the oil spray and place on top of the dough. Allow to rise for 30 minutes and preheat the oven to 180C/350F.
Step 4 - Glaze with egg wash and bake the buns for 25-30 minutes. Serve warm with butter in the pan or tin or remove from pan.