"Did I ever tell you how much I love your nostrils?" I told Mr NQN one night.
"Yessss. Many times..." he answered.
It may sound odd but I was first attracted to Mr NQN's nose and nostrils. Although I'm not a huge fan of my nose, I can certainly appreciate a good one. Sure people want to get nose jobs but to me, nothing is quite as beautiful as nature. But talk to me in a couple of decades and I might be lining up at the plastic surgeon too ;)
Flowers and fruit are another genre that I think are just so damn beautiful it's impossible to replicate them. Figs are a favourite because they contain pink, one of my favourite colours and is there nothing more sensual and delectable than a fig cut open? Well it turns out that not only are figs lovely but fig leaves are too.
A fig leaf
I usually associate fig leaves with biblical themes but when I was served a dessert on fig leaves, I was so taken with the dark green leaf that I asked if I could take the foliage home with me. The leaves have a tropical coconut scent mixed with scent of the green stem of the fig. It is intoxicatingly lovely.
The large leaves do dry up quickly so you need to use them the day they are picked or one day after. I decided to make an ice cream using the foliage as I had just eaten a peach leaf ice cream which tasted of almond and it gave me the idea to use it in an ice cream. I made my favourite go-to ice cream base and steeped the blended fig leaves in the cream before making a custard.
Making this ice cream is very straightforward and doesn't require the services of an ice cream maker. You really just blend and heat the fig leaves with the cream, steep it for intensity and then whisk it all together before freezing it. As it is now Autumn we're nearing the end of fig season but you could also blend fresh figs and swirl it through the ice cream like a ribbon so that the fig flavour lasts that much longer.
So tell me Dear Reader, would you or have you ever had plastic surgery or work done? Do you think you can tell when people have had it done?
P.S. If you happen to get a batch of fig leaves, you can also use them to wrap meat and vegetables! Fish in particular goes well with the coconut fragrance of the leaves.
DID YOU MAKE THIS RECIPE? Share your creations by tagging @notquitenigella on Instagram with the hashtag #notquitenigella
Fig Leaf & Honey Ice Cream
An Original Recipe by Not Quite Nigella
2 fig leaves (or more if you like a stronger flavour)
400ml/14.13 lf ozs. cream
2 eggs
1/4 cup caster or superfine sugar
1-2 tablespoons honey
Step 1 - Tear up the fig leaves and add them to a blender and blend the cream until you get small pieces of fig leaf. Heat in a small saucepan until simmering and then remove from heat. Allow to steep for 30 minutes.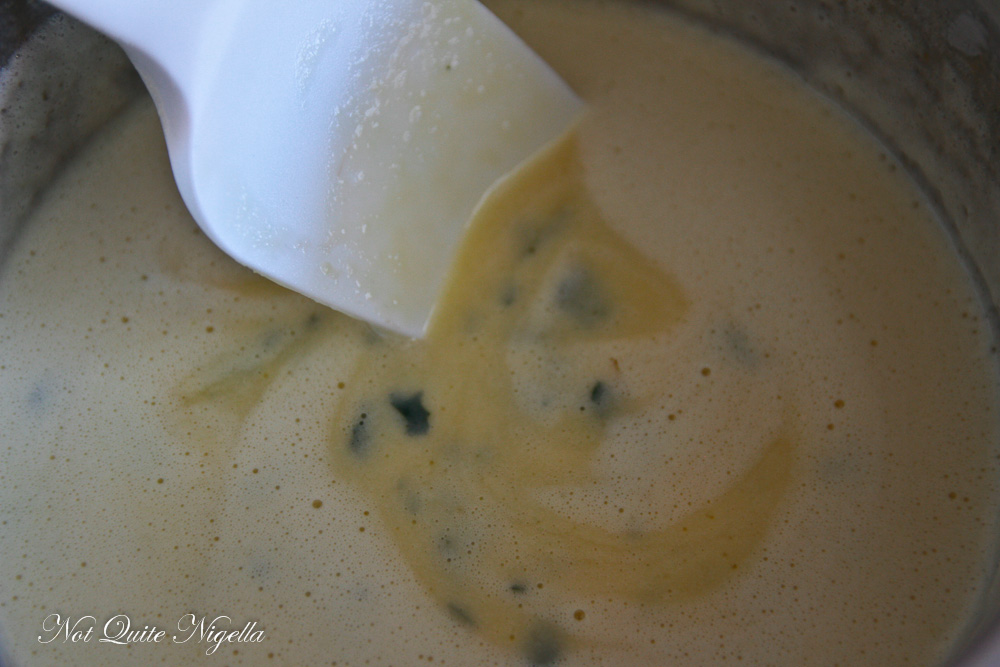 Step 2 - Heat up the cream again to a gentle boiling point. While it is heating, whisk the eggs and sugar together until syrupy. When the cream has reached simmering point, whisk in the egg mixture and stir well. Remove from heat and keep stirring until the sugar has dissolved.
Step 3 - Add in the honey and taste - I usually add a tablespoon first because the fig leaf can be delicate and I just want a little honey flavour. Strain into a container and place cling wrap directly on the surface of the custard and allow to cool completely. Place in freezer until set. If it is set hard, you may need to ripen it by taking it out of the freezer 5 minutes before scooping. Serve with fresh figs.