My social interactions with friends tend to be based around food. If we aren't talking about food, we are sharing pictures of food and planning when we are eating next. However Mr NQN's social interactions with friends are based around pranks. He's a notorious prankster and spends an inordinate amount of time stroking his chin, eyes glazed over while thinking of ways to play tricks on his friends and colleagues.
He works in the same team as another guy that I called "The Wizard" (see link for why). Mr NQN loves playing pranks on him and waited until The Wizard was about to step into an important meeting. He watched as The Wizard took his phone along. His colleague was deep into his meeting when Mr NQN bombed his twitter account "favourite-ing" every post that his colleague had made over the last few weeks and then went onto his "Yo" account and pressed the send button numerous times causing a gnome like voice to yell "Yo!" over and over.
The Wizard's phone went off like a blitzkrieg sending the device into convulsions vibrating and lighting up like fireworks on a dark night. The only reward Mr NQN needed was The Wizard sarcastically thanking him for his deluge of greetings and of course a return bombardment at a later time because as you know, payback is inevitable. Honestly, I do wonder if these boys do much work during the day...
As for my interactions with my friends, the other day Belinda sent me a picture of a macaron ice cream sandwich. I sat up instantly and peered in at the picture trying to will it to life. Within an hour I had all the ingredients out ready to make the macaron shells. I don't make macarons often and they still make me slightly nervous but I was so smitten by the idea of them that I was determined to at least give these a go. At worst, I could smash them up and make them into a version of Eton Mess.
I used the macaron recipe in my book that produces perfect results every time - even a nervous Nellie like me can get it right. It's based on one given to me by macaron master Jean-Michel Reynaud of Baroque Patisserie. The ice cream filling was a cinch and considering I wrung my hands over the shells I wanted to make this part easier so I went with the Woolworths Gold Ice Cream selection of three flavours: salted caramel & fudge, chocolate truffle and bourbon vanilla and hazelnut. I also share with you a clever trick if you want to make a quick ice cream sandwich filling. Remove the ice cream from the tub and slice it! If it doesn't quite fit you can always use a cookie cutter too which I did just to get some pretty edges but straight is just as nice.
Macaron shells themselves actually have very little flavour apart from almond so to make sure that it was berry and chocolate as the Neapolitan colours suggested I paired these with two sauces and one jam - a Woolworths Gold Chocolate Dessert sauce which is like a rich ready made chocolate ganache, a summer berry and elderflower jam and a salted caramel sauce because you can never really have too much salted caramel sauce.
This is the second and last recipe developed for Woolworths Gold where readers can win an enormous Woolworths Gold Goodie Box exclusive to this competition by simply liking this picture on Instagram! Apart from the box above one winner will also receive a $100 gift voucher to buy the fresh or frozen Woolworths Gold products of their desire and the whole box is worth $165! You can view the entire Gold range on their website.
So tell me Dear Reader, what do you do when you hang out with your friends? Have you ever tried making macarons and how did they turn out?
DID YOU MAKE THIS RECIPE? Share your creations by tagging @notquitenigella on Instagram with the hashtag #notquitenigella
Neapolitan Ice Cream Sandwiches
An Original Recipe by Not Quite Nigella
Preparation time: 40 minutes
Cooking time: 18 minutes per tray (5 trays)
Makes about 10 macaron ice cream sandwiches about 8cms/3.2inches in diameter
600g/21.2ozs. Tant Pour Tant (300g/10.6ozs. pure icing sugar and 300g/10.6ozs. ground almonds)
120g/4.24ozs. egg whites (first lot)
300g/10.6ozs. caster or superfine sugar
75g/2.65oz water
120g/4.24ozs. egg whites (second lot)
4 tablespoons cocoa powder
Pink colouring gel
2 or 3 500ml tubs of Woolworths Gold Ice Cream (you can get about 4 macaron sandwiches per tub)
Woolworths Gold summer berries and elderflower jam, dark chocolate sauce and salted caramel sauce
Hint: try not to make macarons on humid days. It's not impossible but it takes longer.
Tip: I buy almond meal in bulk and keep it in the fridge but that is not ideal for macaron making as the almond meal is better when it is less moist. Drying it out in a low oven for 10 minutes helps to get frilly feet on the macarons.
Mixing the tant pour tant
Step 1 - Sift the Tant Pour Tant (TPT). This will take a while but is necessary for smooth textured macarons. Mix with the first lot of egg whites until you get a thick, smooth paste.
Step 2 - Place the caster or superfine sugar and water in a heavy bottomed saucepan. Add a sugar thermometer and heat until simmering rapidly. Do not stir.
Step 3 - Place the second lot of egg whites in a mixer fitted with a whisk attachment.
Step 4 - When the sugar mixture reaches 115°C/239°F commence whipping the egg whites. They should reach soft peaks by the time the sugar mixture reaches 118°C/244°F. Carefully pour the hot syrup in a stream into the egg whites while the mixer is still running. Whip for 1 minute on maximum speed. Lower the speed to medium speed and whip for 1-2 minutes until it reaches 50°C/122°F.
Step 5 - Mix with the TPT mixture. Don't worry about deflating it, mix it so that the whites and TPT combine well. Divide into two bowls.
Step 6 - Colour one bowl with pink colouring gel. Sift the cocoa powder into the other bowl to make a chocolate coloured shell.
Step 7 - Place each mixture into a piping bag ready to pipe. I use silicon mats but you can also use baking parchment. Trace out large circles about 6cm/2.5inches in diameter (or measure the size of your ice cream carton) on parchment in thick pen and slip under the silicon mat or parchment to use as a guide. Pipe the macaron mixture onto the silicon mat -some do swirls but I found the best results were by keeping the tip in the centre and it would naturally push out the macaron mixture. It spreads a little during baking.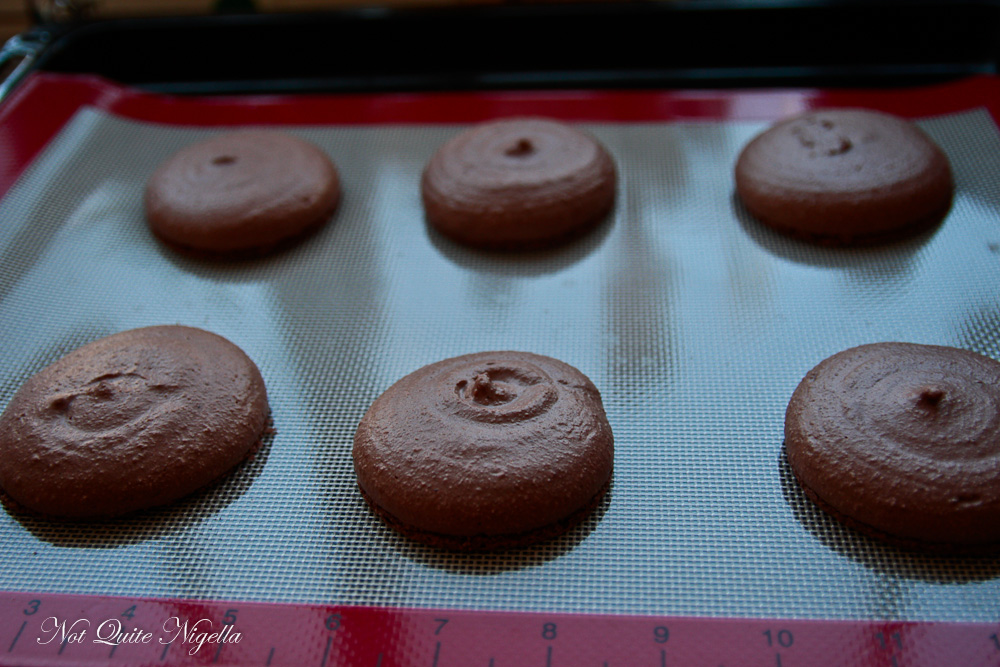 Step 8- Allow to rest at room temperature until it forms a skin - that is, you should be able to touch the macaron mixture and it should not be sticky at all. This can take from 15 minutes to two hours depending on the weather.
Step 9 - Preheat oven to 150°/300°F. I prefer to bake macarons one tray at a time as I find that sometimes the bottom trays don't develop "feet" (the frilly bit). Bake for 18 minutes. Cool on the tray for 5 minutes then slide a palette knife under the macarons to dislodge.
Step 10 - Pair up a chocolate and a strawberry macaron according to size.
Step 11 - Line a freezer proof tray with parchment. Remove the ice cream from the freezer and using a long palette knife, slide it out of the container. Slice into four or five slices - if they are a bit large use a round cutter to cut the slices down to the right size. Place on the prepared tray and put back in the freezer to completely harden until you have finished all of the ice cream tubs. When all the slices have been cut, sandwich between the macarons with some of the sauces.