Mr NQN calls me the least patient person in the world. It's a charge that I don't even bother denying because I know that it's true. Still there is one aspect that trumps impatience and that is laziness. Yes I will wait to do something if it means that I can put less effort into it.
This bread is an example of this. I wanted to make it for an upcoming dinner party but I didn't want to spend a lot of time on it. So I dragged out the no knead recipe from Jim Sullivan and notched it up a little. The key to this bread is patience and you leave it for a long rise in the fridge or on the benchtop. I wondered how this delicious bread would go when imbued with flavours so I used garlic and feta, both of which I just happened to have a lot of. I also think you could swirl or stud the bread with onions, pesto or sun dried vegetables and it would be scrumptious.
The smell of this bread baking is amazing. The recipe gives a spongey bread with a nice crust to it. I add crunch by dusting it in cornmeal rather than just flour before its final proof. In fact the easiest thing might be making this bread and the hardest thing might be trying to resist it while it cools.
So tell me Dear Reader, do you bake your own bread or do you tend to buy it? What do you eat on an everyday basis?
DID YOU MAKE THIS RECIPE? Share your creations by tagging @notquitenigella on Instagram with the hashtag #notquitenigella
Caramelised Garlic & Feta Loaf
3 cups bread flour
1 teaspoon active dry yeast
1.5 cups lukewarm water (or thereabouts, you may need more or you may need less depending on your flour)
Garlic oil for coating and frying (I had lots of garlic oil from the garlic confit)
1.5 teaspoons salt
10 cloves garlic
1.5 teaspoons brown sugar
125g/4ozs. feta cheese, crumbled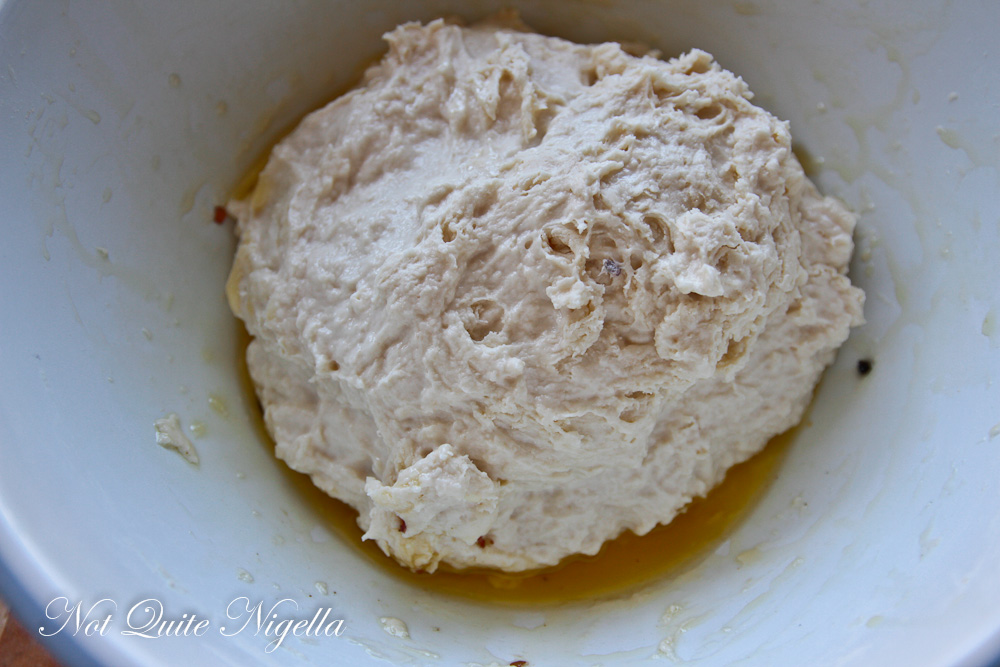 Step 1 - Mix the flour and yeast together and add the water. Mix together with a spatula until you get a wet-tish mixture and then scrape the sides to get all the flour and dough off. Oil a large bowl with garlic oil and place in the bowl. Turn over so that the ball of dough is covered with oil on all sides. Cover with cling film and rest in the fridge or on the benchtop for 12 hours. I've done it at around 9pm at night and had it ready at 9am the next morning.
Step 2 - Smash the garlic with the knife - lean the knife flat on its side on the garlic and put your weight on it. This makes it easier to peel it and you spread the garlic a little too. Fry the whole garlic cloves on medium to high with garlic oil until starting to soften (about 6-8 minutes or so). Add the sugar to the garlic and stir. Set aside to cool.
Step 3 - Have a chux or a teatowel with plenty of flour or polenta on it ready - you don't want just a light sprinkling of flour or polenta, you want more as it is quite a sticky dough. Remove the dough from the fridge and knead with the salt. Add the garlic cloves and crumbled feta and shape into a round. Allow to rise for 1 hour.
Step 4 - Meanwhile, preheat your oven to 240C/464F. Place a cast iron pot or another oven proof lidded pot into the oven to preheat it. When it is ready, add a tablespoon of garlic oil to the pot and then place the ball of proofed dough. Be careful - do not lift the lid without a mitt. Place the lid back on and bake for 30 minutes. Then remove the lid and bake for another 15 minutes until golden.