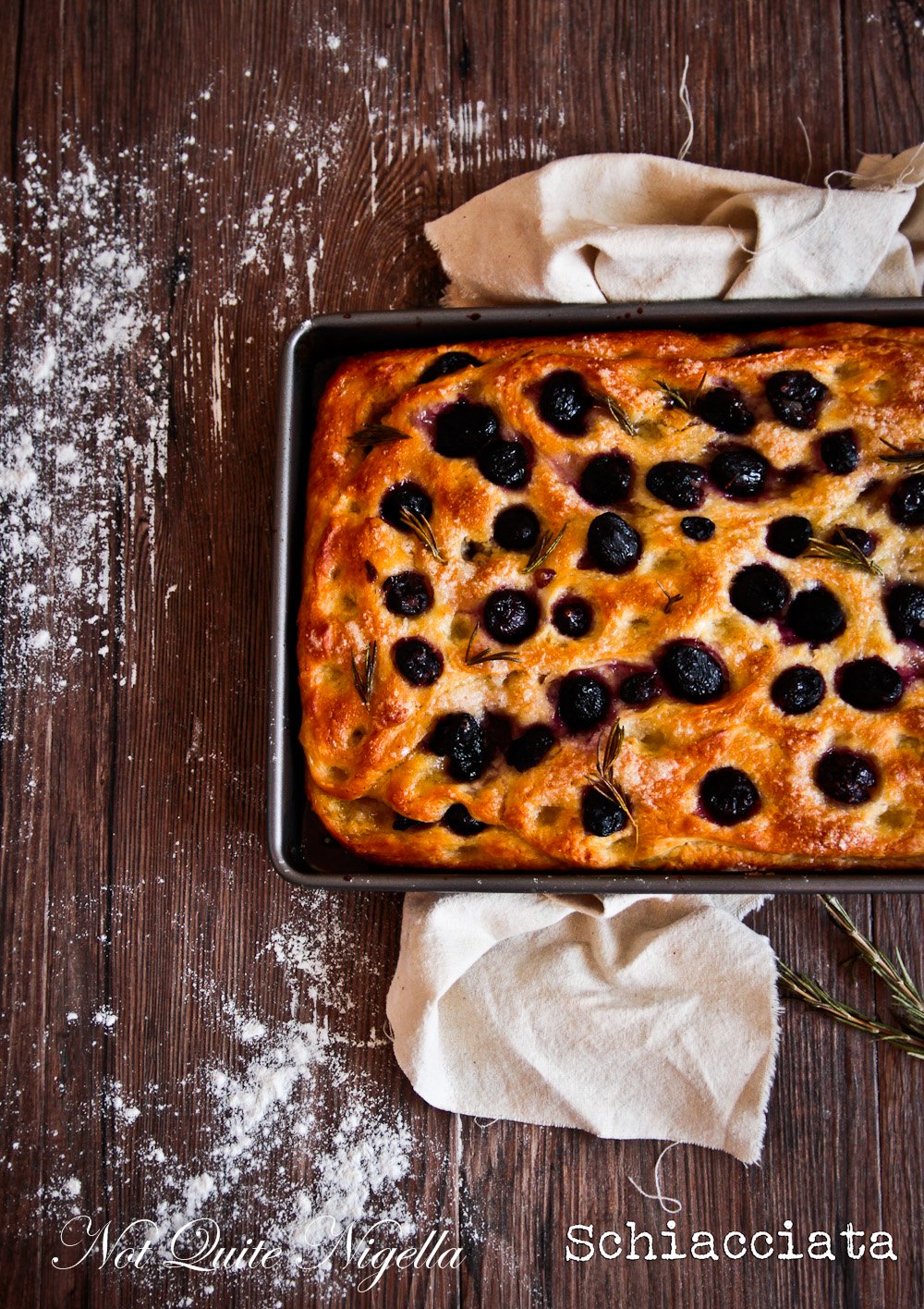 My trainer Nina looked at me one day, perhaps suspicious of my overall lack of energy and told me that she thought that I was Vitamin D deficient. "Isn't that the sunlight vitamin?" I asked her and she nodded. I had never even considered that anyone in a sunny country like Australia could have a deficiency in sunshine and after dismissing it as the ramblings of a super healthy person, I went home later and researched the symptoms.
Eeek! I think she was right. And apparently a third of Australians are deficient in it which still blows my mind. I guess it's the shut-ins like me or people that work in offices...
The very next day I scheduled some time in the sun on our balcony. I'm not sure if it was psychosomatic but I started to feel better within about 10 minutes. I kept being drawn back out to sit on the balcony while waiting for things to bake and it was when I had finished baking this Schiaccata bread that I really relaxed and sat down and ate a slice.
Schiaccata is an Tuscan olive oil flatbread that translates to meaning "squashed" or "crushed." It can come in a sweet or savoury version and I thought that I'd make a sweet version given that there are plenty of grapes around at the moment. It's something like a foccacia in texture and the olive oil gives the bread a slight crispiness. The grapes, generously strewn and squashed in the centre and on top take on an almost blueberry hue and you can make this bread as sweet as you like. The distinctive dimples are a must however no matter the flavour.
This basic recipe is so easy and yields a delicious bread that is perfect for eating as is or filling and then toasting. Other variations include stuffing with cheese, olives, sausage or even topped with cherry tomato. But like in Tuscany, it is better eaten while sitting in the sun.
So tell me Dear Reader, do you ever worry about dietary or vitamin deficiencies?
DID YOU MAKE THIS RECIPE? Share your creations by tagging @notquitenigella on Instagram with the hashtag #notquitenigella
Schiacciata Sweet Flatbread With Grapes & Rosemary ##
An Original Recipe by Not Quite Nigella
3 cups bread flour
3/4 teaspoon active dry yeast
4 tablespoons olive oil plus 2-3 tablespoons (lemon flavoured olive oil also works well)
1 1/4 cup lukewarm water
1 teaspoon fine salt
150g/5ozs. seedless black grapes
1/3 cup sugar
a few sprigs of rosemary
Oil covered ball of dough
Step 1 - Fit an electric mixer with a dough hook and add the flour, yeast and 4 tablespoons of the oil and knead to combine on the lowest speed. Add the water - just add enough to make the dough elastic. Flours are different and you may need a little more or less. You don't want the dough to be overly sticky. Roll into a ball and grease a bowl with oil turning the ball of dough in the bowl so that it covered with oil. Cover with cling film. Allow to rise in a warm place for 1-2 hours or you can leave this in the fridge overnight which is what I did.
Step 2 - When it has risen, knead in the salt until combined well. Divide the dough in half and rest for 10 minutes. Take a rectangular baking tray and brush with oil. Spread out the dough onto the prepared tray - I find it easiest if I shape it into a rectangular shape before placing it in the tin and then just spread the dough out to the edges. You can also use a rolling pin to flatten it.
Step 3 - Take half of the grapes and place them on the dough, squashing them while placing them down. Sprinkle half of the sugar and then a tablespoon or so of oil on top. Take the remaining half of the dough and repeat the process laying it down on top of the other grape covered layer. Place grapes on top (I keep them whole for the top layer) and then repeat with the sugar and oil and add some sprigs of rosemary. Allow to rise in a warm area for 30-45 minutes until puffy.
Step 4 - Preheat oven to200C/400F. Press dimples into the dough with your fingers and then bake the dough for 25-30 minutes until golden.