I was recently travelling in New Zealand and another writer was telling us about a time in her life. "It was when I was busy writing a book about sexual kinks that this happened..." she said and all of our heads swung around immediately. It was as if the brakes had been suddenly applied to the conversation and immediately the primary conversation ceded to our interest in the new one.
"You what?" I said regarding the writer with wider eyes. "You know you're going to have to tell us all about it!" I said. Because if there are two topics that I love hearing about it's sex and death. We all leaned in and listened to her tales of an afternoon with adult babies (the most humourous of her research) as well as late evenings watching numerous bondage sessions. It wasn't all whips and giant baby changing tables and there was a definite dark side to it all.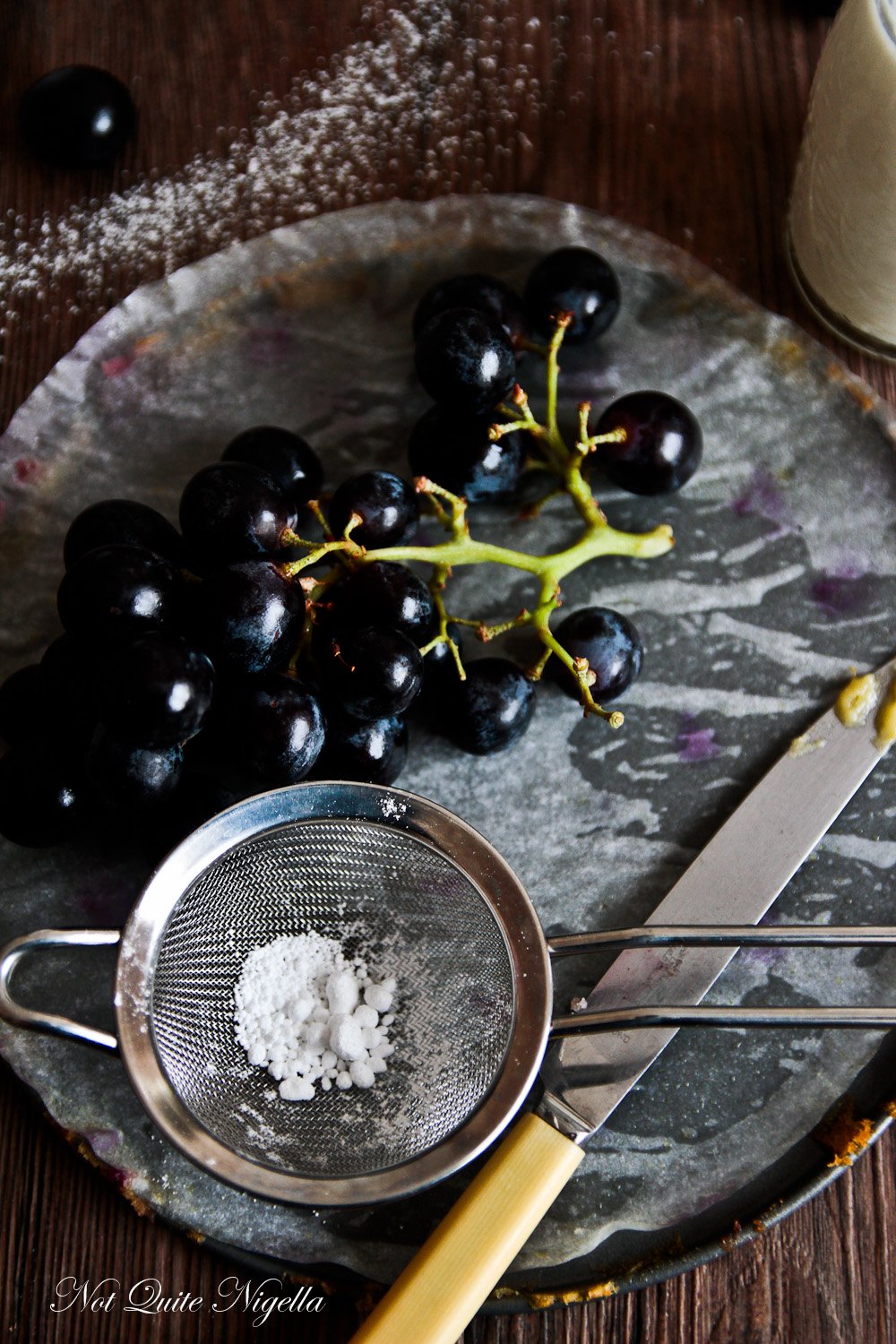 The next day when we were visiting the Selwyn region of Christchurch I met a chef and three wine growers. We were all busy talking about wine and food when the chef at Langdale Restaurant Lauren Carmichael touched a display of picture perfect Pinot Noir grapes that she casually mentioned a grape harvest cake that she makes. We stopped the conversation straight and asked her to describe this cake to us and then asked her for the recipe. Lauren, a reader of the blog explained how she gleaned the grapes from the recent harvest and how she often forages for food picked from neighbours' trees. They don't mind, she often gifts them a wedge of cake using the gleaned item in their letterbox and it seemed like a perfectly fun way of procuring the freshest, seasonal produce.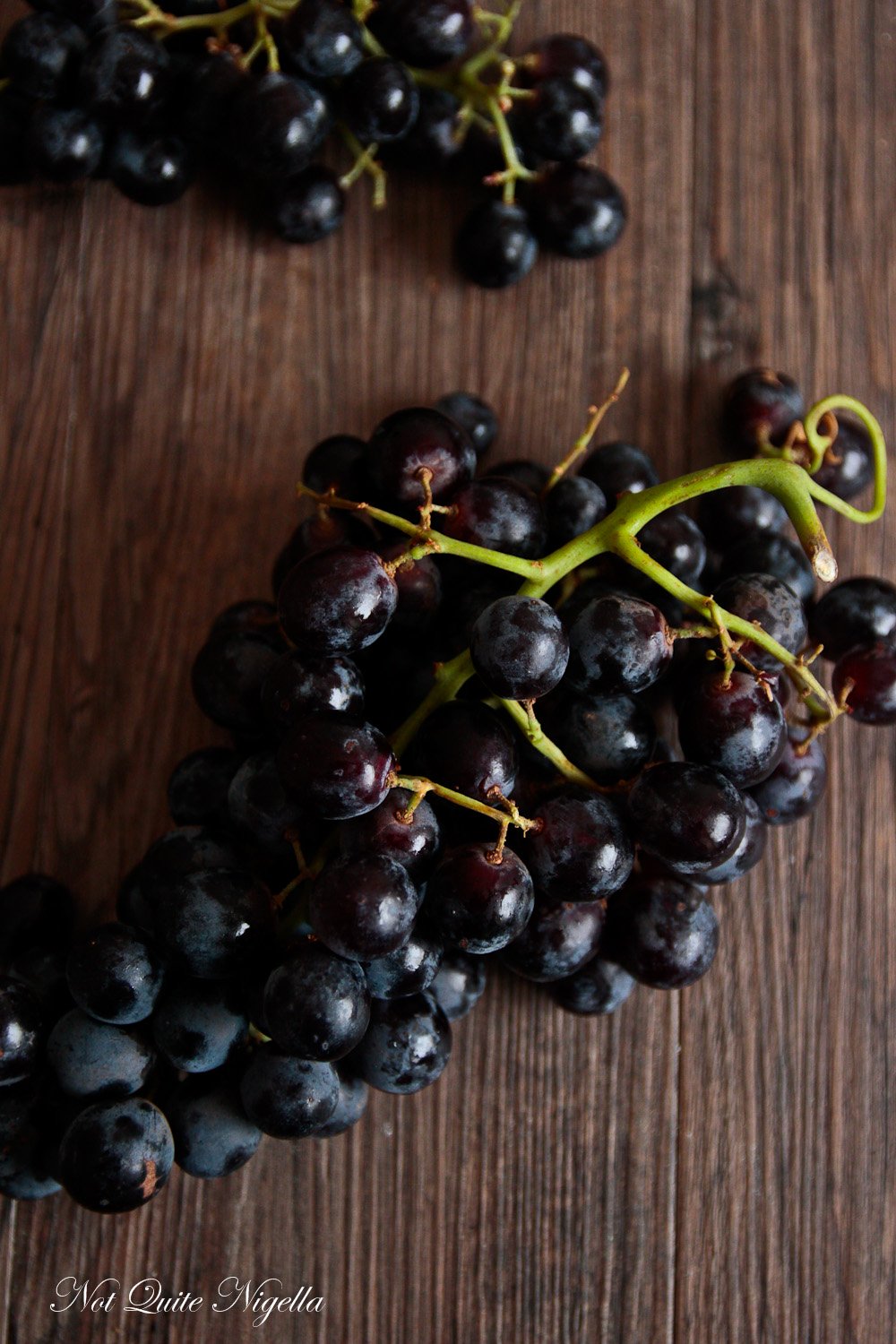 She send through the recipe that evening. Once I arrived home I bought some grapes and set about making this cake. I used dark coloured grapes but you can really use any kind-seeded or unseeded too. The citrus adds a beautiful fresh aroma to the cake while the grapes are almost like cherries baked into the cake. They also make the cake juicy and moist.
Me and Lauren
I must admit that when I made this cake, I halved the recipe as I had a smaller tin than Lauren but accidentally forgot to halve the grapes as I had already weighed these out. And whilst the extra grapes make this a little more delicate to transport, I loved the extra juiciness imbued in every bite.
So tell me Dear Reader, do you often ask people that you meet for recipes? Would you share a recipe if someone asked? Had you heard of gleaning before?
DID YOU MAKE THIS RECIPE? Share your creations by tagging @notquitenigella on Instagram with the hashtag #notquitenigella
Grape Harvest Cake
Rated 5.0 out of 5 by 3 readers
Serves 8
Preparation time: 20 minutes
Baking time: 1 hour 15 minutes
3/4 cup caster or superfine sugar
2 eggs at room temperature
1/4 cup lime or lemon olive oil (unflavoured olive oil works too)
60g/2ozs butter, melted
1/2 cup milk
1 teaspoon vanilla
Finely grated zest of 1 orange
Finely grated zest of 1 lemon
1 1/4 cup plain flour
1 teaspoon baking powder
1/2 teaspoon salt
600g/21 ozs. grapes (seeds in or out, I don't bother removing the seeds) taken off the stems
2 tablespoons icing or confectioners sugar to sieve
Step 1 - Preheat oven to 160C/320F. Grease and line a 20cm cake tin. Whisk the sugar and eggs in an electric mixer fitted with a whisk attachment for 5 minutes or so until thick, pale and fluffy. In a jug, mix the olive oil, melted butter, milk, vanilla and two zests together and in another jug or bowl whisk the flour, baking powder and salt. Add half the wet mix into the egg and then half the flour mix and fold gently. Repeat with the remaining half of the wet mix and dry mix. Then fold in three quarters of the grapes.
Adding extra grapes after 15 minutes baking
*Step 2 - * Pour into the prepared tin and bake for 15 minutes. Remove from oven and then place the remaining grapes on top of the cake and bake for a further 60 minutes until a skewer inserted in the centre comes out clean. Allow to cool in the tin and then sprinkle over with icing or confectioners sugar.