Looking for the most luscious, delicious blueberry cake? Try this upside down blueberry cake that is a cinch to make and uses up half a kilo of fresh or frozen blueberries! This delightful cake has a whole layer thick of sweet blueberries on top of a layer of a light zesty orange or tangelo butter cake. It feeds many and yet is so easy to make too! This is a pushy recipe Dear Reader. I called this cake Indigo.
I first saw a video of this on Quirky Cooking but wanted to make my own spin on it. This cake is wonderful served as an upside down cake or hot out of the oven like a pudding where you scoop out a portion into a bowl and serve it with vanilla ice cream. I know I always go on about vanilla ice cream but it's one of my favourite flavours as it lets the flavours of the other ingredients shine and blueberries with citrus is a wonderful flavour combo.
If you happen to be in the Northern Hemisphere right now then you're probably enjoying some fresh blueberries and perhaps you even have them on sale at the markets. And if you happen to be in the Southern Hemisphere right now then you're probably using frozen blueberries (also they're crazy expensive in Australia so fresh ones are cost prohibitive for baking recipes except in the height of summer).
I made a couple of versions of this cake. One was made with lemons instead of oranges, oil instead of butter and honey instead of sugar. I much prefer the orange or tangelo version as it was the right level of sweetness. If you love sherbetty cakes however try the version with lemon with the same quantity of sugar. I also prefer the flavour of butter to the oil. I also preferred using the sugar over honey because the oil/honey/lemon version was very liquid and had more of a pudding texture but it's up to you.
There are so many health and antioxidant benefits to blueberries - one cup provides 25% of a person's RDA of Vitamin C so they're good for winter and they also aid with anti inflammatory, bone strength, blood pressure, diabetes management, cancer prevention and skin health. Plus they are tasty, especially the big ones - yes I'm the person that inspects the size of the berries before buying them haha.
Speaking of health, a few weeks ago I got my fourth COVID booster shot (ugh I can't believe we're still grappling with COVID!). As soon as it was available to everyone I made an appointment for Pfizer. I booked a spot at my local chemist because I don't really have a regular doctor now that we've moved. That afternoon I left home early and I had to stop by the post office to send off a package and ended up with plenty of time to spare. I decided to go to the supermarket because we needed garlic for a very garlicky dish (chicken with 40 garlic cloves) and Teddy needed fennel for his home made dog food.
I didn't have a bag because I didn't think that I would be grocery shopping so I ended up putting the garlic bulbs in my handbag and carried the head of fennel with me, stems protruding and fluffy fronds swaying conspicuously. I went to the pharmacy and sat down and waited on the assigned seat. The pharmacist introduced himself as Michael and checked all of the details on the form I had filled out. When he saw my email address he said, "Oh that's a very popular website". I had to come clean, despite my very unremarkable look that it was my blog. On the one hand lovely to meet a reader but on the other hand mortifying because I looked very ordinary that day. Plus I had a handbag full of very pungent garlic and was carrying a fennel bulb (which was mercifully hiding from his view)!
He was very polite and absolutely lovely so now I have a local pharmacy that I can go to. I have also noticed that there's some sort of unspoken rule that I always tend to meet my readers when I am looking at my worst!
So tell me Dear Reader, do you find that you most often bump into people when you're not ready to?
Did you make this recipe?
Share your creations by tagging @notquitenigella on Instagram with the hashtag #notquitenigella
Upside Down Blueberry & Lemon Cake
An Original Recipe by Lorraine Elliott
Preparation time: 15 minutes
Cooking time: 1 hours 5 minutes
Serves: 8-10
500g/1.1lbs blueberries, frozen or thawed
100ml/3.5ozs. caster sugar
Finely grated zest of 1 orange or tangelo
50ml orange or tangelo juice
For cake
180g/6.3ozs caster or superfine sugar
180ml/6.3flozs melted butter
3 eggs, room temperature
1 teaspoon vanilla
Finely grated zest of 1 large orange or tangelo
1/2 cup/125ml/4flozs milk
100ml/3.5flozs. orange or tangelo juice (around 1 large)
190g/6.7ozs. cake flour*
3 teaspoons baking powder
Pinch salt
Cake flour can be purchased from the supermarket. To make 1 cup of cake flour at home, replace 2 tablespoons of plain flour with cornflour/fine cornstarch and whisk together. I recommend making a big batch of this to have handy when baking cakes as it helps produce a softer cake texture.
Before baking
Step 1 - First preheat oven to 180C/350F gas mark 4. Line a 26x18x6.5cms baking dish with parchment and add the blueberries, sugar, zest and juice. Bake uncovered for 30 minutes (35 minutes if the blueberries were frozen).
After baking, juice is released
Step 2 - Whisk the sugar, eggs, butter, vanilla and zest together in a jug. Then in a cup add the orange juice to the milk and let it curdle. In a large bowl whisk the cake flour, baking powder and salt together and add the wet ingredients alternating the butter mixture and the milk juice mixture. Mix so that there are no lumps but do not overmix.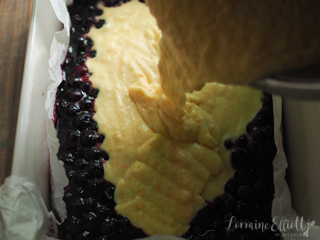 Thermomix directions: Add the sugar, butter, eggs, vanilla and zest to the bowl and set to 30 seconds speed #4. Then in a cup add the orange juice to the milk and let it curdle. Whisk the cake flour, baking powder and salt together. Add the juice milk and flour mixture and set to 10 seconds speed #4.
Step 3 - Spoon the batter over the blueberry mixture and let rest on the counter uncovered for 10 minutes. Then bake in the preheated oven to 30 minutes turning it around halfway to ensure even browning. You can serve this like a pudding by scooping it out of the dish or if you want to serve it as pictured (i.e. upturned like a cake) then let it cool completely. It will be too juicy and wet to upturn straight away. Serve with vanilla ice cream.