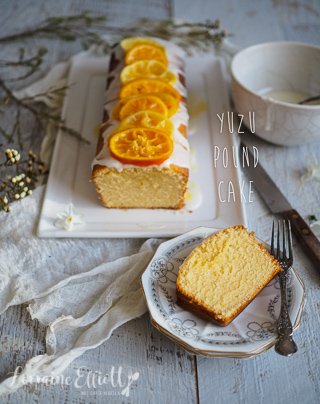 This yuzu pound cake is an aromatic and citrus buttery beauty. Made using the reverse creaming method of cake making, the cake texture is a dream. The crumb is delicate, tender and velvety soft. There are no big air pockets or large crumbs, this is the kind of cake that melts on your tongue. With the added flavour of piquant yuzu and lemon sherbert, this is a pushy recipe Dear Reader! I called her Yuki.
Have you heard of the reverse creaming method? It produces an incredibly delicate, tender crumb in a cake. Do you know those cakes that you might buy in stores with the really even, beautiful crumb? Chances are they're made using reverse creaming.
Up until I recently I had never heard of reverse creaming before. The way it works is that it is the opposite of the usual way of making a cake where you first beat butter and sugar, then add eggs and then the flour. With reverse creaming, you mix the sugar, flour and other dry ingredients and then beat in the butter one piece at a time. After that the other liquids like milk or beaten eggs are added.
Reverse creaming (also called Two Stage Creaming) has the advantage of producing a finer, more velvety texture even sized crumb with less air pockets while regular creaming results in a more open and slightly uneven crumb. With regular creaming, sugar's sharp edges combine with butter to create air bubbles and when you add flour to the wet mixture the gluten or protein strands starts to form. With the reverse creaming method gluten starts to form when flour hits the liquid at the end but since the flour molecules are already covered in butter this creates a barrier that slows down gluten formation and makes the cake less tough or rubbery.
The day that I made this cake was sort of one of those lull days. It was smack bang in the middle of winter and I loathe winter so I was feeling a bit lethargic and quite honestly sick of wearing layers and layers of clothes and waking up with a stuffy nose (not to mention being overwhelmed by the amount of laundry that winter entails).
I made this cake while half-present. I wasn't really paying attention and honestly didn't think it would make a difference; although I would normally be excited about experimenting with reverse creaming, I pushed it in the oven rack and left it. I was less than impressed when one of the tube paper cake pans burst open spilling batter on the oven floor. But then I scooped it up with a ladle and broke it open. The crumb!! OMG the crumb!! THAT CRUMB!!!!
It was PERFECT!!
Suddenly nothing bothered me. Not even the remnants of the cake batter at the bottom of the oven that I now had to clean. Not even the fact that earlier that day my driver's license photo arrived and I looked like Michael Jackson (and that's the scary one, not the young and cute one). Seriously though, why can't we choose a photo for our drivers license like we can with our passport? I now have to go through the next few years with a license that makes me look like MICHAEL JACKSON FML.
I was jubilant! Reverse creaming is like tangzhong in bread making. It might just change my baking life!
So tell me Dear Reader, have you ever tried reverse creaming? And do you like or hate your driver's license photo?
Yuzu Pound Cake {Reverse Creaming Method}