Lemon lovers and lovers of bitter or tart flavours this cake is for you! This lovely loaf cake uses whole lemons in it to give it a delightful bitter finish to it. The cake itself is a buttery soft which is the perfect contrast to the tangy lemon!
The texture of the cake is moist and downy soft and the whole thing is made quickly without getting the mixer out. If you aren't as big a fan of bitter flavours, you can still make this cake. Just juice the lemons and grate the zest from one of them. It will be a sweeter and less bitter cake but I wanted to make this cake for those of you that love the bitter tartness of lemons. It reminds me of a cocktail if anything really and isn't too bitter at all, it's juuuust right.
Speaking of sweet vs bitter, I am very lucky to have some sweet people in my life and some of them are my Dear Readers. When Mochi passed away, a lovely talented artist called Emma (@milelk on Instagram) contacted me asking me if I would like her to draw Mochi. I was so excited and she drew a beautiful watercolour painting of my favourite picture of Mochi. It sits right by the front door so we see her every time we go out.
Then another darling reader Maria (@strath_creek) commissioned an artist to draw Mochi too. It was an amazing job and hyper realistic that people asked me if it was a photograph or a painting. She knew how much I missed her and I was so touched that she had paid someone to do that for us. That sits above the bed above where Mochi would have slept.
Then darling reader Stefanie sent me some photos she had printed out of Mochi looking so cute in her adorable outfits. It was such a sweet gesture and I put those on the fridge so we see her little pink nosed face very often!
So while bitter might be good for your health, I feel like sweet people might be even better. Thank you to Emma, Maria and Stefanie for being such sweet souls. Mochi would have adored you all xxx
So tell me Dear Reader, do you like bitter flavours or are you more in the sweet camp?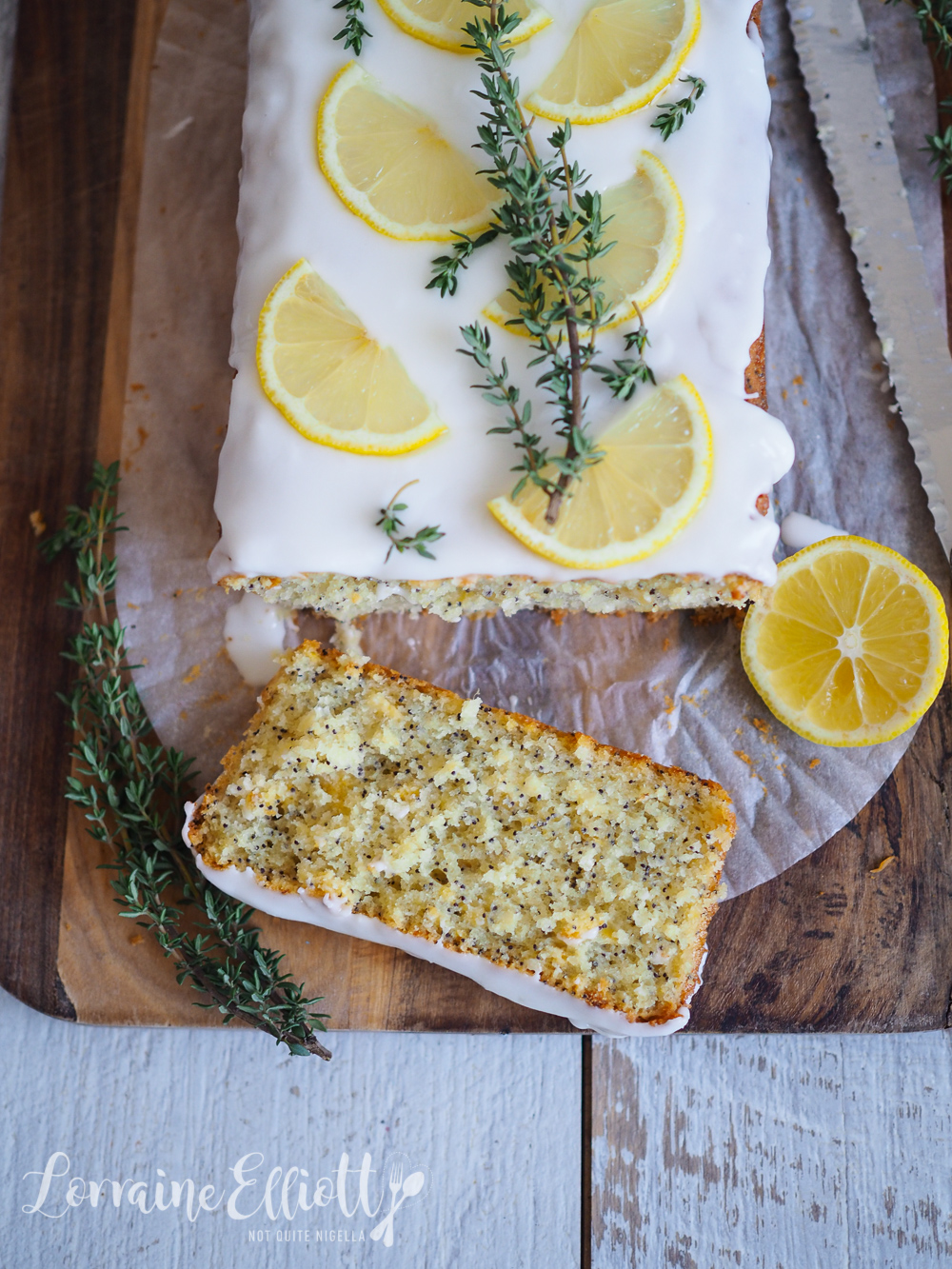 DID YOU MAKE THIS RECIPE? Share your creations by tagging @notquitenigella on Instagram with the hashtag #notquitenigella
Bitter Lemon Poppyseed Loaf Cake
Rated 5.0 out of 5 by 1 readers
An Original Recipe by Lorraine Elliott
Preparation time: 20 minutes
Cooking time: 1 hour 10 minutes
2 lemons, roughly chopped, seeds removed (I save the seeds for making jam)
3 eggs, room temperature
190g/6.7ozs. butter, melted
1.5 cups cake flour
1 cup caster or superfine sugar
3 teaspoons baking powder
2 tablespoons poppyseeds
180g/6ozs. icing or powdered sugar
5-6 tablespoons lemon juice
3 slices lemon and thyme sprigs to decorate
Step 1 - Preheat oven to 150C/330F and line a loaf tin with parchment on the base and sides. Process the lemons until they become fine and no longer chunky (I put them in the high speed blender). Blend with the eggs and then add in the butter. In a bowl whisk the flour, sugar, baking powder and poppy seeds.
Step 2 - Make a well and stir in the wet mixture and mix until just combined. Spoon into the prepared tin and bake for 1 hour and 10 minutes. Cool completely.
Step 3 - Because I loathe sifting, I place the icing sugar in a food processor and process until smooth. Add the lemon juice so that it becomes a thick but spreadable consistency. Spread over the cooled cake and add the lemon slices and thyme before the icing sets.