Love Lemon Delicious pudding? Try this cheesecake version, a light and airy baked cheesecake swirled with tart lemon curd and decorated with lemon crisp cookies! With a topping of whipped cream, more lemon curd and lemon slices, this is for lemon lovers! I call her Dita the Delicious.
I was the lucky recipient of a bushel of lemons recently so I decided to bake with them. The only issue is that I am married to a man that doesn't like lemon flavoured anything. So I baked this for other people, namely Nina and Garth who quite happily, despite their predilection for fitness, are the happy recipients of my cakes.
The day before I made this Garth had mentioned that he feels conflicted about getting cakes. While Nina eats a small slice a day, he tends to feed on a cake throughout the day. She often finds him with the fridge door opened holding one of my cakes and saying, "Cake for breakfast?". But because I'm like the worst kind of dealer, aka a sugar dealer (we seem harmless but we're not ;)) , I offered them this cake the day after he said this.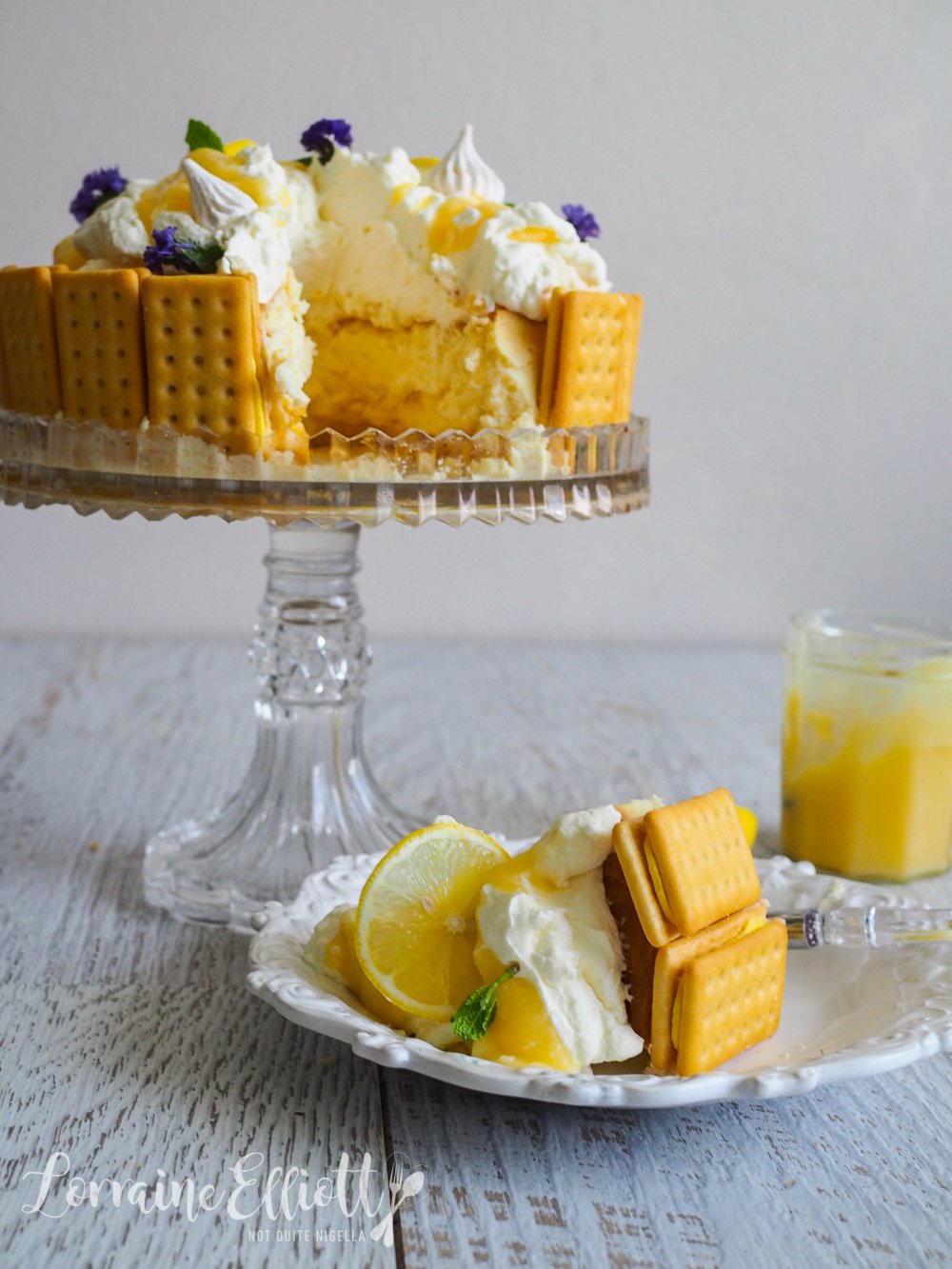 Any guilt I feel about feeding them sweets is assuaged by the fact that they're both very active. If they're not running, swimming or lifting weights they're rock climbing. They've been trying to talk me into some rock climbing for a while and it was only after I broke four nails and I had to cut them all short, that I finally agreed to do it. I want to improve my coordination as I am really clumsy and I think I was hoping that this would help . The first time was at a climbing gym where I fled after a very short time because it stank like smelly feet (my sense of sense is disturbingly strong and I almost vomited).
Then they found another place, a more well ventilated one. We signed up, rented some harnesses and we learned how to belay. I was truthfully more interested in the snacks, at least at first, but after a while I decided to give it a go. I started off on the easiest climbs.
I came home aching and for the first time in a long time, physically exhausted. This is a very novel thing for me as I'm sure my energy intake always exceeds my physical outtake but that night I slept like a baby. Mr NQN was very excited but I had to calm him down a little. As soon as my nails grow back I don't think I'll get back up on that rope!
So tell me Dear Reader, have you ever tried rock climbing? Do you like trying new things? And how do you feel about lemon desserts?
DID YOU MAKE THIS RECIPE? Share your creations by tagging @notquitenigella on Instagram with the hashtag #notquitenigella
Lemon Delicious Cheesecake
An Original Recipe by Lorraine Elliott
Preparation time: 30 minutes
Cooking time: 1 hour 35 minutes
2x250g packets lemon biscuits (I used lemon crisps)
75g/2.7ozs. butter plus 1 tablespoon, melted
4 eggs, 2 of these separated
625g/22ozs. cream cheese
2/3 cup caster or superfine sugar
1/2 cup lemon juice
1/2 cup lemon curd
300ml/10.6flozs. cream
1/4 cup icing or powdered sugar
Step 1 - Preheat oven to 180C/350F. Line the base of a 20cm/8inch springform tin. Wrap it in two layers of foil. Process one packet of lemon cookies until they resemble fine crumbs. Then add the butter (reserve 1 tablespoon of the butter) and press into the base. Bake for 15 minutes and then cool.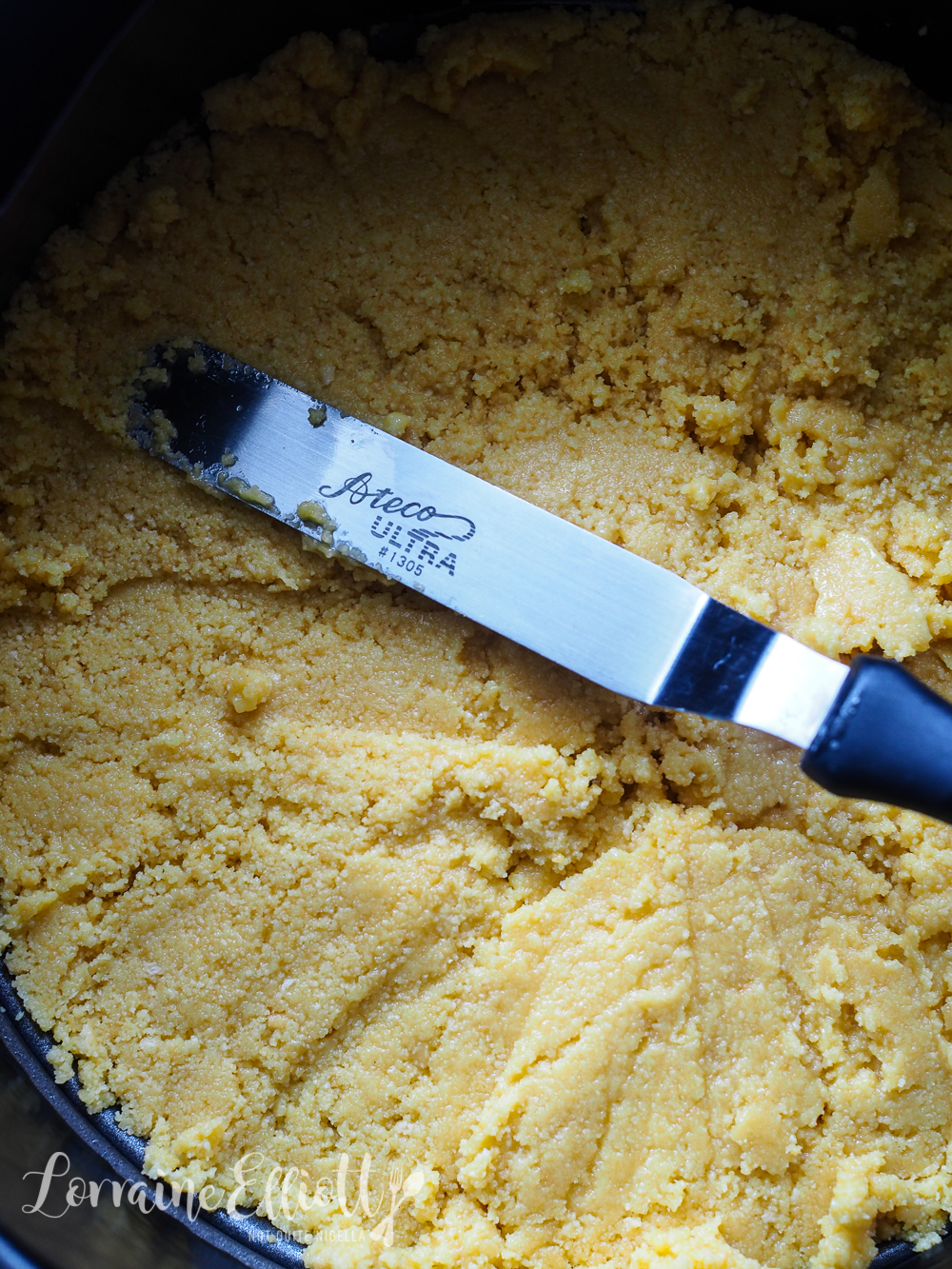 Step 2 - Once the tin is cool, brush the side of the tin with the remaining tablespoon of butter brushing upwards. Get a water bath ready by putting on a kettleful of water onto the boil and have a large enough high sided baking tray ready.
Lemon curd swirl
Step 3 - With the two egg whites, whip these until soft peaks form (make sure that you use a very clean bowl and beaters) and whip until you get soft peaks. Place in another bowl. Then switch to a beater attachment and beat the cream cheese with the sugar, 4 egg yolks and 2 whites until smooth. Then add the lemon juice and then fold back in the 2 whipped egg whites and fold until there are no streaks of egg white. Pour into the prepared tin and then spoon 1/4 cup of the lemon curd on top and swirl it using a skewer. Reduce the heat to 150C/300F and bake in a water bath for 1 hour 20 minutes or until only the centre is slightly wobbly. Cool and refrigerate.
Step 4 - Before serving, place the other packet of lemon cookies around the edge. Whip the cream with the icing sugar and pile on top of the cake. Swirl the remaining 1/4 cup of lemon curd on top.