There is a certain sort of diner that likes to frequent Doughbox Diner, the retro themed establishment. Often paired as a couple, she wears a fitted baby pink cardigan, artful cat's eye makeup and a 50's Victory hair roll. She's a vintage pin-up. And she's probably biting into an enormous crepe cone.
It was a long overdue catch up with friends Louise and Viggo that prompted this last minute dinner at Doughbox Diner. In this case, the fact that they don't take bookings actually worked in our favour. The diner stands out in an increasingly busy stretch of Enmore Road and sits among vintage stores. There is a pale blue and pink exterior and a neon sign advertising passersby of their "Crepe Cones." Despite the fifties theme, music and photo frames of that era's stars, there aren't hamburgers. Instead, they serve crepe cones.
The red vinyl booths are small and alas tall Viggo and Mr NQN can't get their legs past the pole so we adjourn to a table outside nearby heat lamps. We take a look at the menu while we smell the inviting aromas of crepes cooked to order. There are both savoury and sweet crepes (gluten free crepes also available) as well as milkshakes, sundaes and waffles.
A lot of the fillings sound similar at first so we try and choose four different sounding ones. Ordering is done at the counter and we order some American sodas. All of the staff are dressed according to the theme.
It's not long before our crepe cones arrive in red baskets, each slipped into a paper sleeve and then a cardboard sleeve for easy eating. The Big Dough Box has a bit of everything including pepperoni, chicken,ham, bacon, sujuk (spicy sausage), onion, feta, olives, garlic, cheese and sour cream. It's enormous and we notice that all of the savoury crepes have a crispy layer of pan fried golden cheese around them giving them extra flavour and crunch.
The Meatlovers is Viggo's choice and he seems happy with it. There is pepperoni, cabanossi, bacon, sujuk, jam, cheese and sour cream added on. It's a bit smoky and meaty and perfect for the vegephobic.
The Kofte is Louise's favourite and the crepe is filled with grilled lamb kofte, fresh tomato, onion, tzatziki, paprika, lemon and cheese and we also added halloumi to it.
Call me a chilli freak but the "Inferno" is my favourite. With pepperoni, cabanossi sujuk, mushrooms, garlic, chilli flakes, cheese and a very generous serve of spicy jalapeno slices it was crispy and spicy. And filling too, did I mention that? These crepes are enormous and filling.
But because dessert goes to a separate stomach we try some of the sweets as well. The peanut bliss is a crepe filled with peanut butter, choc chips, banana, chocolate hazelnut spread and biscuit. It's rich and moreish and I like how the crumbled biscuit gives it a bit of crunch.
The waffles are freshly baked and it is hard to choose one of the five types. I liked the sound of the maple fair but Louise chose the "Caramel Affair" with French vanilla ice cream, lashings of caramel and chocolate fudge sauce, crumbled biscuit and whipped cream. The waffle is crispy underneath the sauces and ice cream and it's a sweet but well portioned dessert. I also like that there are two scoops of ice cream.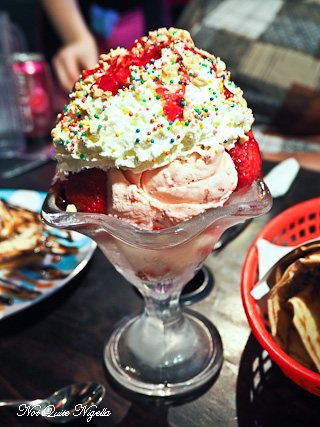 The Peggy Sue Sundae is enormous and features large scoops of strawberry summer and French vanilla ice cream with a layer of fresh strawberries. It is topped with a lashings of whipped cream, strawberry and hot fudge syrup, hundreds and thousands and chopped nuts. Try as we might, we can't finish it.
It's probably best shared between two. Sitting opposite in a booth while wearing a poodle skirt of course.
So tell me Dear Reader, do you dress to suit a restaurant or eatery? And do you prefer pancakes, waffles or crepes?
This meal was independently paid for.
Doughbox Diner
137 Enmore Rd, Enmore, NSW
Tel: +61 (02) 9565 1995
Tuesday to Thursday 6pm-11pm
Friday and Saturday 6pm-12am
Sunday 6pm-10pm
Closed Mondays
http://doughboxdiner.com.au/