"This is my last cheese toastie for the year" I repeat to myself on rote. It was a ban put in force last year when I realised that although cheese toasties are probably the most delightful winter food ever, that they were responsible for me not being able to fit into my clothes. And even though we are mid April I realised that it was indeed time to instigate the ban for this year.
Belinda and I were meeting for my last cheese toastie of 2014 at Stinking Bishops on Enmore Road, Enmore. A few days before I had heard of their toasted cheese sandwich aka Mr Crispy. It was like a blind date only more exciting and with less chance of groping. Arriving at 12pm on a Friday was pure strategy. The Stinking Bishops has been busy since it opened at the beginning of April and we wanted to make sure that we got a seat. There is one table for two, a large share table and a few bar tables. It is also licensed after 11am.
The name The Stinking Bishops is a dead giveaway for the main attraction here. It is the name of a washed rind cheese produced in Gloucestershire, England. Here it is the name of a boutique cheese bar, cafe and shop. The two Stinking Bishops are Jamie Nimmo and Kieran Day and they and their team of friendly butcher apron clad staff keep the small shop and cafe humming. At 1pm the cafe swells with customers and the unexpected fortune has taken Jamie by surprise.
To nab at table at night Jamie advises coming between 6-7pm. After 7pm they have a wait list which is a concept that seems to flummox the cheese store owner. The day menu has four different types of Mr Crispy cheese toasties including a vegetarian version and there are also pates, rilletes and a daily salad. The night menu is similar except there are no Mr Crispys and these are replaced with three substantial dishes including mac and blue cheese, beef cheeks and a cheesecake. A list of cheeses adorn the chalkboard with the matching animal next to it. We make our orders and watch those around us with their Mr Crispys.
Wagyu Mr Crispy $12.50
When I usually make toasted sandwiches there is a lot of butter involved which is probably why they're such a calorific exercise. These Mr Cripsys are not smothered in butter but they're very good. The bread is excellent and it is filled with smoked wagyu, gruyere, horseradish mayonnaise and bread and butter pickles.
Truffled salami Mr Crispy $12.50
The truffled salami Mr Crispy has thin slices of salami with chopped up boiled eggs, gruyere and tomato jam. It's not quite as moreish as the wagyu version and needs a bit more tomato jam as the boiled egg yolk makes it a little dry.
Duck and Pistachio pate $18
I couldn't really taste the pistachio in the pate but there were hazelnuts on top. The duck liver pate from Eathouse Diner in Redfern is smooth with a top layer of aspic and is served with thin slices of baguette.
Salad $15
The salad is a good sized serving and is a mix of thinly grated fennel, cabbage, apple, cucumber and chilli. The chunks of cucumber are a bit too large for the salad and whilst it is refreshing it lacks a bit of zing to it.
3 cheese platter $29
Belinda's friend Sally arrives and we decide to share a three cheese platter. Diners can choose as many cheeses as they want from the selection on the wall for take away or dine in. We choose the nutty and gorgeous semi hard cheese Marcel Petite Comte, a Soumaintrain raw cow's milk washed rind cheese from Burgundy and finally a Holy Goat's Brigid's Well, the ashed version of La Luna made at Sutton Grange in Victoria. They're served with a variety of crackers, muscatels, paste and a prune and walnut log.
And I'm pleased to report that by 8pm on the day of the toasted cheese sandwich ban, I had a terrible craving for them but didn't succumb!
So tell me Dear Reader, have you ever reluctantly banned a food from your life? Do you have a favourite cheese or type of cheese?
This meal was independently paid for.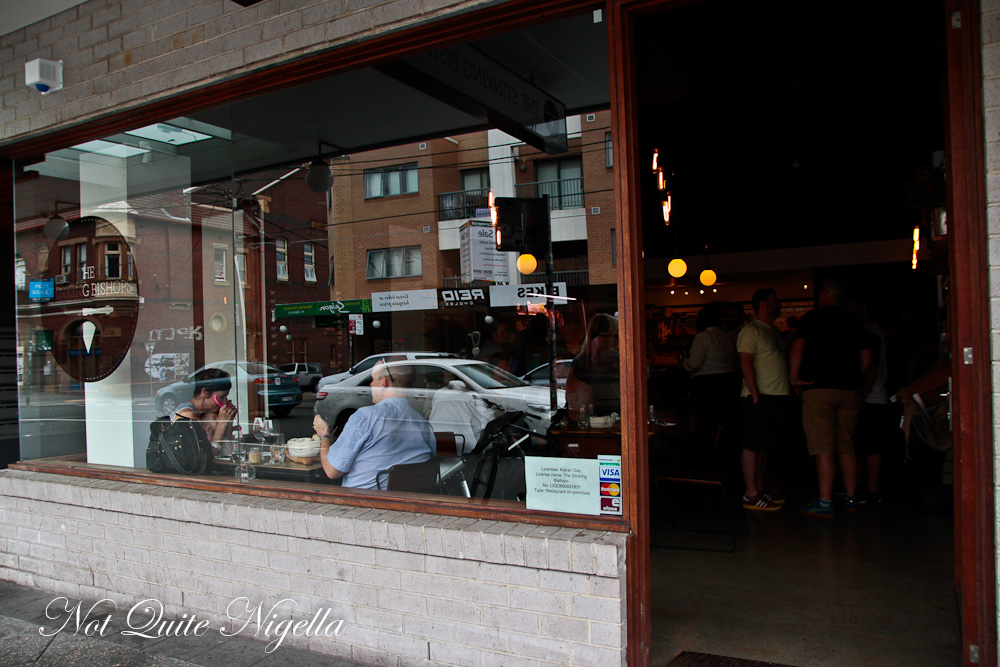 The Stinking Bishops
63-71 Enmore Rd, Enmore, NSW
Tel: +61 (0) 401 919 624 Closed Monday
Open Tuesday and Wednesday 8am-7pm
Thursday and Friday 8am-10pm
Satursday 9am-10pm
Sunday 9am-6pm
http://www.thestinkingbishops.com/