Sanctuary
ˈsaŋ(k)tjʊəri
noun
1. refuge or safety from pursuit, persecution, or other danger.
"his sons took sanctuary in the church"
2. a sacred or holy place
I'm on my back, watching the ceiling fan make rounds. The sound of the blades cutting through the lightly humid air is the only noise that I can hear. It feels as though I am floating mid air and my mind starts to consider things. I see images of faces and I wonder if someone else in the world is seeing these very things that I'm imagining and that we're connected in some spiritual way.
See, that's what a really good massage does to you.
So the theory goes that with some things, groups of women are tied. Things like menstruation occur in sync. It seems this morning many of the goddesses had headaches, myself included (although let's be honest the night out and the wine may have had something to do with some of these headaches).
Everyone was tiptoeing around quietly. With only a couple of days to go on the retreat and everyone is familiar and friendly, the edge of skittish unfamiliarity erased by now. Earlier I made my way to the villa for my facial and asked Sally if Yeni could concentrate on my head and arms in my facial because of my headache. Nodding Yeni set about to work, her skillful hands easing away all tension so that when I emerged one and a half hours later I appeared in a daze. "So this is what being stoned feels like," I thought to myself. I sat on the day bed grinning like an idiot and trying to carry on a conversation. I failed.
Lunch is served shortly after and it's everyone favourite lunch of the week: nasi campur. It's a plate with small portions of different flavours from coconut chicken, crunch tempeh, soft eggplant, crackers, sambal and red rice. Although I know that I have yoga next, I can't help but finish it.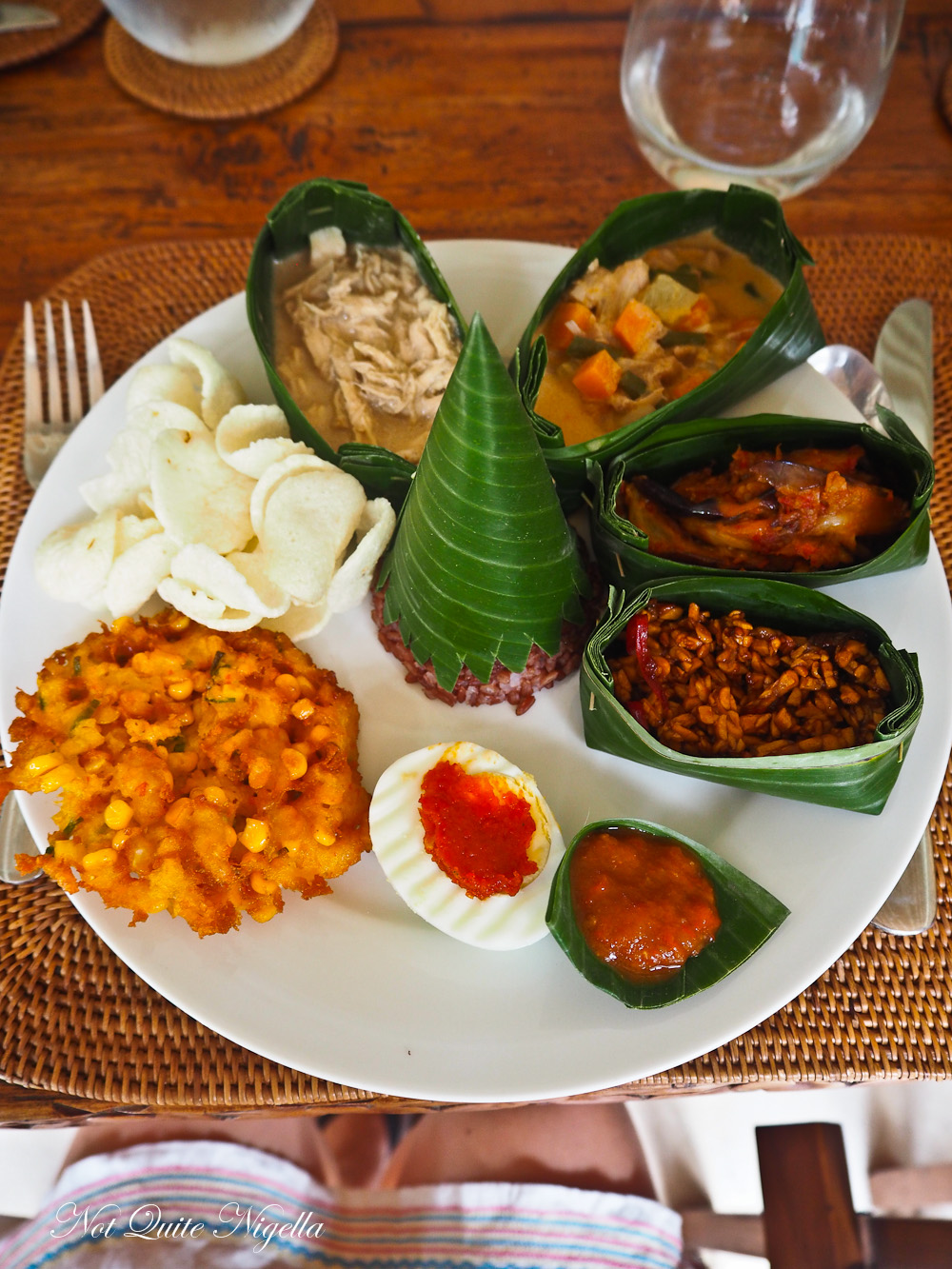 Because we are headed out to Potato Head and Bambu for dinner, today's yoga session has been moved ahead. With everyone eager to fulfill their seven hours spa time, there are only three of us at yoga today. Which is a good thing because I want to inflict my yoga on as few people as possible. Wid the yoga instructor is taking it easy on us because we are all full and as we are all beginners the class is a take it easy slow class. I'm stiff but manage to fumble my way through with gentle encouragement and only tip over once. Okay twice.
It's a quick shower with just enough time to slip on my new draped dress from the flea market before it is time to leave for Potato Head. I'm delighted with my 300,000RP ($30AUD) flea market purchase, especially since I saw it in a boutique for 950,000RP ($95AUD).
We arrive around 4pm and there is already a queue. The name Potato Head is strange and it has nothing to do with potatoes. We wait for about 10 minutes before we're shown inside, past an expensive but chic fashion boutique and we enter Potato Head. It's an enormous beach club decorated with faded coloured shutters with pools, bars and a stretch of beach.
Set out like a semi circle and made to maximise the views, it's incredibly popular as witnessed by the line and the crowd. Often hyped it has a chilled yet not too posey atmosphere and is made up of tourists from all over the world. It is free to get in and the cocktails are expensive for Bali but reasonable compared to the rest of the world. Because it is so popular things like sun beds need to be reserved. There is a swim up bar but this looks busy and given that we're off to dinner in a couple of hours and wearing our dinner clothes, we take a seat on a lounge.
Indus Nesos 13,000RP/$12.24AUD
I'm tempted by an Indus Nesos, an enormous blended cocktail made with vanilla vodka, apricot liqueur, lychee juice and coconut cream. As hoped, it's addictive and tropical and slightly sweet with a touch of tartness. We people-watch for a while - the ever present selfie stick makes an appearance at a nearby table.
We take the short walk to Bambu, our restaurant for dinner this evening. It's an Indonesian restaurant that serves food from all over Indonesia. Each region has its own food and food from Java is said to be sweeter than food in Bali while Sumatra has its own distinct cuisine.
The restaurant is glamorous and guests step across stones floating above koi filled water. We're shown to a table and the clientele is predominantly tourists much like us. There is a range of seven starters so our table of seven share these while we each order separate mains.
Wok charred mushroom salad, baby coconut, wild ginger dressing Java 65,000/$6.12AUD
The wok charred mushroom salad is served in a foil container and is soft and slippery and moreish. Each menu item details where it is from in Indonesia.
Green papaya in fragrant Balinese spiced broth Bali 63,000RP/$5.93AUD
This is a very mild tasting soup made with soft cubes of green papaya in a lightly spiced broth. It tastes virtuous and like spa food.
Coconut grilled blue river prawn, lemon basil sambal Java 70,000RP/$6.60AUD
Simply grilled with coconut the single blue river prawn is enormous. It is tender in texture and comes with a small container of lemon basil sambal.
Yellow fin ceviche, chilli, kaffir linme, lemon basil, heart flower Ambon 70,000RP/$6.60AUD
This is a small bowl of yellowfin tuna ceviche flavoured with chilli, kaffir lime and lemon basil. We ordered the starters as mild as one of the goddesses Jade wasn't able to eat chilli so this really needed the three sambals to add spice. The three sambals from mildest to spiciest are from Bali, Sumatra and Java.
Crispy soft shell crab, jicama and rose apple salad, sweet chilli sauce Sulawesi 72,000RP/$6.78AUD
The soft shell crab is a sizeable starter and features crispy halves of soft shell crab with a crunchy, sweet jicama and rose apple salad dressed with sweet chilli sauce.
Steamed prawn and glass noodles in banana leaf with coconut and coriander Sumatra 75,000RP/$7AUD
My favourite starter is the simple but delicious steamed prawn and glass noodle salad served in a banana leaf. The noodles are soft and slippery and flavoured with coconut cream and coriander.
Shredded chicken salad with chillies, wing bean and kaffir lime Bali 75,000RP/$7AUD
The shredded chicken salad is flavoursome and spicy and it is served with halved wing beans and given a piquant kick with kaffir limes.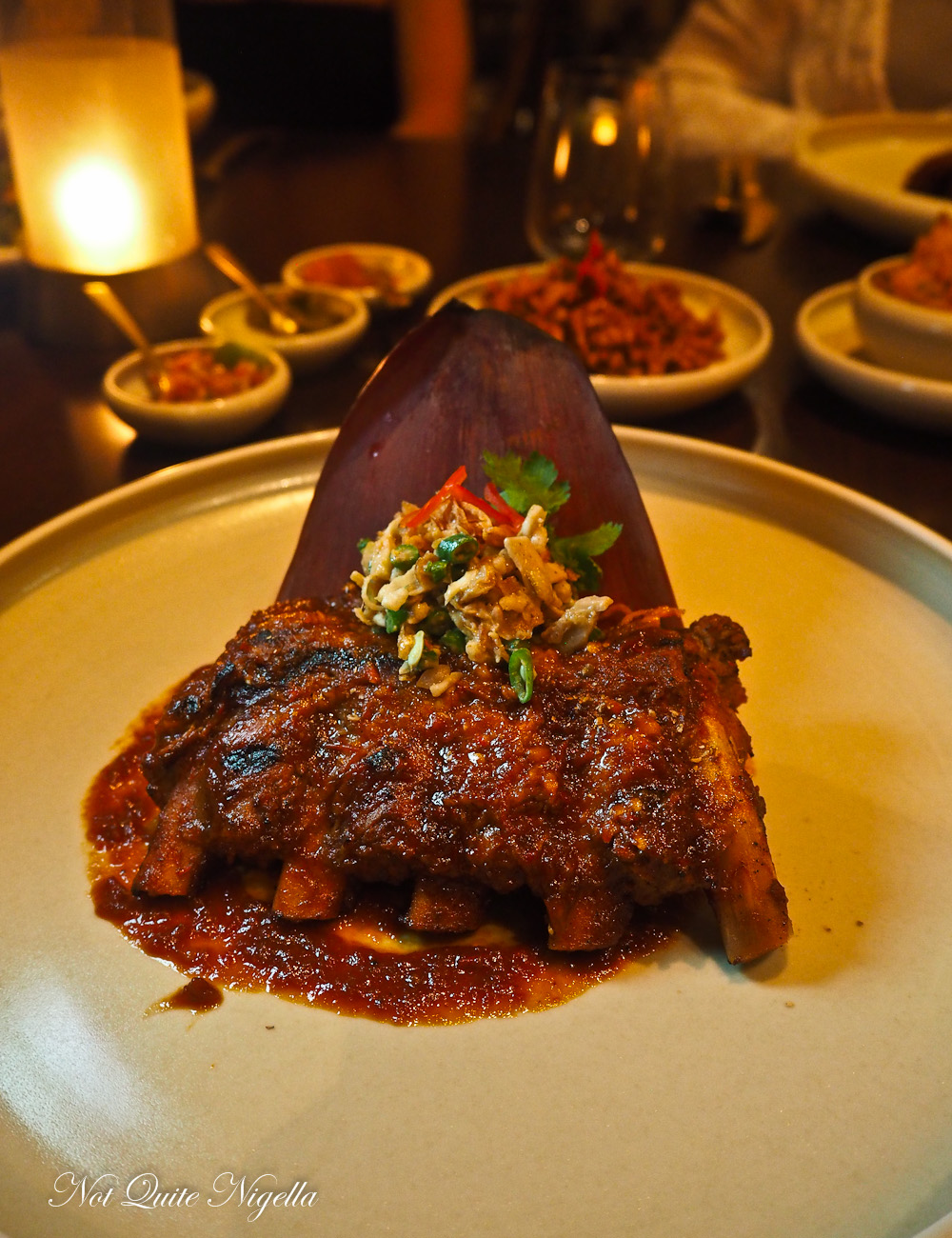 Braised Thousand spice baby back pork ribs, banana blossom salad Timor 120,000RP/$11.31AUD
With our entrees shared and eaten, our individual mains arrive shortly after. My baby back pork ribs come out on a banana leaf atop a banana blossom and snake bean salad. The ribs are soft and spicy hot (just as ordered) and I am relieved to see that they don't hold back on spice. The spicy chilli sauce needs the steamed rice and I particularly like this with the side of water spinach.
Market style pikelets, fresh coconut, palm sugar ice cream Sumatra 45000RP/$4.24AUD
We decide to share all of the desserts in the interests of trying as much as possible. The market style pikelets are similar to banh khot Thai rice cakes. They're less crispy and are topped with fresh coconut and paired with palm sugar ice cream.
Warm coconut rice pudding with minted mango salad Bali 45,000RP/$4.24AUD
One of my favourites is the simple coconut rice pudding served warm with a creamy coconut base. On top is a minted mango salad but I enjoy the warming comfort of the rice pudding.
Pandan crepes, shredded coconut, palm sugar, toasted coconut ice cream East Kalimantan 45,000RP/$4.24AUD
The pandan crepes are thin, eggy crepes filled with shredded coconut and palm sugar. They are served with toasted coconut ice cream.
Crisp banana and jackfruit fritters, Javanese vanilla ice cream West Kalimantan 45,000RP/$4.24AUD
The banana and jackfruit fritters are petite balls of battered fruit served with Javanese vanilla ice cream.
Warm coconut and sticky rice hot cake, spiced pineapple, jackfruit sorbet Java 45,000RP/$4.24AUD
Another favourite is the coconut and sticky rice cake. They are served warm and soft and slightly glutinous in texture. Each is topped with diced spiced pineapple and paired with a refreshing jackfruit sorbet.
Street style pancake, dark java chocolate, peanuts, toraja coffee and ginger ice cream Sulawesi 45,000RP/$4.24AUD
Last is a Sulawesi style dessert that might please a Western palate. The pancake is filled with dark Java chocolate and scattered with peanuts and toraja coffee and comes with a scoop of ginger ice cream that is refreshing in the heat. Not a scrap of dessert goes back to the kitchen.
So tell me Dear Reader, have you ever visited Bali? If so, what activities do you do while there? Are there any must dos or must sees?
NQN stayed at Bali Goddess Retreats as their guest
Bali Goddess Retreats
http://baligoddessretreats.com/
Phone: +1 858-997-0808
Rates start at $2495USD for 7 nights accommodation