Welcome to Alice in Wonderland...
When you think of Bali, you may think of cornrows, humidity and Australian tourists. You don't really think of Alice In Wonderland. But when the lovely local blogger Sinead from Airy Fairy Cupcakess told me about Divine Wonderland, an Alice in Wonderland themed restaurant, I knew I had to pay it a visit. I am admittedly rather obsessed with Alice In wonderland and all things to do with her and her merry and mischievous companions.
Peering inside the window
Formerly open for breakfast and lunch, Divine Wonderland is only open for dinner nowadays from 4pm (we learned this the hard way when we arrived for lunch to find it closed). There is valet parking outside and the green Astroturf lawn is a colourful contrast to the white walls, chairs and tables outside. We walk inside and the Alice banded waitress asks us where we would like to sit. I look around and the answer hits me instantly. There are two enormous chairs at least double the size of regular chairs. " We' ll take those please!" I say happily.
Mr NQN in a giant chair!
We climb up onto the chairs and feel like kids again. "We've been shrunken like Alice!" I tell a confused Mr NQN who hasn't read the book or seen the movie. "Mmm right" he mumbles while climbing up into the chair. I suspect that at 188 cms tall he  hasn't felt this small in a long time whereas I at 155cms have _never _felt tall. We start with some lovely drinks. Most restaurants in Bali are open air and it's usually quite pleasant but today is particularly hot so we need a lot of thirst quenching. The music selection it has to be said is great and on some nights they have a DJ. It's a shame there isn't afternoon tea served here.
Red queen 59,000 rupiah (approximately $6.66AUD)
Mr NQN orders the Red Queen which has gin, sweet vermouth, lime, apple, cranberry and grenadine which is sweet and very fruity.
Strawberry juice 18000 rupiah (approximately $2 AUD)
_ _I love the strawberry juice which tastes just of sweet, fresh strawberries. Although the menu does say at there isn't any sugar added I would have to guess that there is some sugar syrup as strawberries are never this lovely and sweet.
Carne platter for two 78000 rupiah (approximately $8.80 AUD)
_
_
We are only just peckish as we know that we have dinner coming up and Villa Sungai has been feeding us aplenty so we order a carne platter - there is a choice of seafood, carne or vegetarian platters. And yes I know how silly that sounds to order a platter when you're peckish but the platter had a little bit of everything on it and of course we had to try it for research purposes-don't look at me that way! ;) On the platter there are two mini pork belly squares which have a nice and crispy blistered skin although the meat is slightly dry. The cinnamon apples help to counteract the dryness but there needs to be a bit more of the apple. The albondigas are soft meatballs with a light tomato based sauce on a stick and the BBQ spicy chicken wings are in an Asian style spicy sauce which reminds me of a Peking pork rib sauce with a sweet and sour element as well as a spiciness.
Banana juice 18,000 rupiah (approximately $2 AUD)
Mr NQN has an insatiable thirst for drinks and at $2 a drink he is in heaven so he orders another drink to try. We're curious to see what a banana juice is like. It is similar to a banana smoothie with milk and ice cream and fresh banana.
And the bill? Well it comes slipped into a copy of Elmo Loves you! We climb back down off the gigantic chairs and emerge back into adult world. We do a little bit of last minute shopping for homewares and before we know it, it's getting dark and night is falling. We only have a few hours until our flight out of Bali and we have just enough time to fit in one last meal!
Sarong
I do occasionally fantasise about having my own eatery. It would be an afternoon tea place, a restaurant is far too much for me to handle and it would be decorated like one of my fantasies come to life. I always like to have a look at restaurant decor just to see how I would decorate my own fantasy afternoon tea place and I can certainly appreciate a nice interior. So when we walk into Sarong I am pleased. It is just how I want my afternoon tea place to look-part exotic, part posh and a whole lot of luxurious!
Sarong spiced tamarillo 110,000 rupiah (about $12AUD)
We take a seat in the garden but it's a bit too dark -even reading the menu proves a challenge so they give us a light. We end up moving inside because if it is too dark to read a menu, then it will be too dark for photography. We take a look at the cocktail menu although I've banned myself from cocktail consumption since I seem to handle my liqueur like a two year old baby. Instead Mr NQN partakes of the Sarong spiced tamarillo cocktail with orange vodka, tamarillo puree, Cointreau and lemon juice. I beg for a little like a puppy and it is delicious. OK it's probably best that I didn't partake too much.
Amuse bouche
When we order the food we gently remind them that we need leave for the airport in one and a quarter hours and true to promise the food comes out quickly. The menu traipses all over Asia but we're most drawn to the Thai dishes. We start with the amuse bouche with the fattest Atlantic scallops in a  green chilli, garlic and ginger dressing highlights with Thai basil. "I'm so glad I ordered the scallops" I say to Mr NQN as I anticipate that the scallop entree will be good.
Wagyu beef perkedel with chilli, capsicum and shallot dipping relish 75,000 rupiah (approximately $8.50 AUD)
The perkedel is a mashed potato and soft wagyu beef croquette fried and reminds of an soft mashed potato fritter in texture and mild in taste. I adore the chilling, lemongrass, capsicum and the shallot dipping sauce which reminds me instantly of Thai dishes like banana flower salad.
Sichuan prawn dumplings with black vinegar and chilli oil 65,000 rupiah (approximately $7.33 AUD)
These four juicy little devils are moreish with a chilli burst via the chilli oil and a satisfying flavour from the tangy, sweet black vinegar, coriander leaves and coriander root.
Seared scallop salad with crispy pork belly, young coconut, Thai basil and red onion 105,000 rupiah (approximately $11.85 AUD)
There are three plump Atlantic scallops in this dish and two  soft pork belly slices. On top of them is a mountain of fresh herbs including Thai basil and is accompanied by a green chilli sauce with garlic and ginger. The Thai herbs give the rich protein a freshness and we later learn why the Thai food is so good! ;)
Tuna tartar with avocado, sesame seeds and black vinegar dressing 105000 rupiah (approximately $11.85 AUD)
_ _Mr NQN's favourite dish, this was fresh diced tuna sashimi  paired with tomato and avocado with sesame seeds. It is simple but well seasoned with flavours and the black vinegar dressing is an unusual but fitting accompaniment to the raw tuna.
Roti
The roti is buttery and what seems like hundred of layers of crispy pastry.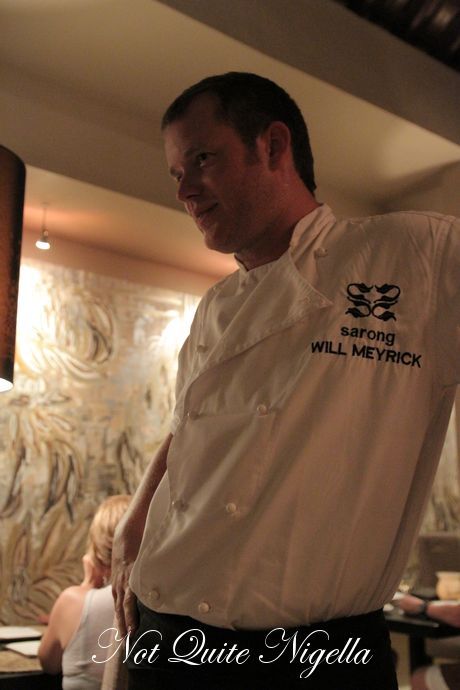 Chef Will Meyrick
Sarong's chef Will Meyrick comes out to say hello. Friendly and talkative he is the former sous chef from Sydney's Longrain restaurant and he also set up Jimmy Liks in Potts Point which explains why the Thai offerings are so good as well as why there is an emphasis on delicious cocktails. Originally from Scotland, he found his way to Australia cooking there for several years before moving to Bali where he has now settled with his wife.
'
South East Asian dessert platter 75,000 rupiahs (approx $8.50AUD)
I know, I am still disbelieving at the prices here in Bali. Even in one of Bali's best restaurants the prices are incredibly reasonable. In this two person platter is black sticky rice with a whole lychee in the centre and covered in coconut cream, a duck egg and ginger custard, banana fritters, sweet deep fried sesame balls filled with palm sugar syrup and chopped peanuts, coconut cake, cashew nut ice cream and kelapon, the Balinese rice balls filled with liquid palm sugar syrup. And oh my it is delicious. My favourites would have to be the black sticky rice and the kelapon but all are worthy of bargaining with your stomach for space.
We take a look at the time and are slightly saddened that we will actually make our flight back home. It is with a very sad goodbye that we leave Bali, our obsession with this lovely place rekindled most strongly through food and the gentle nature of the Balinese people.
So tell me Dear Reader, how do you choose your travel destination? Is it the food, weather, price or do you just like to go somewhere new?
_NQN and Mr NQN travelled to and explored Bali as guests of Villa Sungai. They dined at Sarong as guests of Sarong. _
Divine Wonderland
Jl.Laksmana(opposite Trattoris Pizza), Seminyak, Bali, Indonesia
Tel: +62 (0)36 173 0759
Open from 4pm
Sarong
19x Jalan Petitengat, Kerobokan, Kuta
Tel: +62 (0)36 173 7809