Something happens to me when I've been away from the kitchen and cooking. I start to get a little bit anxious. When I'm away I miss creating meals and cooking so it's like Manna from Heaven when my schedule tells me that my second last day in Bali is a Balinese cooking class. It's the third and final bliss day at Bali Goddess Retreats, a day with hand picked activities.
Diane and I are the only two doing the class and we arrive at the Tugu Hotel's award winning cooking class with chef Iboe Soelastri. Staff member Daisy or Putu is there to translate and instruct us. Today we will be making five items from scratch in this hands on cooking class and afterwards we will sit down to eat these items.
Tugu hotel is a unique hotel in the Cenggu. It is decorated in traditional Indonesian decor and the cooking class is held adjacent to the main pool in an outdoor setting. Iboe started her cooking career as a four year old as her grandmother's sous chef. The class today focuses on home cooking recipes from Iboe's family.
We start with the chicken and Diane chops up lots of chilli, eschallots and garlic - most of the class is made up of chopping these ingredients and then transforming them into a simple, tasty cuisine. I get started on the banana stem, something that is new to me. Eaten raw it is said to be bitter but I slice it into half inch slices and then mash it up with my hands with a few tablespoons of salt to release the water.
The mortar and pestle is used extensively during this class and Diane and I both like the more ergonomic design of their mortar and pestle. Very little effort is needed to use these and the grinding action morphs the ingredients into a smooth paste that is cooked in the wok. To this we add some lightly boiled chicken and freshly grated coconut milk. By the end of the process, the chicken will have been cooked three times-first boiled, then simmered and then grilled. This will produce a fabulous chicken dish.
We move onto the next dish and Daisy introduces us to lesser galangal and galangal, the former milder in flavour. Iboe chops up the red snapper finely and we add a mix of shallots, garlic, turmeric, chilli, candlenut, coriander seeds, lesser galangal, galangal, palm sugar, dried chilli, cloves and shrimp paste along with the fish and grated coconut.
It's a cast of thousands but all of this produces a Balinese classic called Sate Lilit, a fragrant mix of seasoned, spiced fish wrapped around a lemongrass skewer and grilled. We press the mixture to sticks of lemongrass making sure that they're not too thick so that the fish grills evenly.
The Balinese Banana Stem soup or Jukut Ares is next. A lot of the ingredients are similar and include turmeric, that superfood that is so popular lately. We squeeze the excess liquid from the stem that has been resting in salt and rinse it twice under running water.
We do more chopping and add a paste to a wok and saute it before adding some cooked chicken pieces on the bone. We are also introduced to the Indonesian bay leaf, a larger leaf than the bay leaves we are used to with a much milder flavour and aroma.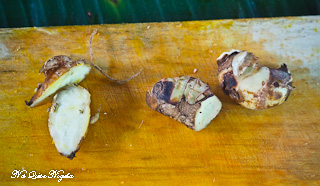 An item that I've grown to really like is Indonesian tempeh or Kering Tempe. Mr NQN loathes tempeh with a passion so I never really buy it but I'm sure that I could convince him to try this. The tempeh is shallow fried and then drained and then a sauce of small and large red chilli, garlic and Indonesian bay leaf are cooked with it. It's a flavoursome vegan friendly dish that doesn't miss out on any flavours at all.
The last step is to heat the coals or in this case the coconut shells. Once these are fiery hot and glowing, we will grill the sate lilit sticks and the chicken. To keep the fire burning, we use a mat to fan the flames and the sate cooks remarkably quickly. Daisy then takes to the chicken and grills it for its final call. I try some chicken and it's good the way that it is but we are assured that grilling it will make it even better with a smoky flavour.
Daisy and Iboe finish off the cooking while we tend to the sates and they make us a nasi goreng. Our table is set and we take a seat to eat our meal. There's way too much food for just the two of us but we dig in. I was worried that we had overcooked the sate lilit but it's delicious as is the tempeh that I'm now assured that Mr NQN will adore.
The nasi goreng is also delightful and the banana stem soup is nutritious and warming yet full of hearty flavour. But the chicken is the one that steals my heart and I fish piece after piece of this juicy, flavoursome chicken from the bowl with the spicy, sweet sauce. Javanese food is sweeter than Balinese and I love the sweet, spicy flavour profile of this dish.
They pack up some food so that we can take it back to the retreat and our gift is a hat and apron. And on the way home we ask if we can stop at a market to buy one of these wonderful mortar and pestles-a large mortar and pestle costs just 60,000RP or $5.50AUD but of course what is priceless is the experience and conjured up memories of cooking whenever I will take it out.
It's the last lunch of the Bali Goddess retreat just before we all fly home to our respective corners of the globe and lunch is a special treat - afternoon tea Balinese style. There are a range of rice paper rolls, delicious curry open sandwiches, cucumber sandwiches and curried egg sandwiches. The sweets are brought out on two tiers and there are some fabulous scones as well as delectable toffee profiteroles with vanilla custard filling. The scones are served with whipped cream and some home made strawberry jam.
The last day is filled with an overwhelming range of emotions from some of the goddesses. Many of them have been to see a healer and they have returned with emotional stories, given clarity by the healer's words. What I realise is that for many, the retreat has been an urgently needed healing place to help them find clarity and solace on issues from relationships to work to children or a mixture of all three.
So tell me Dear Reader, do you miss cooking when you are on holiday? And have you or would you see a healer?
NQN stayed at Bali Goddess Retreats as their guest
Bali Goddess Retreats
http://baligoddessretreats.com/
Phone: +1 858-997-0808
Rates start at $2495USD for 7 nights accommodation