Do you ever walk past waterfront homes and wonder who those people are? How did they get there in life? Are they happy? Do they have the same cares and joys as everyone else? Life on the "other side" is entirely possible in Bali. There are villas that give you a taste of the life of the rich and the famous without costing you a small fortune.
When we reach NoKu Beach house, located on Seminyak Beach there's a strong sense that you're about enter this very world. The one where fences on the beachfront usually obstruct entry and staff discreetly clean, buff and polish in the background. One in which you're one of those people, if only for a day or a week.
The clean lines of this incredible villa and zen atmosphere aren't an accident. NoKu (meaning North of Kuta) was carefully sculpted by Australian designer Alex Zabotto-Bentley whose team completed the renovation in a year's time. It was purposely designed as a holiday house for the family that own it but also as a villa residence that people can rent.
If you're unfamiliar with villa accommodation it's one of the fastest growing sectors of accommodation in areas where people buy second holiday homes. This is a different style of accommodation to hotels and also to Airbnbs. Often you take the entire property which can accommodate from 2 to 42 guests and you would have the entire run of the property but unlike Airbnb, there's a host of staff to cater to your needs. They can also be cost effective depending on your needs.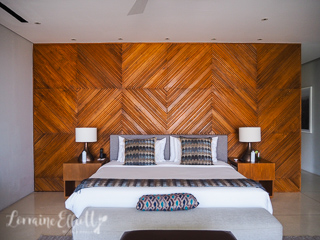 At Elite Havens, the largest villa group in Thailand, all of the villas are managed and fully staffed with chefs, butlers, drivers to nannies if you need them that take care of everything.
NoKu is located right on the beachfront in Seminyak and is a favourite of celebrities. The entrance is an enormous three metre swing door. The villa can house up to 12-14 people and the advantage to this villa is that all of the rooms are wonderful. The master bedroom is stunning but every room has either a great view or has another stand out feature to it. This helps when travelling with groups of friends.
Staff can also organise a range of activities. One day you might want to learn how to make sate lilit with fish or chicken and shaped on lemongrass sticks or if you're in need of spiritual healing, try the Balinese blessing ceremony, yoga on the lawn in the morning or learn traditional Balinese dance. A team of 25 staff look after you and at $2,800USD a night split by 14 people, it isn't insanely out of reach considering the level of seamless perfection.
There is a spa with three beds or you can have a massage in your room with a view as I did overlooking the foamy surf curl over the sand below. Surfboards stand like sentinels against palm trees on the lush lawn that is also used for events.
The food at NoKu has a particular philosophy although they can cook whatever guests want. The food has a focus on healthiness and freshness - chef Alana is from Brisbane and the menu would be at home at any Sydney eatery. The food is designed with the five elements in mind: water, air, fire, earth and mineral and in Chinese medicine these are related to five major organs: kidneys, liver, heart, stomach and lungs.
In turn they believe in balancing the body using the corresponding five food flavours: salty, sour, butter, sweet and savoury. Everything but the beef (Nebraska organic grass fed) is sourced from within Bali.
A lunch might include quinoa felafel and kale salad studded with roasted sweet potato, pomegranate and a creamy tahini dressing to delicious Bergedel or Indonesian corn fritters.
There may be a divine Chicken Balado or Sumatran chicken with a spicy, flavoursome chilli sauce on top. The grilled baby corn is seasoned with parmesan and paprika and the bitter greens with tiny jellyfish shaped mushrooms are cooked with plenty of garlic and sesame oil.
Dessert could not be more perfect for enjoying by the pool. It's a locally made sugar free paleta made with mango and strawberry with a shot of rum and a grilled mango cheek.
Prices for the food are the cost of the food plus 20% so typically it can cost $30USD a day per person for all meals or less depending on ingredients. You discuss what you'd like to eat with the kitchen team and chef the day before and they visit the market every day to buy ingredients to cook it fresh.
There are also roving chefs like their Moroccan chef Abderrahim Touqo who prepares the most sumptuous feasts. There are dip and house made flat bread platters with Lebanese green beans in tomato, sauteed carrot discs and mahummara, baba ghanoush and hummus.
The stand outs however are the mains with the most divinely soft confit of lamb, spiced roast chicken and stuffed vegetables. Another clever dish is the couscous with a whole baked apple and delectable lamb merguez sausages.
Kudeta, the famous Bali beach club is a 10 minute walk away. You can go for sunset cocktails there and come back for dinner at the villa.
Follow that with a midnight swim with the sound of the ocean in your ears. Australian guest relations manager Bec admits, "Sometimes guests shed a tear or cry when they have to leave," and we nod, completely understanding.
So tell me Dear Reader, do you go away in large groups on holiday? Do you like villa accommodation or do you prefer hotels or AirBNBs?
NQN was a guest of Elite Havens but all opinions remain her own.
NoKu Beach House
Jl. Sarinande No.22, Seminyak, Kuta, Kabupaten Badung, Bali 80361, Indonesia
Phone: +62 361 737498
elitehavens.com/noku-beach-house-villa/seminyak-bali-indonesia.aspx