G'day!
Bonjuorrrno!!
Bonjour!!!
Ahh yes the Bali that I forgot. Where street hawkers try and converse with you and mimic  accents like the most skilled parrots in whichever language they think that you speak. Ubud is the place that every Balinese asks if you've been to. Mostly because as Made tells us, it's a hub for foreigners as it is the cultural centre of Bali. ]Mr NQN's mum, as an artist always bases herself here on her visits to Bali.
And we're not crazy about the main markets here at Ubud. It's mostly filled with tacky kind of souvenir items (I can do without a wooden penis bottle opener thanks). We both preferred the boutiques in Seminyak as the products themselves are nicer and Mr NQN and I are terrible at haggling. When a person who looks to be struggling tries to sell you a beautiful carved wooden jewllery box for 10c it's hard to negotiate or say no to them.
Made is taking us on tour today and on the drive to Ubud from the villa we pass by rice paddies where people work all day planting and harvesting rice in a three month cycle. On the side of the road there is a set of tents with temporary Javanese workers set up to work. They make a mere the equivalent of $5-$6 for every 100kgs of rice that they harvest.
There are families of four on motorbikes and a travelling bike with a glass display containing donuts attached to the back drives past. Bikes carrying a perilously large and uneven load drive past and all of a sudden we hear Jingle Bells and an ice cream motorbike with a display of ice cream cones drives past.
It's the Balinese version of Mr Whippy!
I ask Made to give me two words to best describe Balinese and after considering it for a minute he said: gentle and religious. I have to agree on both counts. All throughout the streets are offerings to the gods. We walk through the palace to the King of Ubud.
Offerings
Can you spot the ahem... souvenir? ;)
We do a little shopping around Ubud Markets but it isn't great for much apart a Halloweeny mask so we make our way down two other streets. There's a stall where we buy a pepes which is tofu, coconut and fish wrapped in a banana leaf which is deliciously soft and fragrant in lemongrass and ginger. And the princely sum for our little snack? 10c or 1000 rupiah!
Pepes: 1000 rupiah or 10 cents!
Incredibly inexpensive beauty treatments starting at $4.00AUD  for a half hour massage!
We sidestep huge gaping holes in the pavement where covers have been removed. Queen Viv once told me that late night she fell down one of  these and I can see why-the holes are enormous! We walk down Monkey Forest Street which is full of little boutiques that offer a welcome Arctic respite from the humidity and heat. We spy all sorts of options for food at incredibly low prices. One could easily live like a king or queen in Bali  -indeed you can have a seafood hot pot for the tiny sum of $4 in a lovely looking "warung" or restaurant or you can have a 1 hour Swedish, reflexology or foot massage for $6 (55,000 rupiah!).
There's a man selling honey with his very own honeycomb with live bees. Of course customs won't allow us to bring any honey back but it is selling for a steal at $2 a bottle.
School's out!
It's 12:30pm and the children are let out of school and they clamour for frozen ices. We stop in for a little visit to the convenience store. I always like seeing what the local snack foods are (cassava chips are a favourite for me). And lo and behold, what do I spy but Cheese Tim Tams for $1(10,000 rupiah) a packet. We grab some of these plus a couple of drinks and pay the equivalent of $3.50.
Cheese Tim Tams-yes really!
Our next stop is lunch with Made! We ask him to take us somewhere where Balinese locals eat. He suggests a place that was made famous on Getaway. It specialises in suckling pig and we take a look at the menu where we see a few versions. You can get the special which is the meat, skin,vegetables, rice, soup and an extra bowl of rice or you can get just the mixed plate with the meat, skin, vegetables and rice or you can get the meat by itself or the skin by itself.
Inside the warung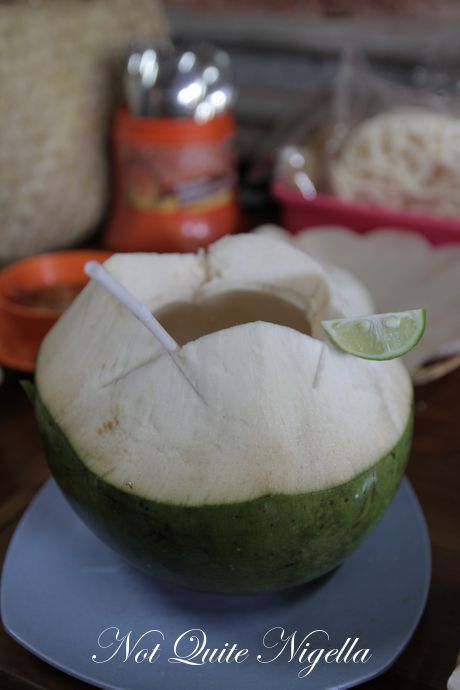 They do a roaring trade here with both locals and foreigners. We start with a drink that is said to taste like a combination of beer and Sprite called a Green Sands. I go for a young coconut juice which is refreshing but not cold which would have been better for this weather.
Suckling Pig Plate 30,000 rupiah (approximately $3.50)
Green chillies
Our food arrives quickly and they are served on waxed paper plates within bowls. The meat is tender and there are three pieces and the skin is crispy although not as crispy as I like (I like it blistered). I particularly like the crackling that has been dipped in pork floss and deep fried and there is also a small piece of their black pudding aka blood sausage which is nice and spicy. The vegetables are tasty and one of my favourite things is the green chilli condiment which is hot but not a throat burning hot, it stays on the tongue and disappears shortly afterwards.
On our way home we drive past a large hanging bridge where there are some gorgeous view (although watch out as there are some slats missing!)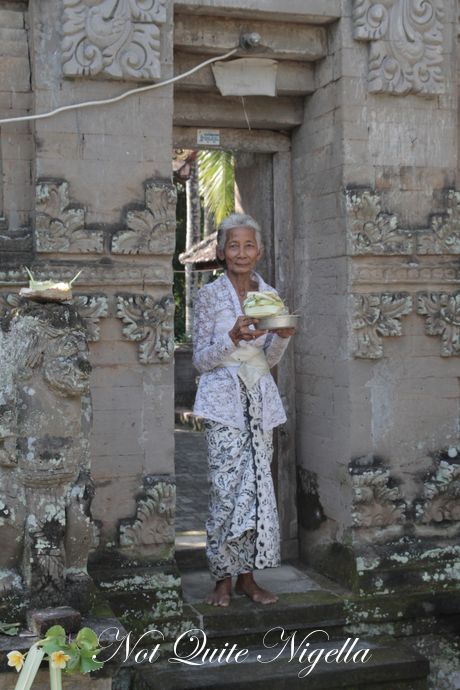 A villager
We walk through the village of Cepaka with its quiet streets and friendly residents. We watch the wood carving artisans. It's a small village of 1500 and each year three residents become the leaders of the village for a period of one year where they make decisions and instigate improvements for the community. One only qualifies for this once they are married.
Cepaka village
A side street stall
Ahhh home!
We reach the villa where we are greeted with lovely pineapple, lime and ginger juices which Made had preordered for us so that they would be waiting for us. After we quench our thirst and cool down we wander out to an outer pavilion where we indulge in our second spa treatment-for me a facial and for Mr NQN a hot stone massage. I enjoy the facial which seems tailor made for the hot weather with light creams and chilled compresses and wipes.
Pineapple, lime and ginger juice
Before we know it, it's dinner time-our final dinner at the Villa. We're sad to see the end of our blissful time here and the food which has impressed us to no end. The chef Wayan from the Cepaka village actually never took formal lessons. Instead he observed and watched and studied Balinese chefs preparing food. I'm quite sure that they have a special pastry chef elf somewhere in the kitchen too as they have fabulous techniques with the sweets and buttery pastry.
Coconut prawns with sweet chilli sauce
Tonight, for a small change of scenery, we're having our canapes by the pool. When we emerge from our spa treatments we notice that they've  thoughtfully set up music and we sit back and relax to the cooing of the wild life outside and across the river. Our first canape is the coconut prawns. I know this is a huge serve and really more entree sized than canape sized. The prawns are juicy with a coconut crust which is an interesting alternative to breading with the dry coconut and sweet chilli dipping sauce.
Lemongrass chicken sticks
I love these lemongrass chicken sticks-as lemongrass is sometimes $1.50 a stick I don't tend to make these at home for canapes but they always remind me of Bali as they are common here so I always like to order them. Serving them on the lemongrass sticks gives the herbed chicken mince on a lovely distinct lemony flavour.
Blinis with smoked salmon, sour cream, fish roe and coriander
I do love a blini and especially one with smoked salmon and fish roe. I was curious to see how they would do a blini here. I'm relieved to see that they do it well, with puffy, cushioney little blinis topped with folded smoked salmon, a dollop of sour cream and beads of roe and coriander leaves.
Duck Nasi Goreng with egg
The Duck nasi goreng has a  soft centered poached egg and is flavoured with soy sauce and chilli and soft chunks of braised duck meat.
Spicy salad of caramelised pork
The generously portioned sweet caramelised pork comes with batons of mango and herbs. It's fresh yet sweet and sticky at the same time which is a nice combination.
Lime and chilli prawns with green mango salad
The lime and chilli prawns serving has eight prawns (OK I know I count these things) and sit on a bed of green mango. It is spicy and flavoursome with notes of chilli, garlic, ginger and coriander.
Whole baby snapper steamed with Balinese spices
I adore the whole baby snapper which is coated in a tasty mix of Balinese spices as well as onions, garlic, tomato, chilli and lime. The flesh is soft and the spices complement the sweet fish well.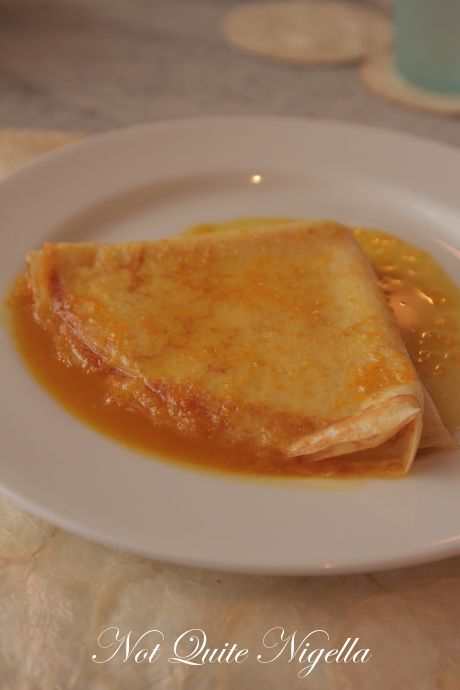 Crepes suzette
Due to my overindulging of the fish, I barely had room for dessert which is somewhat of a minor tragedy if you know me. The crepes are thin and eggy with a generous splash (or two!) or Grand Marnier.
Tiny melting moments with coffee glace icing
I got a second wind when it came to these though as they were tiny at about half an inch in diameter and light and buttery sandwiched together with a mild coffee icing and a dusting of icing sugar.
Kelepon
It seemed fitting that our last meal here at the Villa would be a local delicacy called Kelepon or Klepon. It is a pandan flavoured rice flour ball filled with liquid palm sugar.
Cheese Tim Tams
It's hard to say goodbye to our home of five nights but tomorrow we check out and enjoy our last day in Bali. Oh and yes the cheese Tim Tams. Do you want to know what they were like? They were a slightly salty white chocolate flavour.
Inside a cheese Tim Tam
It was not a cheddar cheese or a blue cheese, but more a cream or mild cheese like those cheese sticks if anything. They weren't quite as well made as the ones that we buy in Australia-some of them had areas where chocolate was missing and they were thinner and they were possibly hand dipped. But when you see a cheese Tim Tam, you've just got to try one out of curiosity! Even the customs people were intrigued by these and wanted to take a peek at them ;)
We take our last frangipane filled bath and we lament that it will be so hard to go back home where we will miss Sungai Gold's staff of 11 that attended to us and ran our baths for us and took care of us so well.
So tell me Dear Reader, do you like to try local versions of food?
NQN and Mr NQN travelled and explored Bali as a guest of Villa Sungai and flew as guests of Jetstar
Villa Sungai
Cepaka, Bali, Indonesia
www.bali-villasungai.com
Babi Guling Ibu Oka
Jalan Suweta/Tegal Sari No. 2, Ubud, Bali 80571, Indonesia