Apparently I am a very happy and amusing drunk. Well this is what Mr NQN tells me. I've only been drunk three times in my life. Twice this year and twice it was because I ordered cocktails on an empty stomach and they were so good that I slurped them down and then turned bright red and swayed and talked a lot. About silly things. Oh and I'm a cheap drunk. Half a cocktail and I am yours.
I should explain. In order to avoid the inevitable weight gain that seems to come from this job, I try to avoiding snacking during the day in order to arrive at dinner hungry so that I can enjoy the food. So that afternoon we spent some time shopping up a storm in Seminyak which was a twenty minute drive away from the idyllic village life where Villa Sungai was located. I managed to buy a gorgeous beaded dress with beaded sleeves for $80 (the one I wrote about before where I accidentally dunked the sleeve in some sauce), a garbage bin (but a glam garbage bin, yes!), some coasters for a criminally low price of $4 for a set of eight and three cute bird decorations for $7! Mr NQN had to pull me out of a shop and into the car where Made was waiting to take us to our dinner date tonight at Ayana Resort and Spa where I arrived hungry and eager for dinner.
I resist all urges to slip into this bath...the force is strong though!
Formerly the Ritz Carlton, Ayana Resort is a stunning 77 hectare resort with over 300 rooms. You can of course stay in a regular room which is all very nice (and they do have club rooms which look perfectly lovely) but the pick most definitely is a private villa with butler service (can you tell I'm well and truly spoilt by now?). We're shown one of the villas and it is sumptuous and spacious. Balinese architecture is one of my favourites and it is just splendid.
There is also a spa where couples can have treatments that range from 1 million rupiah (don't worry that's only about $100AUD for a massage for two people) but the piece de resistance, if you have the cash, are the cliff massage rooms. There are only three cliff edge massage rooms and they only book six bookings a day.
The price for this is a cool $1,000 USD per treatment but when we see what they look like from afar we're struck at how James Bond it all looks. Like you'd imagine Daniel Craig in there getting a massage and then a speedboat driving up to it and someone in scuba gear appearing. OK or maybe it's just my imagination...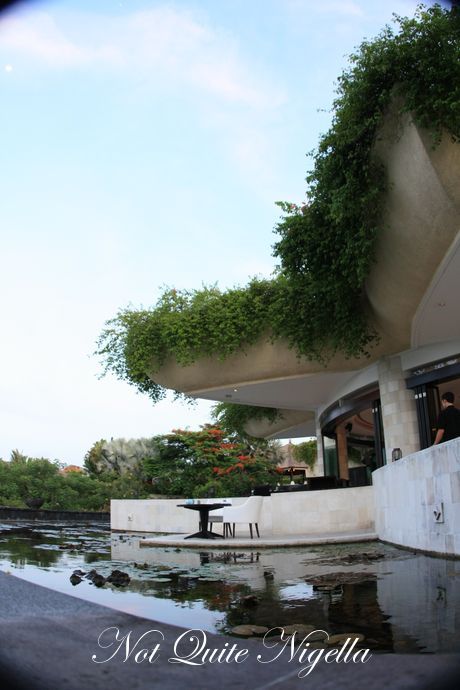 We arrive at the Dava restaurant, one of their 12 restaurants. It's all white with an outdoor terrace and a floating garden. As we are a little early and the restaurant doesn't open until 6:30pm they ask us if we would like to take a seat at the Martini Bar and have a drink while we wait. Uh oh...
Lemongrass martini 135,000 rupiahs
Lemon vodka muddled with Grand Marnier and fresh lemongrass.
Lychee daiquiri 135,000 rupiah approximately $15AUD
And then comes my undoing. There is a list of 50 items on their Martini menu alone and Mr NQN orders the lemongrass martini. I go for the lychee daiquiri which is so ludicrously appealing in this heat that my eyes widen in utter lust as it is set down in front of me. It is made up of white rum and triple sec blended with fresh lychees. I proceed to slurp at it on an empty stomach finishing a third of it quickly in this heat until I realise that my face is totally bright red and I feel everything spinning a bit. Mr NQN for his part just finds it quite funny. And I realise why I should try and sober up soon as I start writing my notes and the letters become oddly large and all powers of spelling elude me.
Oh dear...can you tell when I started feeling a bit tipsy? Check out my spelling of words like "muddling" and "triple"
Amuse Bouche: prawns in a tomato jelly
Our amuse bouche is prawn in a tomato jelly which is a welcome repast and refreshing. The tomato jelly is made up of tomato water which is delicious and the white shapes are the prawns and it sits on a lick of horseradish creme fraiche. It takes a few goes back and forth with the staff to find out how it is done. The staff are friendly but we suppose not used to being asked how things are made or perhaps something was lost in translation.
Borneo crab and salak salad, avocado mousse, chilli lime 145,00 rupiah, approximately $16AUD
Salak is an Indonesian fruit called snakefruit which has a brown snakeskin like exterior and slightly crunchy white interior. It's slightly sweet but not overly so and I would describe as close to the nashi pear but less juicy. This salad has a good serving of Borneo crab meat (plus a bit of the shell), some slices of sweet snakefruit and some tang from lime and heat from chilli. And I'm feeling much better now that I have food back into me and I have control of all of my senses.
Vibe Hills cocktail
Mr NQN removes my cocktail from underneath my happy fingers and orders the latest house speciality. They're clearly proud of their bar and their bartender had recently invented a cocktail that rated in the top 5 of Bali cocktails. There are two parts to it: a blended lychee, lime, mint leaf and sugar syrup and muddled fresh blueberry, vodka, lime juice, triple sec and syrup. But rest assured that this cocktail is deeelicious! And that's not a drunkie talking but Mr NQN who can actually hold his alcohol.
Salak snakeskin fruit juice
Probably one of my favourite discoveries on this Bali trip is the Salak or snakeskin fruit drink. It's like a cross between a pear juice and a cane sugar syrup-absolutely divine and thirst quenching. And something that I suspect I won't be able to find back home so whenever I see it here, I order it.
Seared pacific scallops, Tasmanian smoked salmon wrap and avocado cream 140,000 rupiah, approximately $15.75AUD
The seared pacific scallop is fat and well cooked and wrapped around it is a slice of Tasmanian smoked salmon. The avocado cream isn't bad but the avocado tastes quite under ripe which gives it that distinct mouthfeel.
Grilled organic Angus beef tenderloin, young potatoes, glazed leeks and jus 395,000 rupiah, approximately $44AUD
Grilled medium rare just as ordered, this Angus beef tenderloin  is juicy, tender and delicious and paired with small baby potatoes and thin, glazed leeks (which are more spring onion sized).
Paprika crusted tropical lobster, orange glazed scallops, baby fennel, red radish and orange lobster sauce
I just had to order the lobster. You see the last time we were in Bali which was about 5 years ago, I ate nothing but lobster in every possible variation. You name it, I am that obsessed with it. This is a lightly crumbed and grilled lobster tail cut into three sections. It is perfectly cooked so that it isn't rubbery at all although there we don't taste much paprika or heat. There is a side salad of scallops with a sweet orange sauce and orange segments and braised baby fennel and slices of radish and orange lobster jus based sauce which provides a lovely counterpoint
Another cocktail for Mr NQN. He loved it here, can you tell?
Strawberry trio 80,000 rupiah, approximately $9AUD
The strawberry trio comprises of a frozen strawberry souffle, a warm upside down cake with a chocolate sorbet on top and a strawberry soup with lime meringue. Out of the three, I preferred the strawberry soup which is the right amount of sweetness with a little lime to lift it but the other two parts didn't particularly have me going back for more.
Pineapple ginger steamed pudding, orange anglaise 80,000 rupiah, approximately $9AUD
The pineapple ginger steamed pudding is quite firm, usually steamed puddings can be light and fluffy but this is quite dense with a strong ginger flavour and diced pineapple on the top. We both like the flavours to this although we thought that making the anglaise either ginger or pineapple might have been very nice too.
Passionfruit souffle , ginger ice cream 80,000 rupiah, approximately $9AUD
I know, we're ordering a lot of ginger but Mr NQN is a ginger freak and he has to put up with a newly drunkard wife ;) I'm glad that we ordered this souffle as it was lovely (although I stand by my claim that the best part of the souffle is the top with the icing sugar :P ) and it's airy and light. It is perfectly paired with a ginger ice cream which is strong in stem ginger and puts us firmly in our tropical surroundings.
But apart from James Bond experiences, what Ayana resort is probably best known for is the Rock Bar which is an incredible multi layered bar perched right on the side of the cliffs. A funicular elevator takes you up and down (or your legs can but I wasn't ready to do that!) and takes you to an incredible bar where huge waves splash up the side of the bar.
Every evening before sunset, crowds flock here to watch the white water hit the side of the wall and explode into the air and the sky to turn from blue to orange to black. It is the place to visit in Bali and the "door" staff reflect this with an attitude to their manner although the waitresses are friendly. Customers perch and pose at the bar and it does remind me of a typical Sydney bar (except with perhaps more smokers!).
Rock my world 140,000 rupiah, approximately $15.76AUD
The Rock My World cocktail featured vodka, Grand Marnier, pineapple juice and grapefruit and was refreshing and soothing not to mention served in a cute glass.
Cucumber on the rock 140,000 rupiah, approximately $15.76AUD
This was my favourite with Grand Marnier, apple juice, cucumber and sprite, it was one of those dangerously easy to drink cocktails that could land me in even more hot water! :P
After nursing our drinks and lying back and watching the surreal sight of waves crashing right in front us we reluctantly leave knowing that come another trip to Bali and a sunset, we will be similarly perched and posing here.
So tell me Dear Reader, how many cocktails can you hold?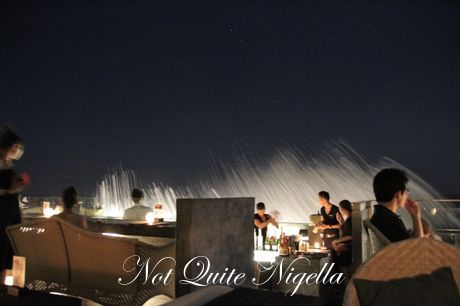 NQN and Mr NQN travelled and explored Bali as a guest of Villa Sungai. They dined at Ayana Resort as a guest of Ayana Resort
Ayana Resort
Jalan Karang Mas Sejahtera
80364, Indonesia
Tel: + 62: (0)36 170 2222