Gross out your friends with this fun, edible Halloween treat! These gummy worms are just about the most fun Halloween project with your kids or grown up friends you can make! They're made using easy to find items like packet jelly, juice and Oreos (although plastic bendy straws might be hard to source nowadays). They look so effectively gross that I found it hard to eat them!
Did you make this recipe?
Share your creations by tagging @notquitenigella on Instagram with the hashtag #notquitenigella
Gummy Worms In Dirt
An Original Recipe by Lorraine Elliott
Preparation time: 15 minutes plus waiting time
Cooking time: 2 minutes
1 packet raspberry jelly
3 teaspoons powdered gelatine
1/4 cup/60ml/2flozs cherry juice (or dark coloured juice)
1/4 cup/60ml/2flozs cream
Handful of bendy straws
10 Oreo cookies
Step 1 - Extend the bendy straws so that they are stretched out. Place a rubber band on top and the bottom to secure them together. Wrap a ziplock bag around them and secure with another couple of rubber bands. Place with the bendy half pointing down in a tall, flat bottomed glass.
Step 2 - Place the jelly powder and gelatine in a bowl and add 1 cup of boiling water. Whisk to combine completely. Add the cherry juice and cream and whisk. Place in a jug and pour into the holes. Refrigerate for 3 hours until set.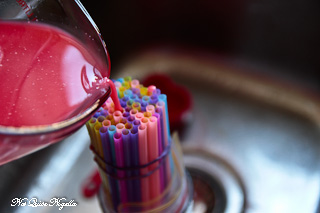 Step 3 - Blend up the Oreos until they look like dirt and then place on a serving plate.
Step 4 - Remove the bag from the bottom of the bundle of straws wiping off any excess. It is best to do this near the sink as it gets messy. Take a container and pinching your fingers together, squeeze out the jelly worms on the dirt until you get a gross mixture of worms.