I don't know about you Dear Reader, but weekends often pass by in a blur. By the time you've had a bit of a sleep in, a few loads of laundry are done, you've had brunch and completed the market and grocery shopping it's almost time for dinner. I looked at the clock at 5:15pm one Saturday and alarmed I told Mr NQN we had to leave soon.
We had a 6 o'clock booking at One Penny Red in Summer Hill where we had to evacuate the table by 8:30pm. Mindful of the time limit we made it there on the dot. Located in the former Summer Hill post office, One Penny Red references a type of postage stamp. We're part of the first seating while we watch lots of people head upstairs to their bar.
Service is interesting, if anything it runs hot and cold. Sometimes the staff are friendly, other times it's downright chilly and serious. The prices on the menu are reasonable as reflecting the local neighbourhood clientele. We can see chef R.J. Lines through the brightly lit pass of the kitchen. The menu states that the plates are meant for sharing and with small tables for four, we envisage a lot of balancing from the kitchen. The tables for two are roomier and seem like the more comfortable tables.
Fried Chickpeas
We nibble on the very crunchy fried chickpeas while we look at the menu.
Salt cod fritters, smoked chilli mayo $14
Earlier, while we were waiting for Louise and Viggo to arrive, we saw four serves of these go out to various tables. They're recommended to us so we start with these. The fritters are served piping hot and freshly fried but perhaps need some lemon or something to lift them. The smoked chilli mayonnaise is more smoke than spice.
Roast king prawns, bisque butter, fried capers $20
The roast king prawns and split in half lengthways and roasted with a bisque butter and fried capers. They're said to be one of the favourite dishes here and while they're good we all much prefer the next course.
Plum & molasses beef short rib, kale and parsnip $19
Just made for warmth, the plum and molasses beef short rib is a slender piece of the softest short rib on a bed of parsnip puree. It's sweet, savoury, soft and silky at the same time while the fluffy crispy kale chips finish this dish nicely.
Hay Valley slow cooked lamb shoulder, chickpea puree, pomegranate and sorrel salad $28
Another of the most popular dishes is the lamb shoulder. Served with chickpea puree and a refreshing pomegranate and sorrel salad, the salad is the key to lifting the rich, unctuous meat.
Sweet and sticky whole beef shin on the bone $85
We won't be needing to eat meat for a few days after tonight's dinner. When they set the beef shin down on the table it elicits a twitter of enquiries from tables surrounding us. Said to be approximately 2.5 kilos it's enormous and comes with a rich, slightly sweet jus. It's enough for at least four people (and given how much we'd already eaten we knew that we wouldn't be able to eat it) and when you get a piece of soft meat it's best dipped in the jus. And try as we might we couldn't finish it and Louise takes half for her cat and we take half to make into beef shin pies at home.
Crispy spiced salt potatoes $10
We tossed up whether to get a salad or potatoes but potatoes seemed the natural partner to the beef and we would be hankering for them otherwise. It ends up being the right decision. The potatoes come as a generous size of the most perfectly cooked, crispy edged potatoes with just the right amount of soft inside. There is said to be cumin in these but it's light enough to be indiscernible. Dipping these into the beef shin sauce is heavenly.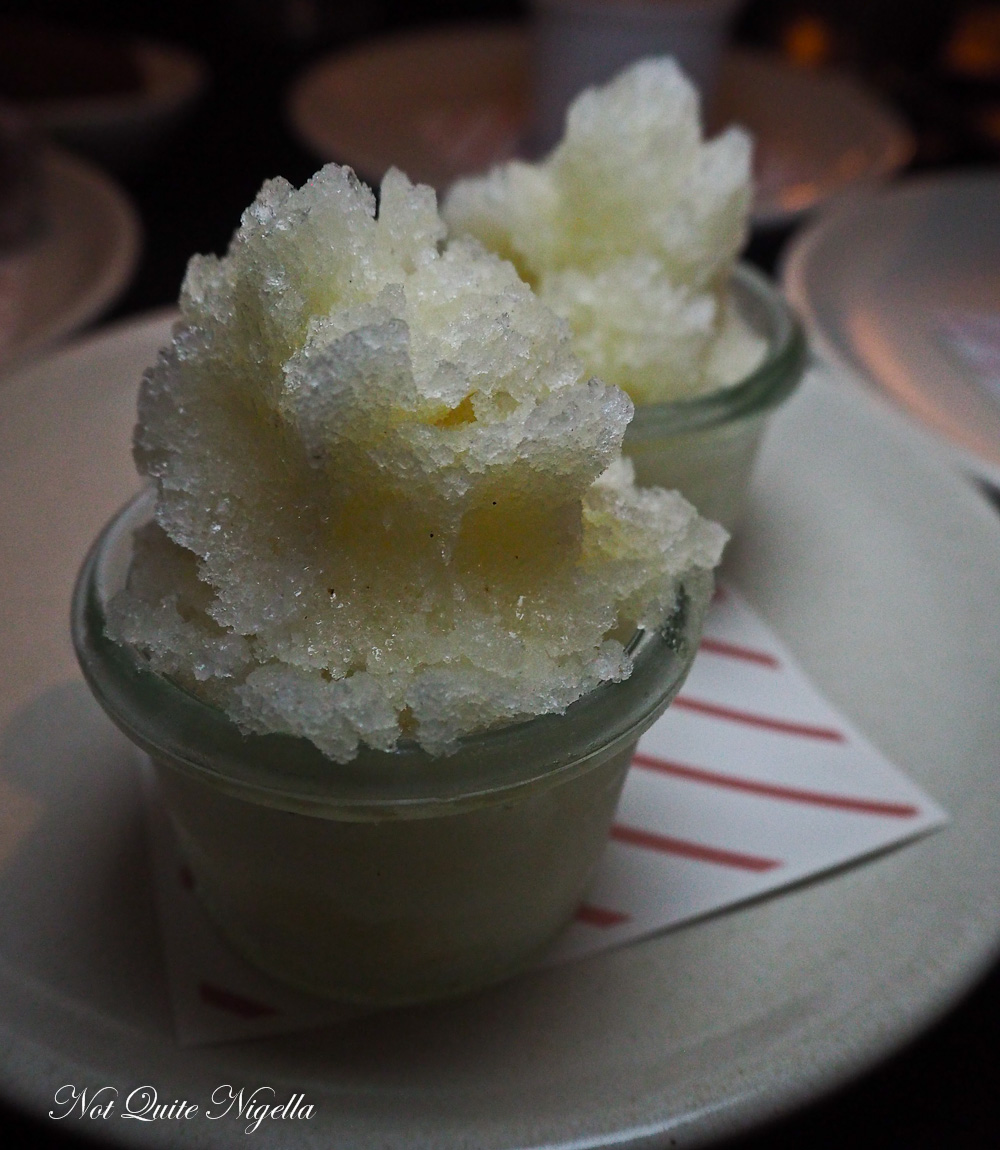 Splice granita $4
Given how much we had eaten (and you'd think we'd learn about over ordering) we kind of went a little nuts with the desserts. There is a regular dessert menu but also a smaller sweet menu. This was from the smaller sweet menu and is a lime and pineapple granita that is lovely and refreshing.
Chocolate dates $4
Alas we weren't quite as smitten with the dates and it's not just because well they made us think of sexy parts. The almond marzipan is strong and overwhelms the cocoa dusted dates.
Saffron Creme brulee $6
The saffron creme brulee has a thin toffee crust and the honeyed sweetness of saffron in each creamy spoonful.
Banana souffle $14
I'm glad that I saved a corner of my stomach for one of these souffle donuts. The menu rather confusingly describes them as banana beignet souffles but they're really round donuts filled with a super light banana and caramel and rolled in sugar. There is a dark chocolate cream with it but this is strong and dark and Louise and I prefer them on their own, one luscious nibble at a time.
So tell me Dear Reader, given the choice, would you go for the first seating or the second seating? Or do you avoid restaurants where you need to leave by a certain time? And do you take leftovers away with you?
This meal was independently paid for
One Penny Red
2 Moonbie St Summer Hill, NSW 2130
Tel: +61 (02) 9797 8118