It started with a craving. The merest twitch of a feeling started by a throwaway comment about fried chicken. By the end of the day I had a craving so strong for it that I could think about little else. I messaged Belinda and Nick asking for a new fried chicken recommendation and before we knew it, everyone had abandoned their solo plans for that evening (Mr NQN was having work drinks) and we decided to have dinner together.
Forage was a place that Belinda and I had tried to go to once before but it was closed for lunch. But thankfully even with the late notice, we were able to get a table there. Very discreetly signposted, it's only when I notice the crowd that I see it. Apparently some very big signage is on its way.
By day it's a cafe and by night it is a tapas and wine bar. Started by chef Billy Smith and manager Ken Villa it was formerly known as Cafe New Deli. They developed a following serving cakes and baked goods but changed their name in part because people thought that it was an Indian takeaway and Forage was born.
The menu is neat with one page of regular dishes and a second page with specials. Prices are reasonable and it seems like a regular haunt by many Marrickville locals. Along one wall are a range of their own preserves and jams. I've arrived first and shortly afterwards Nick and Belinda arrive. "My pants are too tight!" Nick says starting the night off with one of his declarations.
We choose some items based on recommendations and tastes. "I have a very refined palate" Nick says joking (I think). The salt cod croquettes have a golden crumb and are soft and flavoursome inside. They're served with a saffron aioli and spiced pickled peppers on the side which are hot and tangy to counter the richness of the croquettes and cream.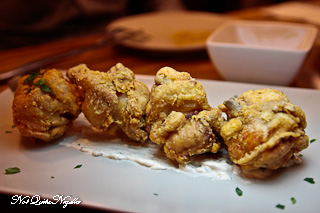 My craving for chicken wouldn't go away so we order the chicken wings. These are best eaten by hand rather than knife and fork and we find that they need some more seasoning or marinade as they're freshly cooked but need a punch of flavour to them.
All three of us love Brussels sprouts and these are tender and seasoned with chilli, cinnamon and pepper. The chilli really packs a hit and this slows us down on eating these a little.
With Autumn arriving, we sought a little refuge in this delectable dish. The cheeks are soft and gelatinous and the Pedro Ximenez sherry lends it the perfect amount of sweetness and depth of flavour. The cauliflower mash is also sweet and a very suitable accompaniment. It's the sort of dish that I'm dying to replicate when it gets really cold it was that comfortingly good. Belinda and Nick particularly like it with the wine that they chose.
The pork belly is another highlight and this and the beef and the garlic prawns are said to be the more substantial dishes on the menu. The pork belly has a crunchy crackling on top and is soft underneath. It's flavoured with cardamom and is served with half a roasted pear and sits on a bed of fennel cream.
The shaved fennel salad is a fresh accompaniment to the rich mains and it is one of those salads that feels so virtuously good but oh so tasty at the same time. The salad's predominant flavour is of white anchovy but the dressing is also sweet which pairs it well with the pork belly. Added to this is the curly kale and shaved fennel, manchego cheese crisps and pomegranate seeds.
With a cabinet full of cakes and baked goods, we are spoilt for choice. They have several cheesecakes and flourless cakes and apart from choosing the lemon curd cheesecake, we leave the second choice up to them. Out comes two cheesecakes which none of us were complaining about because we all love cheesecake. The two cheesecakes are quite different. The lemon cheesecake is all puckering tartness, the texture light but textured.
The sour cherry cheesecake has a chocolate crumb base while the cheesecake is smooth and the sour cherries sweet in comparison to the lemon. They're both good and it is hard to choose a favourite. We simply go from one to the other sampling a bite of each.
We're the last table to leave but the night still feels young and it leads to more fun in a nearby bar. Isn't it funny how a craving for fried chicken can turn a night in to a fun night out...
So tell me Dear Reader, do you ever do spur of the moment dinners with friends? And what is your favourite cheesecake flavour?
This meal was independently paid for.
Forage
181 Marrickville Road, Marrickville, NSW 2204
Tel: 61 (02) 9572 7988
Open until 11pm Thursday - Saturday