Down a little laneway in Petersham, lies one.more chocolates, a chocolatier that makes chocolates inspired by European chocolatiers but made with Australian filings. one.more chocolates started their business amidst the COVID-19 pandemic but that hasn't stopped this month old business from flourishing.
You can smell the sweetness in the air as soon as you walk through the door as pastry chef and chocolatier João Cadete crafts his pralines, fresh fruit chocolate hemispheres, chocolate bars and chocolate coated nuts. Those that frequent Sweet Belem nearby may recognise him: Lisbon-born João is Sweet Belem's pastry chef.
Ironically João, like his baker father, is gluten intolerant. Breathing in the flour laden air causes respiratory issues so he turned to chocolate making as a hobby.
Twelve years ago he learnt the art of chocolate making with Portuguese chocolatier Antonio Melgão. After that he studied the art of chocolate at Barcelona's Chocolate Academy.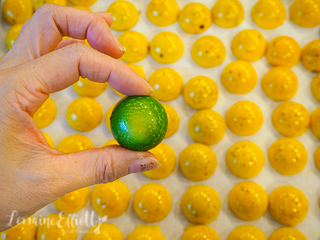 Back in Portugal he was making chocolates for his own shop in the stunningly picturesque town of Sintra but his interest was piqued by an ad looking for a Portuguese pastry chef in Australia. This ad was from Sweet Belem. João arrived in Australia 5 years ago at first hoping to have a holiday and check out the scene but now has made Petersham his home. It is also here that he met his partner in both business and life, Chloe Norris.
"We met just over 2 years ago here in Petersham! A bit of a silly story because we only met because I knocked on the door of Sweet Belem to tell them someone had left their car lights on. The rest is history. Tinder works for some, knocking on random doors works for others," says Chloe.
She is also the one that came up with the name. "Because 'one more' is what you say every time there's chocolate," she says laughing.
one.more Chocolates opened one month ago in the midst of the COVID-19 crisis but Chloe who takes care of the marketing saw it as a golden opportunity.
"A month ago we were at the point where we were about ready to go. We'd done all the planning and spent all the money which was actually the good thing that all of this was ready. We were thinking 'Do we go ahead?'," recalls Chloe. Her usual role in HR went into stand down. "It's a weird blessing in disguise because we realised afterwards that we wouldn't be able to launch if he was working every day and I wasn't here," says Chloe.
Now they're working on new flavours and adding to the current collection. The list of flavour ideas is endless and also references João's favourite flavours that he was making in Portugal.
I watch him filling some of their Port bon bons. Each bon bon is a three day process. The first day he makes the shell, the second day the filling and the third he seals up the chocolates. During this time the port flavour will intensify and infuse into the chocolate ganache. Although Portugal or Porto is always associated with Port, they actually use an Australian port in these bon bons from Pieter van Gent winery in Mudgee. For the chocolate itself they use mainly Cacao Barry chocolate because they like the French chocolate the best.
The signature bon bon is the Honey Florentine and I can see why. The Mudgee honey filled bon bon is filled with fragrant honey. The Earl Grey is beautifully restrained but unmistakeably Earl Grey.
All of the hemispheres are a delight and steal the show visually, but the stand outs are the passion fruit and the salted caramel in shiny, glossy half spheres. The kalamansi is for those that love a resounding, complex tang and the raspberry and vanilla are a beautiful classic balancing tangy and creamy. The glossy shine of these chocolates are not due to the religious buffing of the molds, it's by carefully controlling the temperature in both the factory and the tempering process.
Chocarons
Chocaroons are a hazelnut meringue pyramid topped with milk chocolate and salted caramel ganache, coated in milk chocolate and rolled in chopped, roasted hazelnuts. It's a textural sensation and each bite is different which is precisely what makes them so moreish.
Rosie Berry Marshmallow Bites
The passion fruit caramels are absolutely dreamy (okay I'm mad about passion fruit) and the Rosie Berry aka rose and raspberry marshmallow bites have a surprise base of crunchy hazelnut praline before being coated in chocolate.
Praline lovers have four types of praline to choose from: Milk Almond and Hazelnut, Dark Coconut, Milk Crunchy Hazelnut and Dark Coffee. All have a wonderful crunch to them and yet are distinctly different and it's hard to pick a favourite.
There are 8 varieties of 85 gram bars (smaller, personal sized bars are coming soon). The Cremino bar is a silky smooth bar with crunchy toasted hazelnuts on one side while the Dark Chocolate Orange & Almond Bar is generously sprinkled with orange peel and almonds.
Kids are not forgotten with bear marshmallows. The filling is a delicious roasted hazelnut marshmallow with a thin coat of the perfect amount of milk chocolate (tip: get one for yourself too!).
The boxes are a subtle reference to João's Portuguese heritage with colours similar to the blue and white Azulejo tiles. The boxed chocolates also have a lovely little bonus-an extra layer of chocolate hidden under the truffles and pralines.
For the time being people can buy the chocolates online and have them delivered (free with $70+ orders) or pick up from the store on Saturdays. From this week they can buy the chocolates from Sweet Belem which gives people a good excuse to visit!
So tell me Dear Reader, what is your favourite flavour of chocolate? Do you find yourself buying more treats because of COVID-19?
one.more Chocolates
New location: 97 New Canterbury Road, Petersham, NSW, 2049 Open Wednesday to Sunday 8.30 - 4pm https://onemorechocolate.shop/