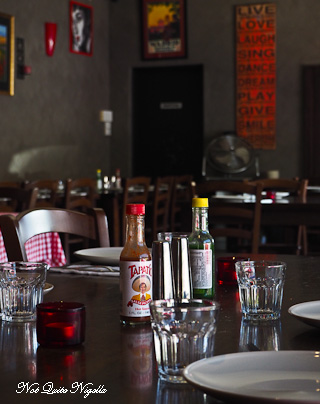 "I don't like yum cha," Mr NQN said to me one day as we were driving. I looked at him aghast.
"This is the first time you've ever said that! How can we be married?" I asked him half jokingly (although I did wonder). I had just asked him if he felt like tapas or yum cha for lunch and he opted for tapas. So off we went to El Toro in Maroubra Beach on a sunny day (leaving time for me to grill him about exactly why he doesn't like yum cha).
I had called and booked which wasn't strictly necessary as there a couple of other tables although I had been told that booking is necessary for Friday and Saturday nights. We take a seat under the window and look over the laminated menu. There is a whole page of pizzas on one side while the other side features tapas style dishes. I remember our meals in Barcelona and think about the rich flavours.
Sangria $8
Our waitress recommends some dishes and we don't wait long until our drinks and food arrives. The mineral water is interestingly from Chile and is a very light sparkling without a strong effervescence. Mr NQN has a red wine sangria that is heady in cinnamon. There is also a white wine sangria available.
Patatas Bravas $9.80
The patatas bravas arrives first with a concentrated tomato based sauce on top. I usually love aioli and I'm sure that we could have asked for some but Mr NQN made quick work of these crispy potato bites.
Chilli prawns $12.80
The chilli prawns are succulent and while the menu says that they're butterflied, they're not although they are peeled. I always think butterflying them makes the portion look larger too. The chilli, garlic and parsley soused oil is delicious and I dip the patatas bravas in the garlicky oil.
Souvlaki Lamb pizza $18
The restaurant does a fast trade with pizzas and we had heard that the lamb souvlaki pizza was particularly good. The lamb slices are tender and there are also pieces of potato, feta, spinach and souvlaki sauce as well as a lot of rosemary sprinkled on top. We both like the thin crust and the amount of topping.
Costillas de Cerdo $15.80
Our last savoury is the pork ribs that come out on a wooden platter. The ribs are enormous, at least 500g or a pound and very soft and saucy with a tangy sauce that you just get all over your hands as you eat them. It's way too much for us and we can't really finish the pizza or the ribs but they pack these up for us.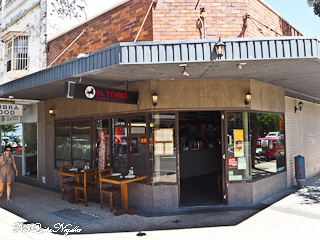 Many reviews had criticised the service for being slow. We didn't find it slow, particularly given that there were only two other tables but we did find that the service changed throughout lunch. At first, it was friendly but by the end of lunch, the enthusiasm had disappeared enough for both of us to notice it.
The desserts alas aren't particularly tempting-there is a New York cheesecake and a chocolate mud cake as well as churros but we decide to take a walk and stop by a little gelato place that sells Pure Gelato. We buy a taro and a banana - taro for me, banana for Mr NQN.
So tell me Dear Reader, do you like or dislike yum cha? If you had to choose yum cha or tapas, which would you choose? And banana or taro gelato?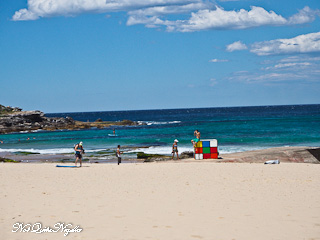 This meal was independently paid for
El Toro Tapas & Pizza Bar
35 McKeon St Maroubra, NSW 2035
Tel: +61 (02) 9344 0555
http://www.eltorotapas.com.au/
Sunday 12:00-9:30 pm
Monday Closed
Tuesday 4:00-10:00 pm
Wednesday 4:00-10:00 pm
Thursday 4:00-10:00 pm
Friday 4:00pm-midnight
Saturday 3:00pm-midnight