Parlar is a restaurant that focuses on Catalonian cuisine with a touch of Modern Australian. The restaurant is located on busy Macleay Street in Potts Point just next door to their sister restaurant Franca. Chef José Saulog's menu includes dishes such as Escalavida in a vol au vent, a spin on the classic Spanish potato omelette housed in spanner crab shells and their version of classic Pintxos.
A visit to Parlar is a long time coming. I had intended to bring Monica there for her birthday when it first opened in early 2022 but we were looking for an outdoor eating area and then one and a half years had passed. In that time the owner of Parlar (who also own Franca next door) had even opened up a new restaurant in Surry Hills. I gave Monica the option of dining there but she chose Parlar as she liked the sound of their menu. Parlar means "to speak" and the choice of Catalonian was inspired by the owner Andrew Becher's love of the area during travels.
Catalonian cuisine wasn't an easy choice for Exec Chef José Saulog. He says, "Catalonian cuisine to me means, whole heartedly meals. Very comforting and rustic. A big challenge to turn it into a 2 hat environment."
A belated birthday dinner deserves cocktails and it's a Catalan Sour for me made with Tanqueray Gin, Green Apple & Jalapeno, Elderflower, Espelette Pepper which I enjoy very much. Monica's order for "the dirtiest martini possible" comes through with an added olive and a pot of olive juice. "If I could buy olive brine I would," says Monica sipping her cocktail.
There's an amuse bouche from the kitchen in the way of parfait churros. We slip one into our mouths but are surprised to see that they are cold - fridge cold. Monica, who is a chef says, "They're missing a trick here" and I can't help but agree that churros should be freshly fried or at least not cold because while the flavours work, the chill on the churro doesn't so much.
Likewise the cornbread is served cold, in a half moon but this doesn't suffer for it. In fact its cold, damp, sweetness is what makes it so appealing and I must shout out the generous amount of guindilla butter with finely chopped guindilla pickles mixed with butter. It's a perfect combination really.
Parlar is a lot about detailed and intricate plating and here tomato bread is made on their house baked brioche with sweet, tiny cherry tomatoes layered on top like fish scales. "The trick to pan tomate is using a tomato jam that's firstly made by charring the tomatoes in the Josper wood/charcoal oven to give that smokey, deep, umami characteristic," explains José.
The Gilda is a take on the classic San Sebastien pintxo with a guindilla pepper, a Cantabrian anchovy fillet and a manzanilla olive on a toothpick or skewer. "I figured that anything on toast should technically make it better," says José laughing. Here it is white anchovies layered with mayonnaise, olive brine and manzanilla olives.
Monica and I both honed in on the stracciatella and it is a lovely way to serve the creamy curds of a burrata. Sweet meaty chunks of red and yellow heirloom tomatoes encircle the creamy stracciatella that is given a lovely texture from the hazelnut salsa. Manchego seasons this perfectly.
Likewise nuts bring together this tuna dish which is made with tuna, a fantastic olive oil, sliced olives and crunchy slivered Marcona almonds that give the silky textured tuna a resounding crunch. The size is perfect for two people but not three because you'd be fighting for the last pieces of this.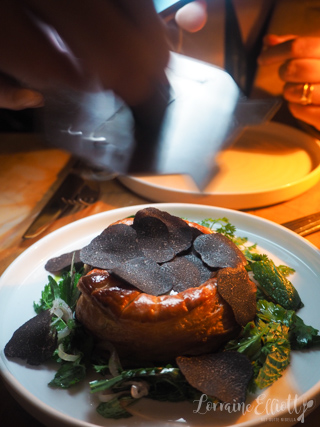 I love pastry so when I saw this on their Instagram account I had to order it. "Escalivada is Spain's answer to ratatouille and with my strong French ties I'm utilising it using the vol au vent format," says José. Parlar's Head Chef John Ho comes out to serve it and brings along a black winter truffle for an extra special treat. Escalivada is a very classic Catalonian dish made of grilled capsicum peppers and eggplant. Here the buttery, cheesy vol au vent has an eggplant centre and at the base underneath the tart is a Romesco sauce made with capsicum.
The next dish is a gift from the kitchen as I have been following José since we first met him at Pretty Beach House in 2015. It's a crisp potato flower with chives on one side and grated truffle on the other. The outside is beautifully crisp while the inside is tender.
There were a couple of menu items that were off limits to me with my barramundi allergy so we have to bypass the black rice that has barramundi trimmings in favour of the Spanner Crab Spanish omelette dish. José wanted to incorporate an Australian ingredient into the classic Spanish omelette. This comes as two spanner crab shells filled with chunks of spanner crab embedded in a Spanish egg omelette with tiny cubes of potato. Ikura or salmon roe finishes this luxuriously rich dish off. In fact try as I might I can't finish my spanner crab and I briefly consider asking to take it home.
We were tossing up between the Crema Catalana and the crepe cake but were swayed by the description of the crema Catalana. I actually prefer crema Catalana to creme brulee as I love the orange in Catalana. This one has a caramelised white chocolate shell on top which you crack first and then uncover the second toffee layer to crack. Underneath the custard is a touch grainy but the flavour of the orange is delicious.
So tell me Dear Reader, do you have a specific martini order and if so, what is it?
This meal was independently paid for.
Parlar
Shop 3/81 Macleay St, Potts Point, Sydney
Phone: (02) 9184 7744
Wednesday – Friday 5.00pm-12am
Saturday 3pm-12am
https://parlar.com.au/