My friend Ute walks through the door of MoVida. "Don't kiss me, I'm sick" she says. "I'm going straight to bed after this" she adds. Which isn't actually a problem because we're dining early at MoVida and we have to give the table back within a few hours. Making a splash in Sydney is Melbourne's MoVida. There wasn't press releases although a new Sydney twitter account popped up. Nevertheless Frank Camorra is here in the kitchen this Saturday night and in the bar area are Rockpool's Neil Perry and his wife Sam.
Getting a booking on this Saturday night was easy and pleasant enough. It's actually in the former premises of Cotton Duck and there is a central kitchen with glass windows (Cotton Duck's kitchen had one window at the front). The bar area is on the right when you walk in and is crowded this evening while the restaurant is part way full. Our booking was at 5:30pm and it crowds up as we are leaving around 8pm.
Our waiter, who along with other staff, is an import from Melbourne, tells us that the menu is made up of 65% Sydney exclusives while the remaining 35% is a mixture of the best of the Melbourne MoVidas. We ask for his recommendations and tells us that the signature dish, the suckling pig has already sold out. "You've lost me" Ute says folding her arms. "It's only 5.30pm!" and he explains that the bar patrons snapped up the 7-8 portions made. "But why are there only 7-8 portions?" she asks when he leaves and mutters something about "creating artificial demand."
A salt crusted dense bread with olive oil is making its way to our table. I particularly like the salty crust and its ability to mop up the very moppable sauces.
_Anchoa $4.50 each _
Our first item is one that I recall having at MoVida Aqui and is one of their signature items. It is an artisan Cantabrian Anchovy with smoked tomato sorbet. It's one of my favourites with the divine smoked tomato sorbet, brown anchovy, tiny Lilliput capers and paper thin lacey sourdough cracker.
Gamba Ahumada $5.50
A few times tonight, the wrong dish is brought to our table-dishes that are meant for our neighbours are put down in front of us and we have to tell them that they're not ours. This one was ours though, a house smoked South Australian prawn with crispy piquillo peppers & bortagga. We both expected this dish to be slightly bolder than it was from just the ingredients (botarraga and peppers).
Cordoniz $7.80
Now the problem with splitting dishes in half is that sometimes, one person gets more of one flavour than the other. For me, I got a lot of the house made black pudding on the pan fried quail terrine whereas Ute didn't get any. She also got more of the blackcurrant reduction which lent the rich quail a nice counterpoint. Oh and apparently the blackcurrant reduction is one of those things that even chefs that have come here are unable to guess - Ute guessed that it was fruit based.
Mejillones $19
The Spring Bay Mussels were plump and juicy with a thick Salmorejo del Cordoba soup which is made with tomatoes, herbs and nutty, garlicky breadcrumbs. I liked how juicy the mussels were contrasted with the crunchiness of the breadcrumbs. On top were thin, crispy red onion discs.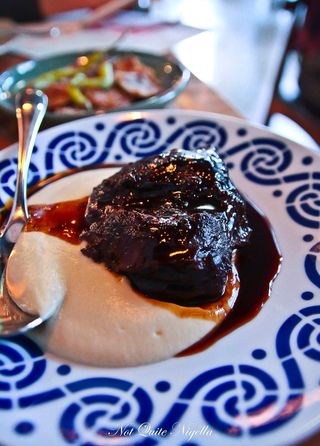 Carrillera $24
The beef cheek in Pedro Ximenez was softer than soft and divine although Ute did point out that it was more expensive than the Cecina, the air cured wagyu beef with truffle foam and poached egg which is a fair point. This was rich and so velvety in texture, especially that divine cauliflower puree but there wasn't much Pedro Ximinez flavour in it and it needed a smidge more seasoning.
Pipirana $15
The Pipirana is an Andalusian salad with tuna belly, prettied up with halved, soft boiled quail's eggs and edible flowers and some sourdough croutons. The smoked tuna belly was lovely and its richness was countered by the pickled vegetables.
Orejas $13
What's a night without some pig's ears? We both loved these tasty little morsels of crispy, well seasoned pig's ear squares. They are very rich even when chased with the guindillas pickled chillis so we couldn't finish the plate.
Churros con chocolate $12.50
Usually patient Ute was counting down the seconds while I photographed the churros. "Hurry up!" she urged and when I was finished we both sunk our teeth into the light as air churros coated on the outside with sugar.  The dark bittersweet chocolate has a slightly orangey edge to it and was rich but I found myself thinking that I would enjoy both elements separately.
Tarta Santigao $14.50
The tarta santiago was an almond fondant with a gooey centre which was moist and light. The item that really caught my eye however was the fig leaf ice cream which was served with a crumble of house made soft nougat which tastes like those delicious Chinese peanut cookies. The fig leaf ice cream is grainy and refreshing and gives your tongue the same sensation as you get with slightly underripe figs and was my favourite element of this dish. Ute has eaten the tarta Santiago in Santigao and declares this version better. But it didn't get a look in as she was preoccupied with the churros!
So tell me Dear Reader, do you always go for the signature dish? And do you ever ask if the chef is in the kitchen or does it not matter to you?
MoVida
50 Holt Street, Surry Hills, NSW
Tel: +61 02 8964 7642.