Bondi Beach is home to Can Cava, a pinxtos bar that spills out onto the street. There you can order bite size morsels of food on cocktail sticks along with wines, vermouth and cocktails. It's the perfect spot to chase the last of warm weather too!
"I'm not kidding, this is why I live in Bondi," David says. The reason isn't the food, the beaches or the laid back crowd bordering on a slight cult of Bondi. Our buddy David is a massive foodie-he lives to eat and once travelled the world eating at the top restaurants. But the reason why he lives in Bondi is that it is dog friendly.
We are Can Cava on the corner of Glenayr Avenue and Hall Street in Bondi Beach. There is a code here at Can Cava: no cash, no bookings and split bills welcome. Whaat? While everyone is all no cards and no split bookings they're going the opposite way. Go figure but as people that rarely carry cash, we like it.
So Can Cava is a Pinxtos Bar. Pinxtos are small mouth-friendly and drink-friendly morsels of food sold per piece, often with a toothpick sticking out of them. Pinxtos is actually the Basque version of the word Pinchos which is derived from the verb pinchar or 'to pierce' hence the cocktail stick although this has now evolved to other items.
We start with a white wine spritz, refreshing and sweet and perfect for the warm autumn evening.
I pretty much love anything on a potato chip especially fresh tuna tartare. This is probably my favourite item of the night with a crisp potato slice and diced tuna with fine threads of capsicum on top. I could have had a whole platter of this.
We liked the creamy goat's cheese croquette with fine lightly crunchy crumb and uber creamy filling. There's a little honey dizzled on top as well as rosemary salt.
Although it is served on a large cocktail stick you can't really eat the chickpea frite off the toothpick as it's quite soft. It's almost like a polenta chip but less crispy and the best bit is the end with bravas sauce and grated manchego cheese.
I usually love lamb ribs but I just didn't love these. They are underseasoned and so strong in lamb flavour with a bitter edge to them. The mojo verde didn't balance the richness of the lamb and the lamb like a few other dishes were underseasoned (with no salt on the table).
The tomato bread is strong in garlic and salt and it was one of the well seasoned dishes too.
I really wanted to love this and while it looked promising the sandwich is a bit dry from the toasted bread to the pork belly that is soft but the sandwich just begs for some sort of sauce.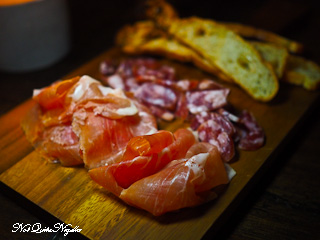 You can choose 1,2 or 3 types of cured meats and cheeses. We were suggested the mini fuet which they told us was spicy but isn't at all. It's quite waxy and mild. The jamon serrano however is fantastic, served paper thin and we wished we had ordered a double serve of this.
We go with a cheese platter for dessert and choose the Manchego Curado 6 months and the Urgelia a cow's milk cheese from Catalunya. The manchego comes with a fantastic orange and carrot marmalade while the Urgelia comes with an apple jam and there's plenty of toasts to go with it. And despite the notion of small bites we end up quite full by the end.
So tell me Dear Reader, what are your thoughts on card only? Do you always carry cash? Have you ever tried pinxtos? Do you like the idea of them?
Can Cava
101 Hall St, Bondi Beach NSW 2026
Tel: +61 (02) 9130 6062
Monday – Friday Open from 4pm
Saturday & Sunday Open from 12pm
www.cancava.com.au/