Open early 2015, Dr Faustus is a cafe on Cleveland Street in Surry Hills that draws from the owner Adam Kane's literary background and time living in America. Cereal milk is served in small, medium or large preserving jar sizes and there is also a range of American style burgers, donuts, fried okra and a BLT their way with foie gras in the bacon pâté mix.
It seems fitting that a writer opening up a cafe name it after a literary character and book. Adam Kane is a writer of books and screenplays and when it came to thinking up a name for his first Sydney cafe, the Edwardian character of Dr Faustus who sold his soul to the devil in return for riches, indulgence, power and pleasure spoke to him. The pleasure and indulgence he refers to is the foie gras and caviar on the cafe menu.
Located at 380 Cleveland Street, traces of the previous pharmacy tenancy still remain and it's a charming, friendly cafe. When we walk in, certain that we would be turned away because we didn't have a booking and it was full, we were welcomed us to sit at the bar and they pegged a table of soon-to-be departing guests for us. There are some specials on the mirrors up top as well as cereal boxes behind the glass display. These are for the cereal milk drinks available in three sizes.
We sit down at the bar and a plateful of doughnuts wink up at us (I swear, there was actual winking!). "Glazed Doughnuts?" I asked and Adam affirms yes they are indeed the hand made doughnuts by the lovely ladies at Glazed in Bondi.
Bacon Donut "Graceland" $7.50
When I inquired as to the flavour I am told that it is a bourbon vanilla donut. Then there is a cheeky glint in his eye. "We can add bacon on top," he offers before adding, "But only if you help to name it." Adding bacon sounds like the best idea in the world so he whisks one away before returning with it a few minutes later topped with finely chopped bacon. Oh yes, all donuts should come with a sprinkling of bacon and we christen it "Graceland" in homage to Elvis and his pink Cadillac.
Egg Cream $6
When Louise and Viggo arrive, we move to the table for four. We scan the drinks menu and make quick decisions -the hardest bit is narrowing down what you want. The egg cream is a blast from the recent past. When Belinda and I went on our American road trip, one of the most memorable stops was Albuquerque and Model Pharmacy where we tried an old fashioned soda fountain. Egg cream is said to be a Depression era drink with soda, milk and flavouring. The closest comparison is perhaps a less rich version of a spider except there isn't a lot of sweetness in this; most of the chocolate is pooled at the bottom.
Cereal Milk $9
For the cereal milk, there are a few cereals to choose from and we go with the Milo. Ours comes in the extra large size, more for morbid curiosity than need. And it is just that, fresh milk and cereal with a spoonful of Nutella on top. It's meant to be a drink but I think that with a big spoon, it could serve as breakfast too.
Coffee soda and celery tonic soda $5.50 each
I'm not sure why New Zealand is creating such great soft drinks (does anyone know why?) but there is a definite industry there of boutique brands making really lovely sodas. The coffee soda is like a very lightly sweetened fizzy coffee drink. It reminds me of Japanese coffee jelly, refreshing but still with a hit of coffee bitterness. We love the celery tonic with just the slight hint of celery that doesn't seem out of place in a sweet drink.
Robert Allenby $6
Some of the items are quite tongue in cheek as is the Robert Allenby, a curious mix of cold tamarind juice with a shot of espresso. The flavour is mostly espresso although Viggo gets a bit of the sour tamarind.
Zucchini fritters $9
We aren't waiting too long and our food starts arriving - given how busy it is this Saturday I thought that there might be a delay but not at all. Vegetarians have it good here. The Turkish style zucchini fritters come as a serve of three with grated parmesan on top and a salad underfoot. They're freshly fried so they're crunchy and full of flavour.
Eggs 5 Ways $14
The eggs five ways come as a pickled hen egg, soft boiled duck egg, quail egg with red eye aioli and caviar on top with two slices of Brickfields bread and butter. Sure it's a simple enough concept but it's a definite step up from boiled eggs and toast and I scrape up every last bit of my share with the buttered toast.
Dr Faustus Burger $15
I eye the beef burger before touching the bun. It looks soft and just the trick for burgers. Adam's time living in New York has taught him that you need soft, milk buns for burgers and these are perfect. It's filled with a rare beef rump patty, horseradish cream, house made pickles and shoe string fries with ketchup. It's a fantastic version of a beef burger and very satisfying indeed.
Pulled Mushroom Bun $14
However the dark horse is the pulled mushroom bun made with house smoked enoki and wild mushrooms, house made BBQ sauce and kale-slaw on the same soft bun. Nobody really expects to love a vegetarian version, to be honest we mostly try vego options for any vegetarian readers out there but this is the business indeed and has so much flavour and texture that it outshines the excellent beef burger.
Fried Okra $10
The deep fried okra is lightly battered and served with aioli and a side house made french onion dip that has an anchovy taste to it. It doesn't really need the French onion dip as the aioli gives it much flavour.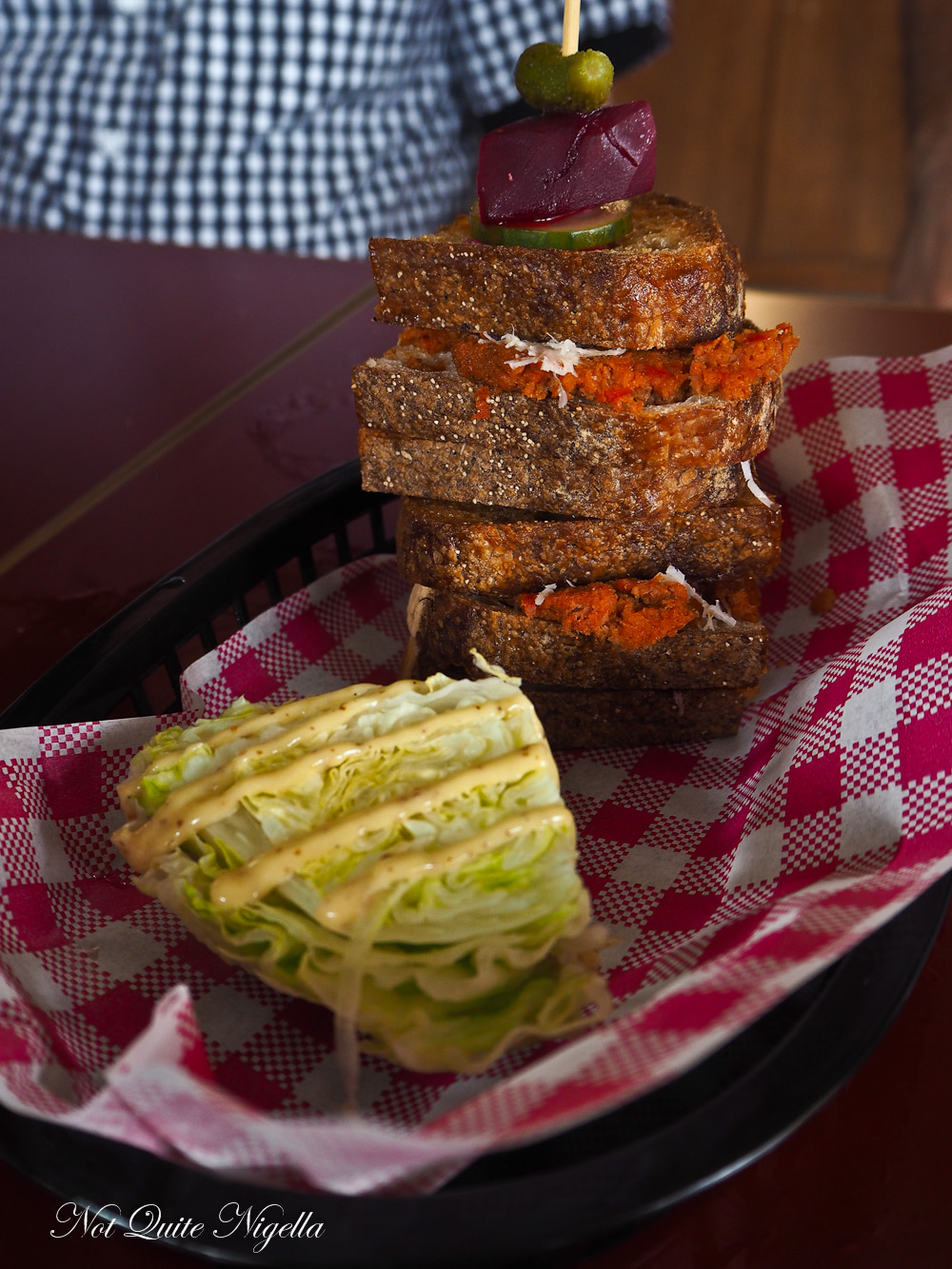 Our Way BLT $14
We decide to order one more thing just because we saw so many go past us. It's the BLT done their way with a pâté type of spread. They cook lardons with mustard and onion and then some foie gras. It is spread onto lightly toasted bread with finely grate gruyere. Because each half is three layers, it's a little bready and hard to eat but it would be great with just two layers of lightly toasted bread. And it's lucky that we ordered dessert first!
So tell me Dear Reader, which cereal do you think gives the tastiest cereal milk? And I'm curious, are there many vegetarian readers out there?
This meal was independently paid for.
Dr Faustus
380 Cleveland Street, Surry Hills, NSW http://drfaustus.com.au/ Open 7 days 7am-5pm