The acclaimed and awarded Ester in Meagher Street in Chippendale is a small modern Australian restaurant that serves innovative, creative and rustic food if that makes any sense at all. The restaurant has two seatings at dinner. Make sure to leave room for the bone marrow, the "burnt pav" and the salted caramel semi freddo.
Rowan looks over and says with deadly seriousness. "If they can serve it quickly, we can eat it quickly." He is referring to a recent meal at an upscale restaurant. He and Natalie had booked the table for two at the last minute and on the phone he had told the reservations person that if the kitchen could cook it quickly and bring it all out at once, they could eat it quickly and they would be in and out. "Bring out everything at once," he said to them reassuring the worried staffer that sometimes, you don't want a nice meal to go on for a long time and you want to eat and go.
This conversation is prompted by our meal at Ester and the two seatings. We were booked in for the first seating from 6:30pm and needed to vacate the table by 8:15pm. Our conversation is politely interrupted by wait staff who inquire about our menu choices. To do this, they need to take our order by 6:45pm. They recommend three starter plates and two mains and sides for the four of us so we order and resume conversation.
Oh I didn't mention the look of the restaurant did I? Well it's one squarish room with an open kitchen and bar area to the right. It's small, therefore the need for the two seatings and decor is simple. Legs of jamon hang on one side and service is excellent. Chef Mat Lindsay is in the kitchen.
While pondering the menu we nibble on crunchy deep fried spiced chickpeas with rosemary. They're not unlike the Union Square Cafe's nuts but in chickpea form.
Lardo on toast $7
Ahh lardo. That delicious specialty originally from Tuscany where the white fat from pork belly is cured in marble basins. I enquire and our waiter tells us that they make their own lardo also cured in marble. It is sliced thinly so that it is translucent and served atop a lightly toasted slice of bread with dollops of pineapple jam. If anything, it's a distant cousin of a ham and pineapple pizza if it were to remind us of something. The pineapple jam is dominant over the lardo's pork flavour.
Beef tartare / oyster / bone marrow $19
I'm a fiend for bone marrow and lots of friends told me that I needed to order this dish. It has changed slightly from when they ate it and I think I like the sound of this better as it is paired with a beef tartare. There a fried egg puree at the bottom and chopped beef, roasted oysters and capers. On the side is a large bone split with the marrow ready for easy scooping. This can be spread on the crunchy, salted kipfler potato chips or mix it into the beef tartare. Either way it's fantastic.
Ricotta gnudi / mushroom $15
I ordered the gnudi as Natalie likes gnocchi. Gnudi, made with ricotta is a cousin of the potato gnocchi. These soft dumplings are paired with mushrooms and have an appealing lemony accent to them.
Chicken / garlic bread sauce $36
There's a bit of a gap between entree and main and this causes us a bit of worry as we know that we need to vacate the table by 8:15pm. Our first main comes out and it's the chicken with a garlic bread sauce. The chicken is tender and comes off the bone easily. The garlic bread sauce is thick, creamy, mild and comforting with two slices of grilled lemon.
Beef intercostal / fermented rice / radish $30
The beef intercostals (the meat between the beef ribs) are a fatty cut, a little too fatty for Mr NQN who likes his food lean but I like the opposite. They're served pink in the centre with fermented rice and radish.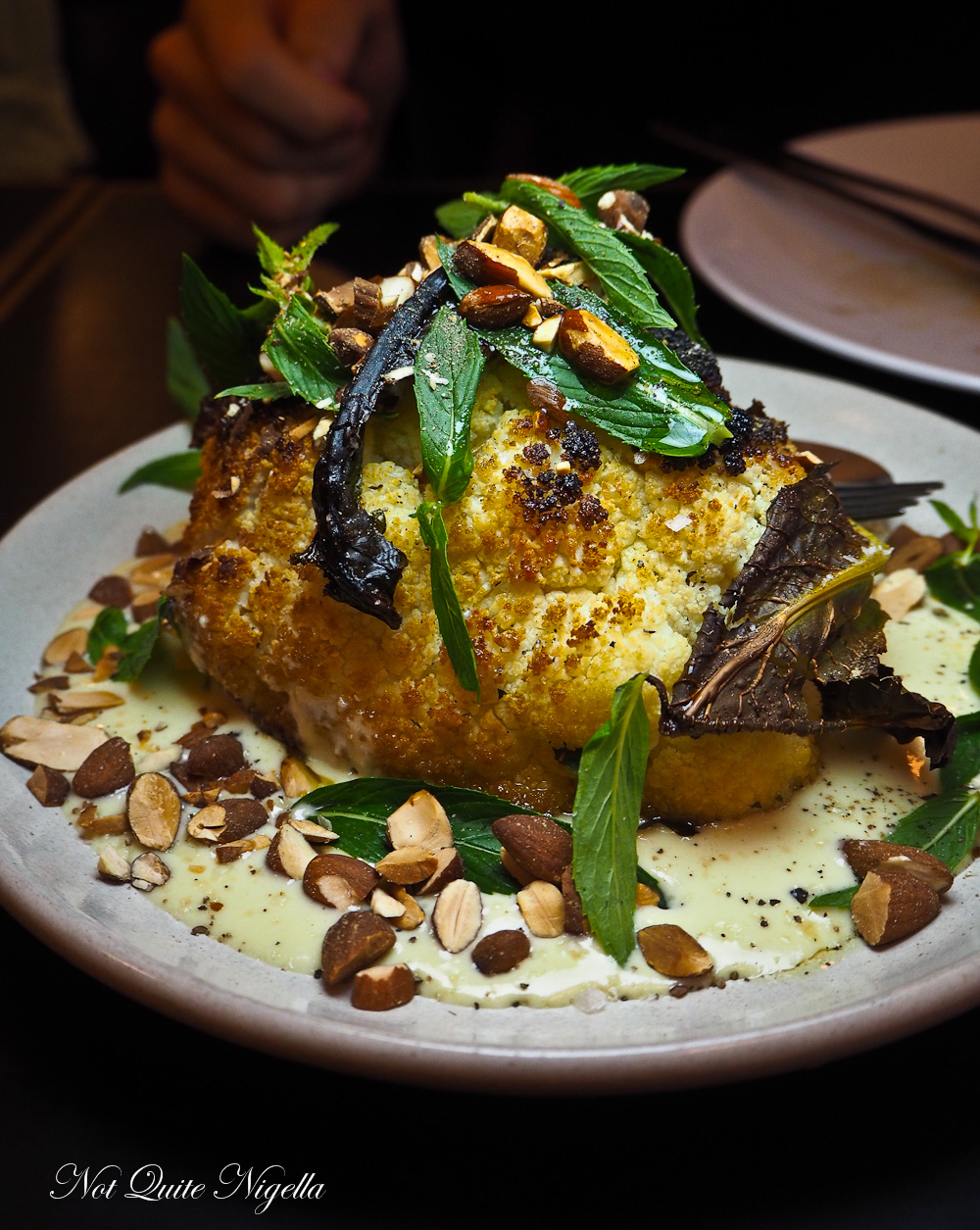 Cauliflower / almond / mint $16
We were told that the cauliflower dish is a must order and it's half a head of cauliflower roasted and served with a creamy almond sauce, chopped, roasted almonds and fresh mint. The roasting caramelises the cauliflower and intensifies the sweetness.
Greens / fermented chilli / garlic $11
The other side is a simple salad of silverbeet, slices of fried garlic and fermented chilli. I love the pronounced kick of chilli in this but alas it is too spicy for Rowan.
Burnt pav $15
While we were eating our mains, our waitress brought over the dessert menu and asked if we would like to order it as it was 8:10pm by then. We choose the burnt pavlova and a couple of scoops of the salted caramel semi freddo. The burnt pavlova's texture is different from a regular pavlova and the "burning" renders it chewier and more gooey without the lightness and crispness from a regular pavlova. It is blanketed in a thick cream and scattered with elderflowers. And boy was this controversial on Instagram when I posted it with people amazed that restaurants are "serving burnt food"! Ahh it's hard to explain it to a stranger on social media but it was delicious.
Salted caramel semi-freddo $4 each
Ahh the salted caramel semi freddo. It's rich, incredibly so and reminds me of a sweet, salted butter it's that thick and creamy. It is topped with black sesame that gives it a light smokiness but I can only do a few spoonfuls of this (it may have been the marrow and intercostals that tipped me over too).
We take a look at the time. It's 8:32pm and having quickly eaten our desserts we realise that we've overstayed by two minutes and there is a crowd of people by the door waiting to take the next sitting!
So tell me Dear Reader, do you prefer smaller gaps between courses or do you like to dine out with larger gaps so that the night lasts longer? And what do you think of the burnt pav? Would you order it?
This meal was independently paid for.
Ester
46-52 Meagher Street, Chippendale NSW 2008
Tel: +61 (02) 8068 8279
http://ester-restaurant.com.au/
Lunch: Friday: 12:00pm - 3:00pm, Sunday: 12:00pm - 5:00pm
Dinner: Monday to Saturday: 6:00pm - late (drinks from 5:30pm Monday to Friday)