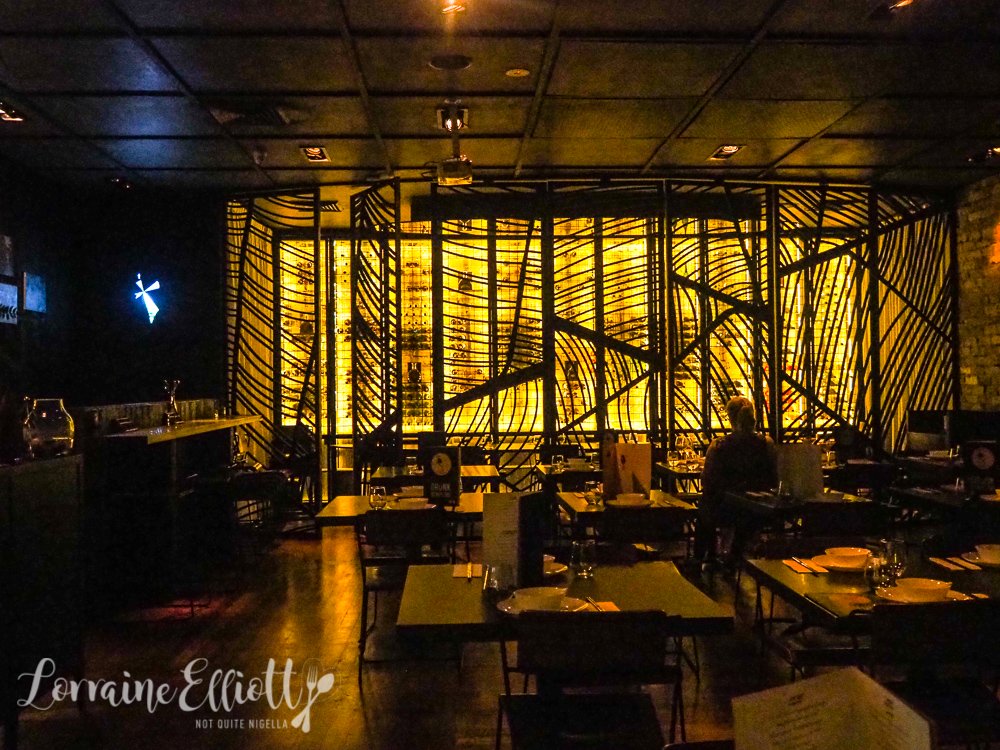 Drunk Dumpling takes off where Luyu and Yum Yums left off. This darkly lit eatery on the first floor of a King Street Newtown address also offers dumplings as well as a range of classic Cantonese dishes.
Sammie and I needed dumplings. Badly. You see while volunteering to make lunch at the ASRC is rewarding, there are some days where it is more challenging than others. And today we felt like we had been put through the rinse and spin cycle. We needed dumplings and we needed them fast.
The Hong Kong born dumpling chef at Drunk Dumpling is Jimmy Wong or Wong Ka Lok. His bio appears on the front page of the menu and tells us that he has worked at the Ritz Carlton at Ting Lung Heen and Lei garden at the Hyatt Regency.
All of the dumplings are co-ordinated with a starsign. Sammie is nonplussed with her starsign dumpling. The Cancer one is a steamed vegetarian dumpling which she fears sounds boring. I have to admit my Taurus one sounds tasty but not particularly exciting.
Gemini xiao long bao $10.80 for 4
Our first taste is a xiao long bao dumpling. On the menu it reads "steamed colourful xiao long bao" yet what is set down in front of us is a regular looking xiao long bao. They explain that they weren't happy with the colourful dumpling skin and that it was too thick but I do think that they should change the menu because people will be expecting colourful Xiao Long Baos like the ones at Din Tai Fung. There's plenty of soup in these but the tradeoff is the skin isn't quite as thin or silky as we'd like. Also we'd love some ginger with the soy or in the dumpling to lift the pork filling.
Aries spring roll
Our next plate is from a slightly different menu, where they give us a combination platter of dumplings so we can try a few different ones. The Aries is a spring roll with cheese and prawn. These are rolled long and thin. Personally I prefer spring rolls to be chunkier with more filling. There is no sauce to go with this either but there is vinegar, soy and a terrific sesame and chilli oil that I pretty much dunk everything in.
Leo Steamed scallop dumpling
The Leo is one of my favourite dumplings. There is a big fat, perfectly textured prawn hidden inside the crystal dumpling skin as well as a fat scallop and tobiko on top. This is a good, seafood packed dumpling.
Virgo steamed rabbit dumpling $13.80
These steamed rabbit dumplings are similar and although they are said to be prawn and chicken mince filled I mostly taste prawn which is actually better.
Virgo steamed vegetable dumpling
The vegetarian dumpling is actually pretty good. I don't know if I would order it again given I preferred the other dumplings but at least vegetarians have a good option.
Foie Gras dumpling
I wasn't sure if this was decoration but this long bundle of crunchy noodles hides an centre of foie gras. You do eat a lot of crunchy noodles to get to it but it's a nice idea.
Sagittarius Hedgehog bun $14.80
This is a very cute bun. With a sweet, bao outer it is filled with carrot, sweet corn, king oyster mushroom, zucchini and the deep frying and the crispy texture on the outside actually lightens this. We both usually find the bready part of the bun too dry and often leave it behind but we finish this.
Pisces Steamed XXXL size seafood xiao long bao $14.80
Both Sammie and I had eaten the giant XLB at Dumpling Time in San Francisco and absolutely loved it. Unfortunately this dumpling didn't do it for either of us. They give us straws to suck out the soup and then we open it up. The pastry is very thick so we don't eat it and there is just one prawn and a few pieces of scallop in it and it is sadly saggy and empty. They explain that the lobster mentioned on the menu is a lobster broth but really I think they should have mentioned this because I can't imagine people not being disappointed if they tried this.
Taurus pan fried chicken mince, chive dumplings $10.80
We're back on track with the Taurus dumplings. I didn't expect much, I mean pan fried dumplings are the workhorse of a dumpling menu designed to feed and fill. These are deep fried rather than pan fried but there's soup, chicken mince and chives inside. Be careful because they squirt (everywhere). But spoon a bit of chilli oil inside these and they're great.
Scorpio Wagyu satay skewer $16.80 for 4
The wagyu satay sticks are thin, flat slices of wagyu that have a nice texture to them and melt in the mouth. It's just that we are having some trouble locating the satay sauce beyond the three dots of it on the side. Instead I dunk the beef in the chilli sesame oil.
Dessert is unusual and changes every week. There's a strawberry mousse cup that actually tastes of real, fresh strawberries. There's also a little French toast number with small squares (that resemble tofu) spread with peanut paste that is tasty.
So tell me Dear Reader, what is your comfort food after a hard day at work? What is your starsign and would you order your starsign regardless of whether you liked it or not?
This meal was independently paid for.
The Drunk Dumpling
Level 1/196 King St, Newtown NSW 2042
Monday to Friday 11am–3pm, 5–10pm
Saturday & Sunday 11am–10:30pm
Phone: (02) 9550 2823