You'll generally know where Mapo Newtown is located on King Street. It's where the queue forms outside, even on a cold winter's Sunday night when people are usually tucked in inside bracing themselves for the busy work week ahead. Mapo sells the smoothest texture gelato that you would swear was straight from Sicily. And being Newtown there is a little surprise of course with half of the gelato menu being vegan!
It took architect turned gelato maker Matteo Pochintesta one and a half years to learn the gelato trade, both in Melbourne and Italy. Mapo is named after his first initials, not the Italian citrus fruit (and definitely not the Chinese tofu dish). All of the gelato is made fresh daily using the one machine that both pasteurises and churns the gelato.
A woman explains to her daughter the importance of having recyclable cups and spoons-this is Newtown after all. The menu consists of A4 printouts of flavours and if you look carefully on the right hand side is a range of vegan flavours. Surprisingly, the pistachio is vegan and there isn't a non vegan version. They offer samples of the gelato and I try the vegan pistachio and gianduja.
It has that dark green shade that denotes real pistachios over colouring and is intensely rich and indeed very pistachio-ey. Likewise the gianduja is also remarkably creamy and you probably wouldn't know that anything was amiss or missing. In fact there are no soy or almonds milks at play in their vegan gelatos-it's water and the actual ingredient used.
The secret to Matteo's gelato with its ultra creamy smoothness lies in the individual recipes. Some gelaterias use a common base recipe to which they add the flavourings while here they make individual recipes for each flavour.
An ingredient might be the painstaking mandarin jam (he grimaces at the thought of making the jam again) that he uses for the mandarin and mascarpone. He balances the milk and sugar content to aim for that other worldly smoothness.
My favourite flavour is the fior de latte using Barambah organic milk that really shows off this incredible texture and I'm not even a vanilla person. The mandarin and mascarpone skilfully treads the creamy and tangy tightrope. I try some of Marco's choice called the Tandem Thrift Store Cocktail with lemon, orange, aquavit and rosemary which is like a gorgeous, refreshing cocktail in gelato form.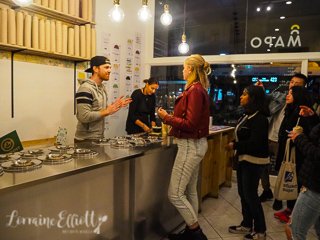 The best selling flavour is the salted caramel made with Pepe Saya butter and this one is unabashedly salty and strong. It's my second favourite flavour along with the fior de latte. The dark horse is the orange and grapefruit vegan sorbet. I do a double take-it's creamy in texture but there is no milk added to this. It's just water? Yes it is. And yet it is creamy like a milk based gelato.
As we leave the line grows longer as the night does.
So tell me Dear Reader, are you a vanilla person? Do you eat ice cream or gelato in Winter?
Teddy loves gelato too!
This meal was independently paid for.
Mapo Newtown
123 King St, Newtown NSW 2042, Australia
(02) 8937 4919
Monday to Thursday, Sunday 12pm-10pm
Friday and Saturday 12pm-10:30pm
maponewtown.com/