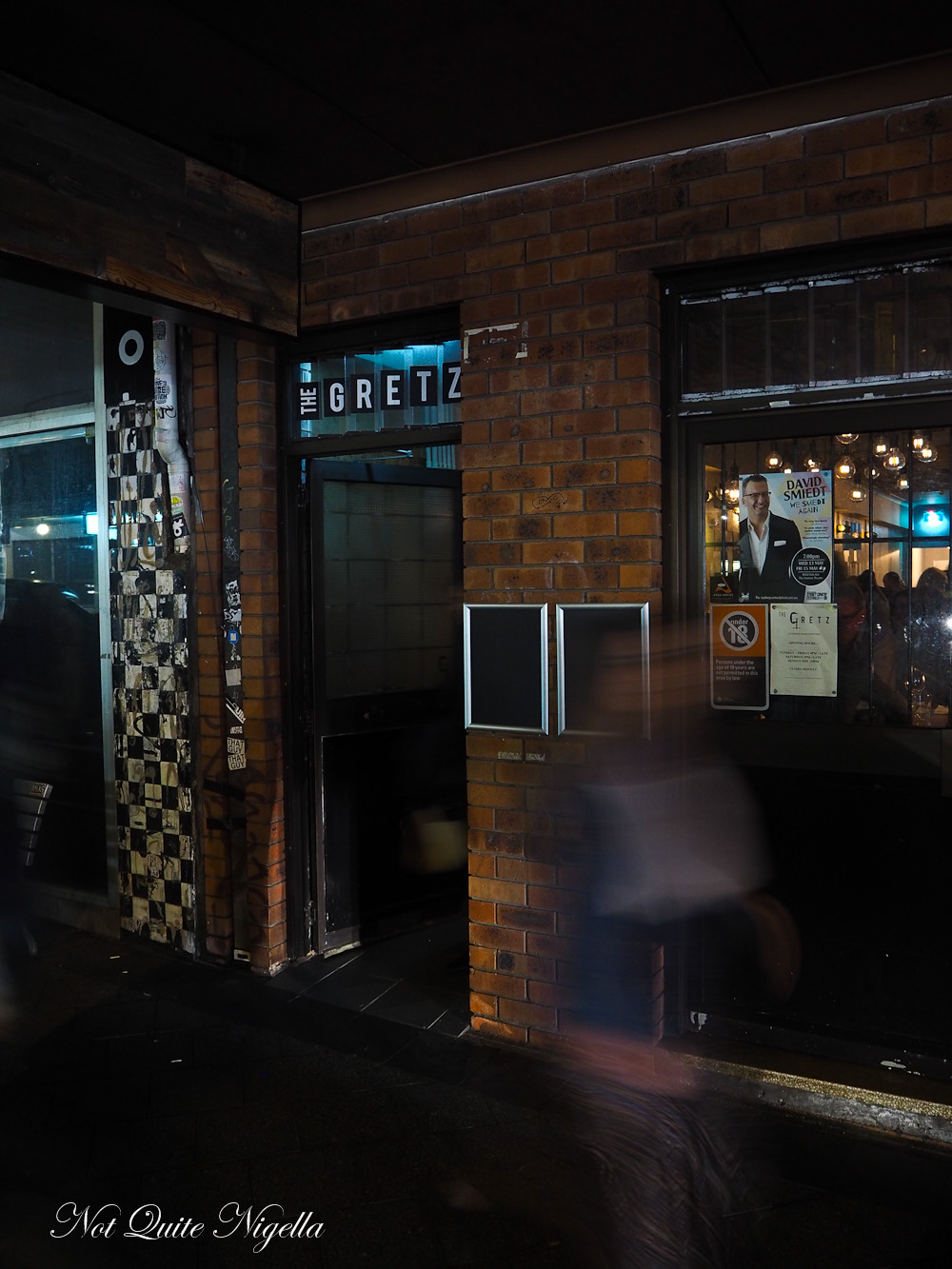 So what is the latest small bar and eatery from the popular team at Hartsyard like? The Gretz on Enmore Road is named after a family owned beer company in Philadelphia. It has a compact seafood focused menu including items such as Clams Casino, Shrimp Roll and Uni Toast and Scotch Olives. Beers are by Yulli's Brews and there's a list of original and classic cocktails. And then there's always Hartsyard down the road for dessert...
"I'll have one of everything," is a line I've always wanted to say. Along with "Here's something prepared earlier" which comes from my fantasy cooking show (which is the opposite of polished where chaos abounds and episodes end with the possibility that something is a culinary disaster).
But I have digressed; we're at The Gretz in Enmore and have just surmised that we could in fact order one of everything. It's Belinda, Mr NQN and me on a Friday night. It's raining outside and a teensy bit chilly but once we get inside it's warm and cosy. Even though it's 6pm there's already a crowd, most are congregated around the long bar, their bums pushed against the soft bar stools covered in re-purposed blue jeans. There is also another strip of bar stools with their backs facing the bar and two large share tables.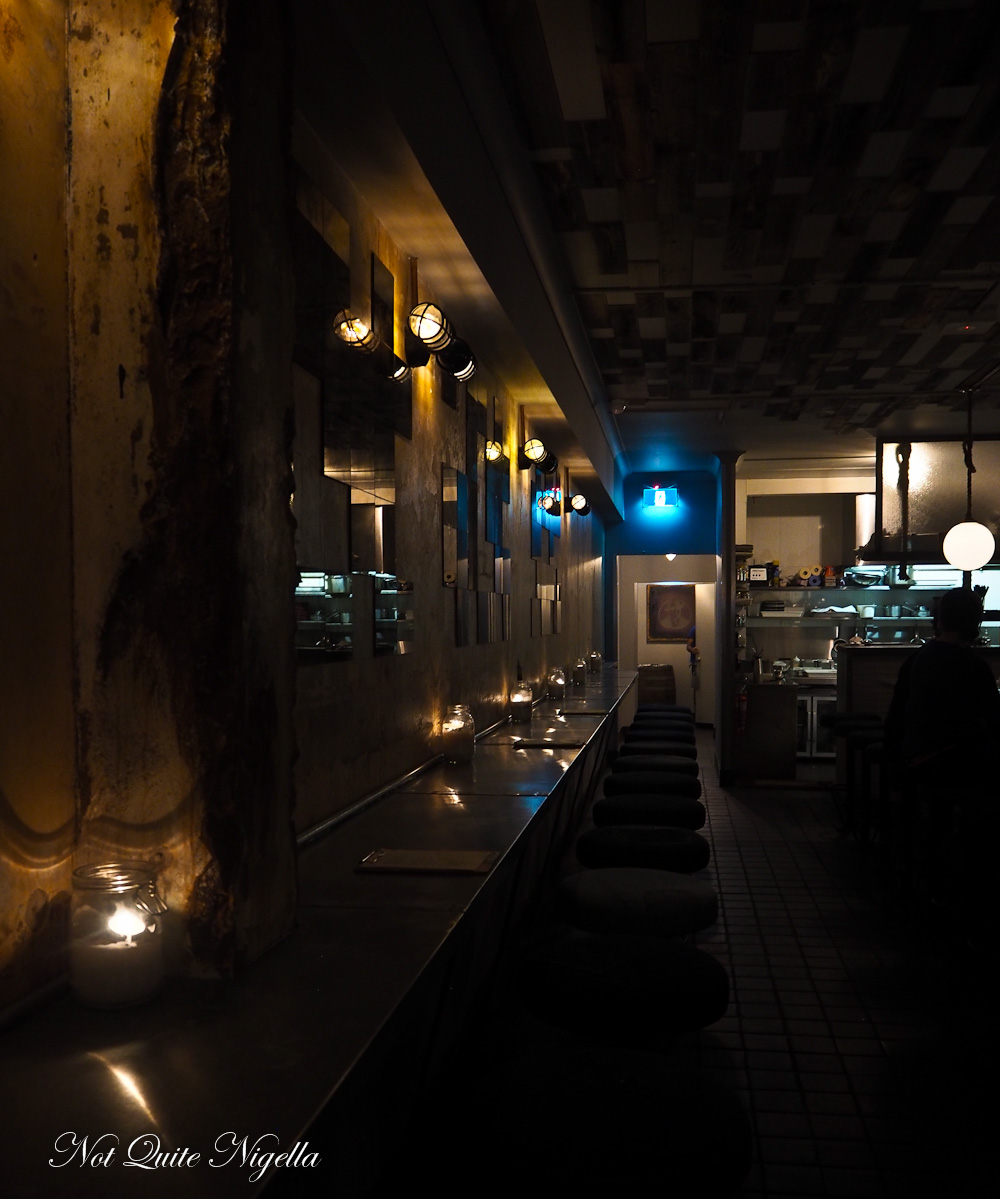 The husband and wife team Gregory Llewellyn and Naomi Hart from the very popular Hartsyard are behind The Gretz. The blue jeans were donated from family and friends because as Naomi puts it, "when a former musical theatre performer and a foreign chef walk into a bank and ask for a loan to open either a restaurant or a bar, the bank says no." Gregory even snuck in a pair of jeans that he wore to his first date with Naomi 8 years ago.
The idea for the bar has been kicking around for a few years now. Naomi explains, "Although Gregory started talking of second venue the week we opened Hartsyard, I held him off with another baby and a cookbook. Then I ran out of excuses and we started actively looking and planning in September of last year."
The Gretz is named after a brewery that Gregory maternal great-great-grandfather had started in Philadelphia. Renamed the William Gretz Brewing company after prohibition ended in 1933 it was one of the first brewing companies to put beer in cans.
The Gretz is located on Enmore Road, right near the Enmore Theatre and a couple of blocks away from Hartsyard. In fact after we take a seat, some of Mr NQN's former colleagues engulf him in a hug - they're stopping by for a drink and something to eat before a comedy show.
First things first. It's Friday night so a drink is in order. Beers are by Yulli's Brews, wines are from Australia and Europe and there's a list of original and classic cocktails. Belinda gets a Gin & Juice while Mr NQN orders a Lovely Mary with Akvavit and Lillet muddled with basil and tomato and I go for a "I Don't Want no Shrub" with peach shrubs. This is the second bar with shrubs on the menu-are shrubs the next, new thing?
Scotch Olives $10
It's table service here at The Gretz which is nice and it's friendly and warm from all staff members. The first dish to come out is the Scotch olives. Yes not eggs but olives they come with an aioli strong in garlic and with plenty of shaved machego cheese on top. They're salty, crunchy and creamy and designed to get the taste buds going. Belinda has the clever idea of keeping the bowl of sauce to use on other dishes which makes me wonder if other people do that too?
Raw clams $3 each
The menu does run towards seafood because Gregory has always wondered why there aren't great oyster bars like there are in the United States. I've had raw mussels and oysters before but never clams. They come with a wedge of lemon and some Tabasco. The clams are succulent and fresh but with the addition of lemon juice and Tabasco the Tabasco is the predominant taste.
Oysters $22 for 6
There are raw and cooked oysters available. The raw with a mignonette dressing are always a classic favourite, knocked back with gusto followed by an eternal wish for more. The cooked ones are topped with a smoked butter sauce and smoked salt. They're very smokey and for if you like a strong briney, smokey punch.
Tostones $8
The tostones are deep fried plantain chips with salsa Oaxaca or a roasted tomato dip and a pineapple vinegar. The vinegar is a sweet and piquant addition but I just liked the plantain chips plain by themselves.
Raw beef $14
As we are all fans of chilli, we liked the spiciness of the dishes and the raw beef has thin slices of raw beef with fermented chilli and a creamy oyster mayonnaise. They're topped with light deep fried rice paper pieces dusted in chilli.
Shrimp roll $18
The shrimp roll is a long soft milk roll cut into thirds. Filled with shrimp or prawns, pickles and mayonnaise there are also crispy salt and vinegar chips wedged in there. And it is good. Very good. It's my favourite morsel of the night.
Uni Toast $18
Ahh the uni toast. Belinda had visited here last week and raved about it but this time she stops. "Last time it was served warm on top so that it was all melty like marrow" she said. This time it's cold on top and while the base of the sourdough bread is warm from the cast iron pot, the top is cold. The sea urchin is served with escargot butter and a piece of lemon.
Clams Casino $21
The clams casino come out piping hot and with chopped up clams, breadcrumbs, bacon and a reduction made with cam juice and bacon fat. It's crunchy and delicious with small pieces of tender clam meat.
Bug and crab roll $20
The last item reminds me of visiting Nova Scotia in Canada when lobster and seafood was served with drawn butter rather than mayonnaise or another similar dressing. The butter makes for an intensely rich filling, almost too rich at the end of trying everything (and yes that's what happens when you say "I'll have one of everything!"). The crispy potato straws adds to the roll add some texture and it's a strongly flavoured and intense dish to end on.
There is no dessert here but opting for a slight change of scenery we call for the bill. At around $70 per person it's perhaps best for starting the night out rather than having your whole meal there but the atmosphere is comfortable that you want to linger. We head a couple of blocks up to Hartsyard where we put our name down for a table for dessert. As always it is busy but we don't have to wait long until we have a table.
Deep fried apple pie $20
There are a few items on the dessert menu but I only have eyes for one thing: the deep fried apple pie. Pastry chef Andy Bowdy's creations are fantasy laden delights and this square pocket of apple pie requires a minimum 10 minute wait. Once it comes out our eyes widen. I cut the crispy shell open and there is stretchy cheese inside as well as a soft, caramel apple filling oozing out. It sits on a bed of cheddar cheese custard. If it sounds odd, it isn't and it just offers just a slight savoury element. It is also paired with a sorrel granita and frozen yogurt which in truth isn't really needed as the pie and the custard is very satisfying. Moans were made and gluttons were sated. And that is the best start to a weekend.
So tell me Dear Reader, do you ever say "I'll have one of everything"? And do you ever save the sauces from some dishes to have with other plates? Do you start your nights out with a drink somewhere and then head somewhere to eat or do you tend to go straight to a restaurant?
This meal was independently paid for.
The Gretz
125 Enmore Road Enmore, 2042
Tuesday – Friday 4pm – midnight
Saturday – 2pm – midnight
Sunday 2pm – 10pm
Closed Monday.
http://hartsyard.com.au/the-gretz/